Marvin Gaye – Let's Get It On
(Tamla T329V1, 1973)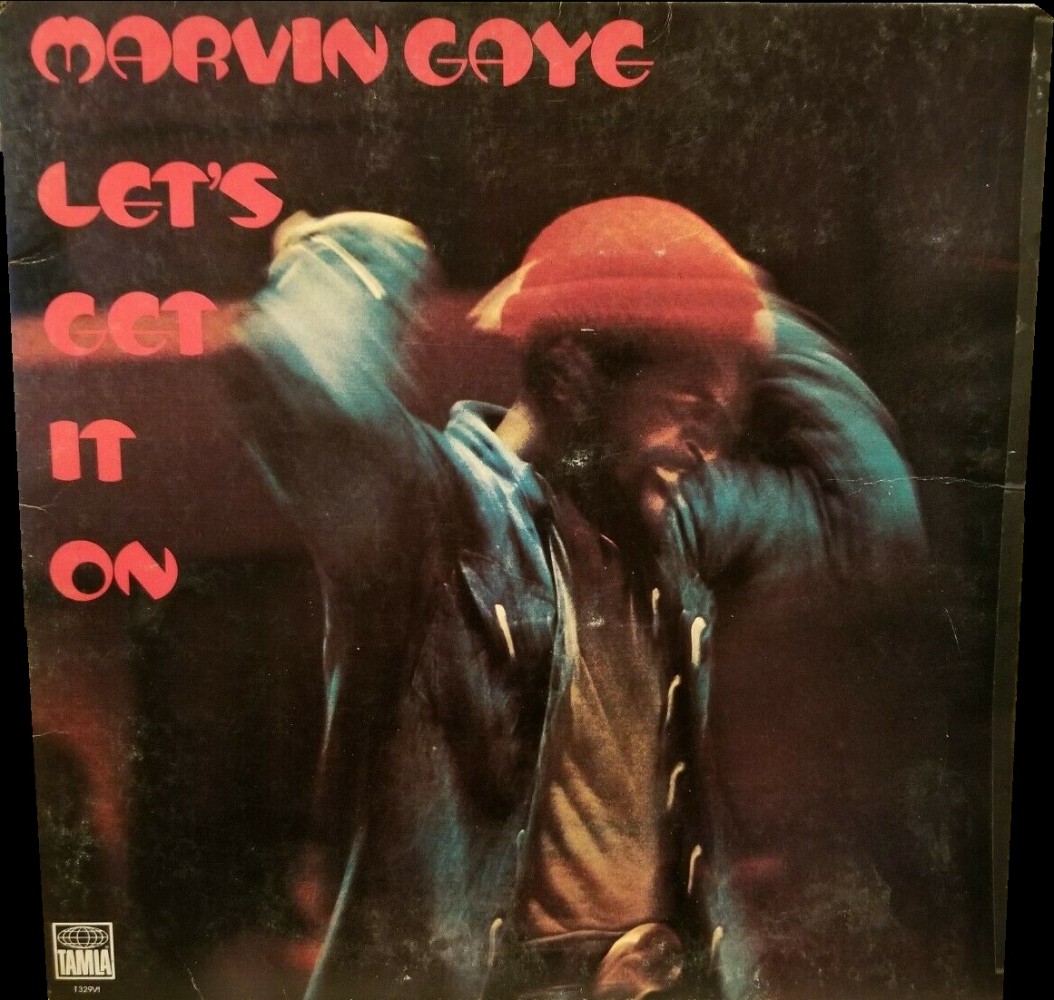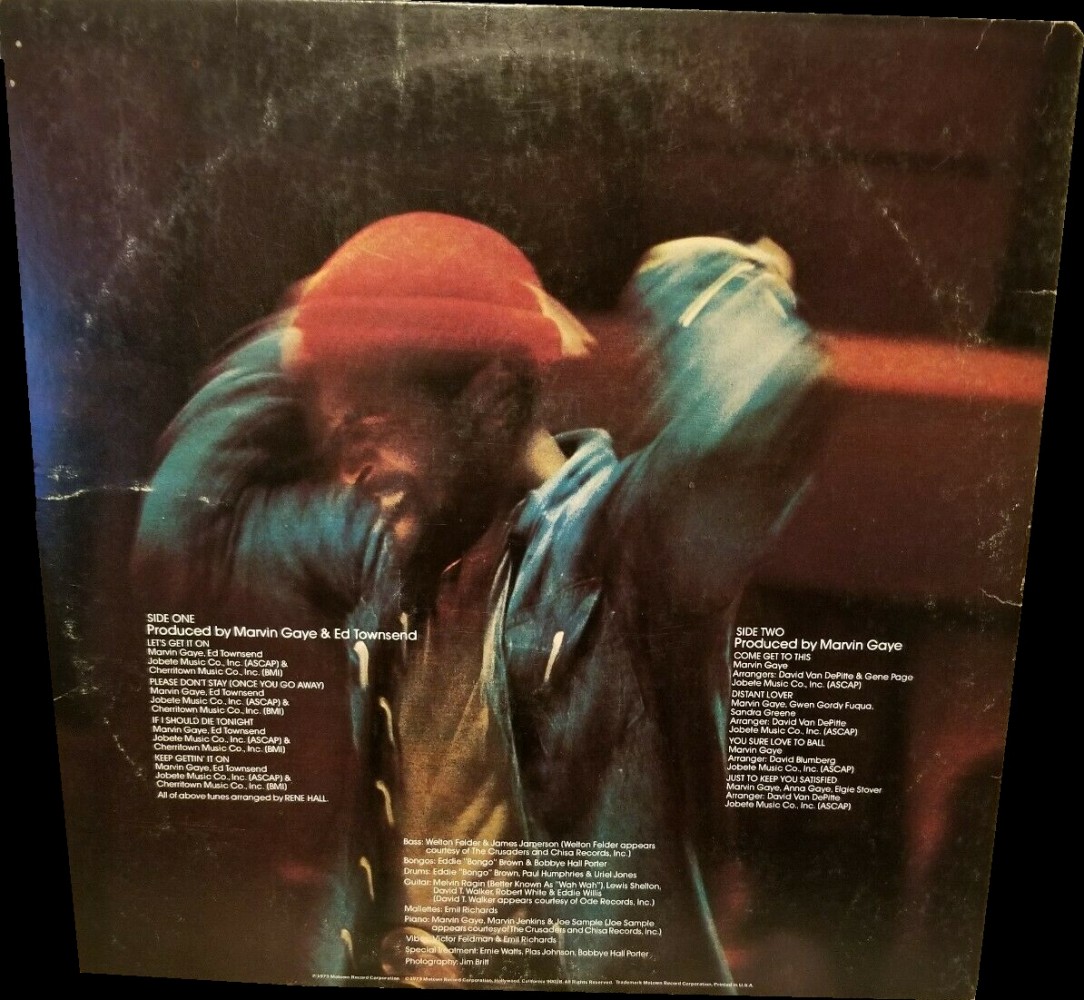 Titres
A1 Let's Get It On 4:44
(Ed Townsend, Marvin Gaye)
A2 Please Don't Stay (Once You Go Away) 3:32
(Ed Townsend, Marvin Gaye)
A3 If I Should Die Tonight 3:57
(Ed Townsend, Marvin Gaye)
A4 Keep Gettin' It On 3:12
(Ed Townsend, Marvin Gaye)
B1 Come Get To This 2:40
(Marvin Gaye)
B2 Distant Lover 4:15
(Gwen Gordy Fuqua, Marvin Gaye, Sandra Greene)
B3 You Sure Love To Ball 4:43
(Marvin Gaye)
B4 Just To Keep You Satisfied 4:35
(Anna Gaye, Elgie Stover, Marvin Gaye)
Crédits
Fred Ross, Madeline Ross
: voix (B3)
Marvin Gaye
: chant, piano
James Jamerson, Welton Felder
: basse
David T. Walker, Eddie Willis, Lewis Shelton, Melvin Ragin, Robert White
: guitare
Paul Humphries, Uriel Jones
: batterie
Eddie 'Bongo' Brown
: batterie, bongo
Bobby Hall Porter
: bongo
Emil Richards, Victor Feldman
: vibraphone
Joe Sample, Marvin Jenkins
: piano
Arrangements : D
avid Blumberg
(B3),
David Van DePitte
(B1, B2, B4),
Gene Page
(B2),
Rene Hall
(A1 à A4)
Mixage :
Art Stewart, Cal Harris
Production :
Ed Townsend
(A1 à A4)
Production, Notes :
Marvin Gaye
Photographie :
Jim Britt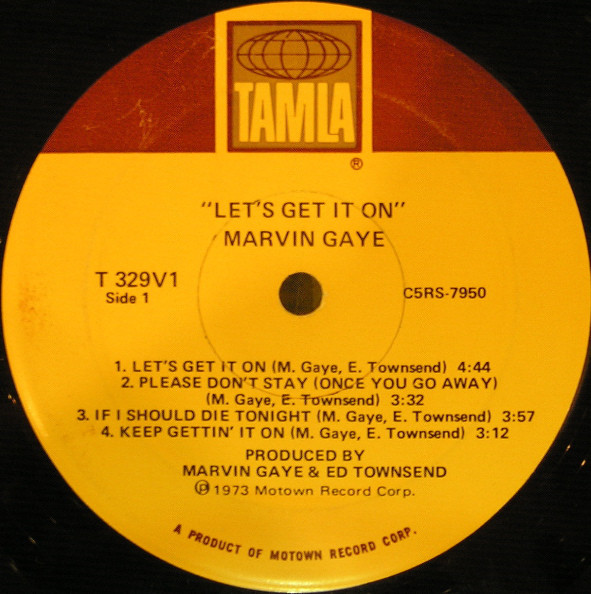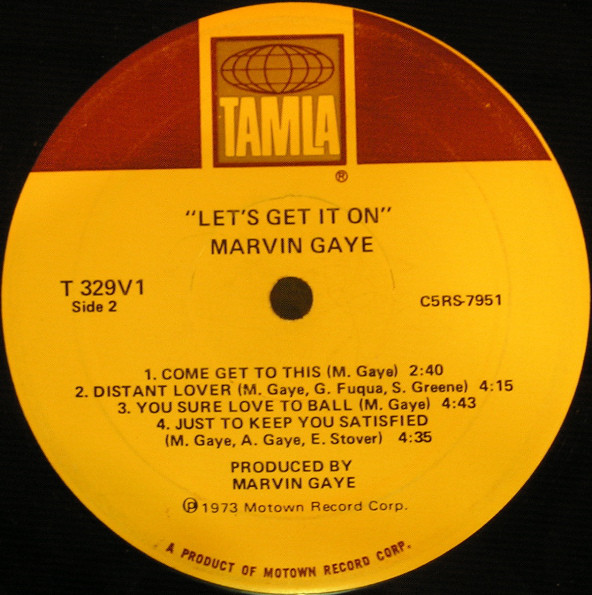 Présentation
Marvin Gaye
(02 avril 1939 - 01 avril 1984)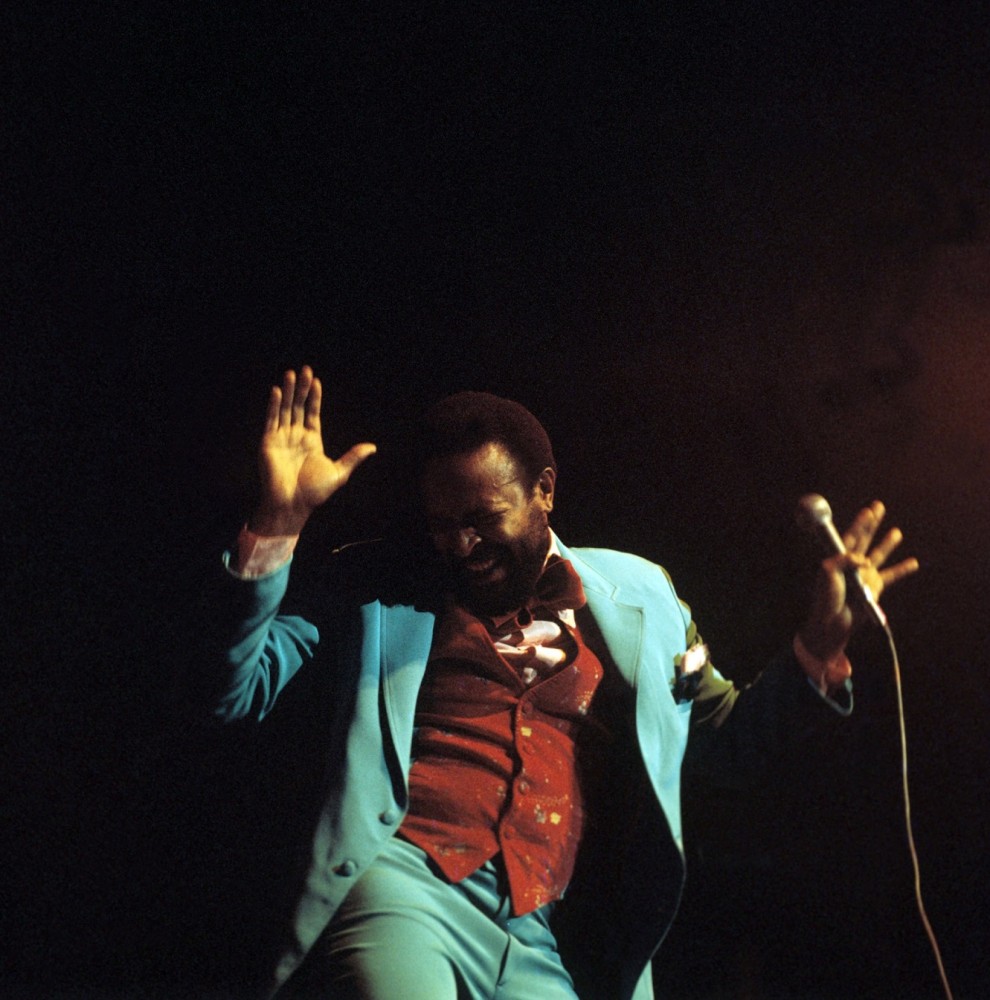 (@ Royal Albert Hall, London,1976) (by

David Redfern

)

français :

Marvin_Gaye

anglais :

Marvin_Gaye



Let's Get It On
UN MUST HAVE...
R.I.P. Mr
MARVIN GAYE
.

FACE A
Marvin Gaye_1973_"Let's Get It On"
(A1)



Tu angoisses, tu stresses en cette période de Covid19... Alors, laisse MARVIN G. t'enlacer par son chant suintant de battements sensoriels : ferme les yeux et laisse s'écouler ce miel sensuel sonore dans chaque partie de ton être ; le monde t'apparaitra coloré, moelleux, doux, soft, du lin flottant sur ta peau (c'est plus écolo et la soie c'est dépassé).


Marvin Gaye_1973_"Please Don't Stay (Once You Go Away)"
(A2)

Marvin Gaye_1973_"If I Should Die Tonight"
(A3)


Une ouverture par le chant que je trouve totalement émouvante, intense : à mettre en boucle et à éviter si vous êtes en phase mélancolique... Mais l'émerveillement est total à chaque attaque des mots

"If I Should Die Tonight"

, une plainte montant au fur et à mesure du titre, c'est à MOURIR en douceur... et ces violons sur la fin.

Marvin Gaye_1973_"Keep Gettin' It On"
(A4)
Une fois le coeur arraché par le précédent titre, la face A s'achève sur un balancé langoureux chevauché par des vocaux, le soleil pointe ses rayons dans la rythmique. Le chant de MARVIN G. nous fait accourir vers lui avec empathie, désir, admiration et cette envie de dire avec retenue mais fermeté 'don't stop singing' !
FACE B
Marvin Gaye_1973_"Come Get To This"
(B1)


Ah ! Ces débuts forts en émotion sont juste impeccables : ce chant, ce timbre, la mélodie sur les premières secondes sont, à mes oreilles, sur ce morceau, des sensations à fleur de peau. Et puis, cette note vocale vers les 2mn22 et 2mn32 : à se damner, à vendre son âme.

Marvin Gaye_1973_"Distant Lover"
(B2)


CLASSE ABSOLUE, PERLE SOUL, DÉLICATESSE MÉLODIEUSE & VOCALE : BEAUTÉ UNIVERSELLE.
Marvin Gaye_1973_"You Sure Love To Ball"
(B3)

Marvin Gaye_1973_"Just To Keep You Satisfied"
(B4)



SILENCE : UN DIAMANT... "It's too late for you and me, much too late for you to cry babe..."

MARVIN GAYE
(02 avril 1939 - 01 avril 1984)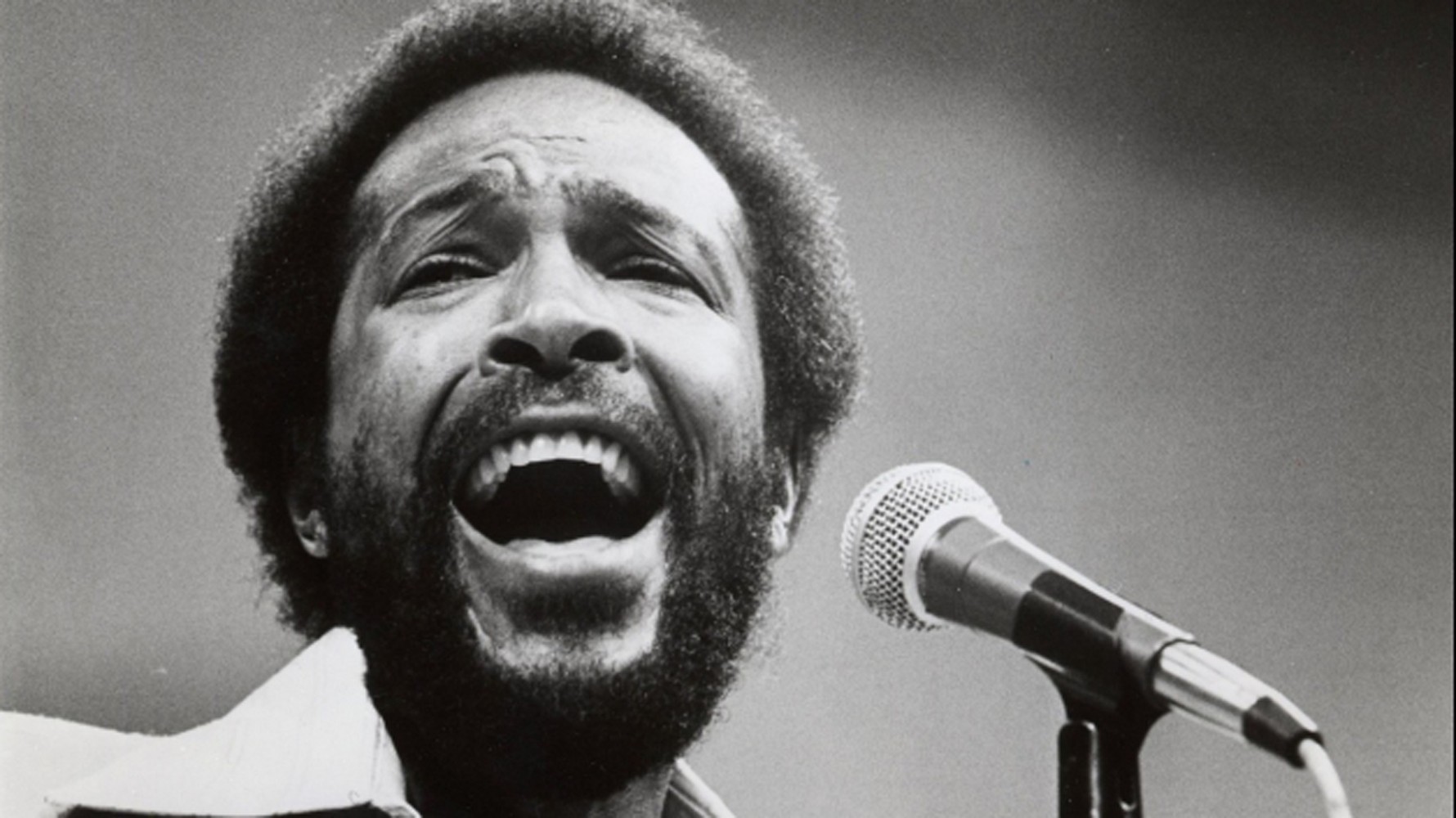 ----------------------------------------------------------------------------------------------------------------------------
Marvin Gaye sur Funk-O-Logy
ALBUMS
-->Marvin Gaye - In The Groove (Tamla ‎TS 285 - 26/8/1968)
-->Marvin Gaye - That's The Way Love Is (Tamla 299, 1969)
-->Marvin Gaye - Let's Get It On (Tamla T 329V1 / T329V1, 1973)
-->Marvin Gaye - I Want You (Tamla T 329V1 / T6-342S1, 1976)
-->Marvin Gaye ‎– What's Going On "40th Anniversary Super Deluxe Edition" (Motown B0015552-02, 2011)
-->Marvin Gaye - Trouble Man "40th Anniversary Expanded Edition" (2012)
-->Marvin Gaye ‎- You're The Man (Motown UMe B0029345-01 / Tamla T316L, 2019)
45T
-->Marvin Gaye -

"Mercy Mercy Me (The Ecology)" / "Sad Tomorrows"

(Tamla T 54207F, 1971)
MAXI(S) 45T
-->Marvin Gaye / Donald Byrd ‎–

"Where Are We Going?"

/ "Woman Of The World" (Blue Note ‎B0020266-11, Motown ‎B0020266-11, 2014)
VIDÉO(S) / DVD
-->Marvin Gaye - Live In Paris (october 11th, 1976)
-->Marvin Gaye - Remember Marvin Gaye : Life in Ostend (2001)
-->Marvin Gaye - Behind The Legend (2004)
LIVRES
-->Frankie Gaye - Marvin Gaye, My Brother (2003)
-->David Ritz - Divided Soul : The Life Of Marvin Gaye (2003)
-->Richard Olivier - L'Ami Ostendais de Marvin Gaye(2004)
-->Janis Gaye - After the Dance: My Life with Marvin Gaye (304 pages, Amistad, 2015)