People's Pleasure with Alive And Well ‎- Do You Hear Me Talking To You ?
(Brownstone Records BS-1000, 1976)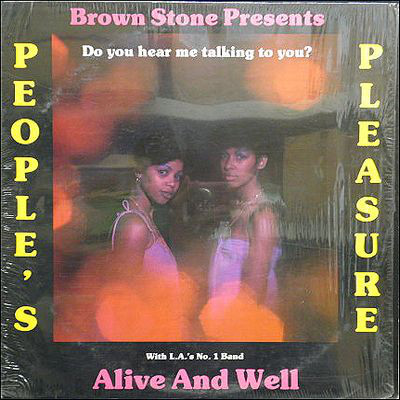 Titres
A1 Do You Hear Me Talking To You ? 3:55
(K. Thomas)
A2 Dreaming Our Live Away 3:28
(K. Thomas)
A3 Lonely People 4:02
(K. Thomas)
A4 Heavenly Feeling 5:00
(K. Thomas)
A5 World Full Of People 2:53
(D. Stevens, K. Thomas, B. Brown)
B1 I'd Like To Stay 5:20
(Greg Cook, K. Thomas)
B2 A Feeling Inside 4:39
(Greg Cook, K. Thomas)
B3 A Thank You Song 4:24
(K. Thomas)
B4 Fantasies And Dreams 3:54
(Greg Cook, K. Thomas)
Crédits
Henry Cook
: basse
Gregory Cook
: guitare
Keith Swan
: batterie
Derrick Holmes
: claviers, synthétiseurs
Arthur Thompson
: saxophone alto
Kenny Long
: saxophone ténor
Charles Dirden, Kenny James
: trombone
Arrangements cuivres :
David Sear
s
Arrangements rythmiques :
Alive And Well
Co-production :
Mike Wilcher
Production :
Julia Brown, Bill Brown
Gros coup de cœur pour ce LP aussi extraordinaire qu'inaccessible, et heureusement réédité par Athens Of The North. La première face est juste invraisemblable, avec des vocaux à se damner et des rythmiques et harmonies plus envoûtantes les unes que les autres. Produit par le génial Bil Brown, à qui on doit, entre autres, le sublime single "Bip Bam".
J'ignore en revanche l'identité des chanteuses, non créditées sur la pochette. Si notre limier silverfox pouvait nous dénicher ça...
Bombe funk à la mode Larry Graham
Do You Hear Me Talking To You ?
pur chef-d'œuvre !
World Full Of People
merveille soul !
Lonely people
merveille soul, deuxième !
Dreaming our live away
magistral instru soul !
Heavenly feeling
et enfin deux belles ballades
Fantasies and dreams
I'd like to stay