The Lost Generation - Young, Tough And Terrible (Brunswick 754178, 1972)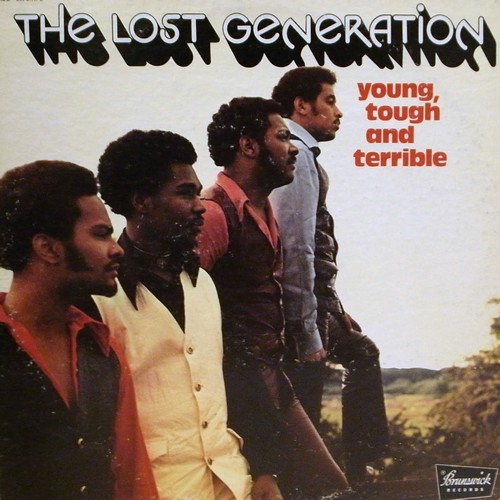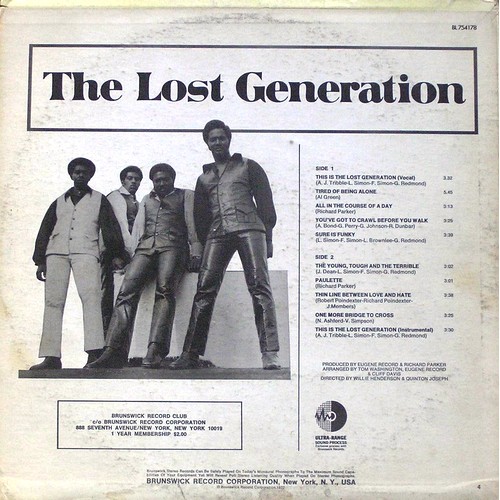 Titres
A1 : This Is The Lost Generation (Vocal) 3:32
A2 : Tired Of Being Alone 5:45
A3 : All In The Course Of A Day 3:13
A4 : You've Got To Crawl Before You Walk 3:25
A5 : Sure Is Funky 3:39
B1 : The Young, Tought And The Terrible 3:02
B2 : Paulette 3:01
B3 : Thin Line Between Love And Hate 3:38
B4 : One More Bridge To Cross 3:25
B5 : This Is The Lost Generation (Instrmental) 3:30
Credits
Lowrell Simon
: chant
Fred Simon
: chant
Jesse Dean
: chant
Larry Brownlee
: chant
Tom Washington
: arrangements
Eugene Record
: arrangements
Cliff Davis
: arrangements
Production :
Eugene Record & Richard Parker
Leur histoire débute en 1969 quand Lowrell Simon et ses comparses ont commencé à chanter ensemble, c'est Gus Redmond, un ami d'enfance d'Eugene Records qui travaillait à l'époque chez Brunswick qui les présenta au producteur Carl Davis, ainsi naquit leur premier single "The Sly, Slick and the Wicked" qui devint un hit puis un premier album qui permit au label d' acquérir son indépendance.
Deux ans plus tard, ils enregistraient ce petit bijou sous la direction de Carl Davis et d'Eugene Record, le premier titre " This Is The Lost Generation " est magnifique

, on ressent bien là l'esprit soul consciente de Chicago, un gros travail sur les arrangements qui mettent vraiment en valeur la voix de Lowrell Simon et du groupe, le deuxième titre "Tired Of Being Alone" est une belle reprise d' Al Green, "Sure Is Funky" envoie du lourd comme son nom l'indique. Sur la deuxième face, la balade qui porte le nom de l'album "The Young, Tough and Terrible" est une petite perle de Sweet Soul, encore un exemple de l'efficacité d'Eugene Record, Tom Washington et Cliff Davis qui ont vraiment fait un travail chirurgical sur les arrangements, exemple la petite réverb dans les back est du plus bel effet, on peut noter aussi une autre reprise très réussie, celle de "Thin Line Between Love And Hate" des Persuaders. L'album a d'ailleurs été réédité en CD (import japonais) sur la collection (Brunswick Favorite Collection The Sound of Chicago Soul ) avec deux morceaux en plus : " Pretty Little Angel Eyes " et le magnifique " You Only Get Out Of Love (What You Put In) extrait d'un 45 T sorti en 1973.
Un album que j'adore et que j' écoute souvent dommage que le groupe se soit séparé en 1974, Lowrell Simon et les autres membres du groupe ont des voix magnifiques, d'ailleurs Fred Simon chanta par la suite avec les Chi-Lites et Lowrell Simon sortira son album Éponyme en 1979 avec le super " Mellow Mellow Right On".
Bonne écoute !

This Is The Lost Generation :
Sure Is Funky :
The Young, Tough And The Terrible :
Thin Line Between Love And Hate :