Legacy – I Must Confess / Believe In Yourself
(Tortoise International YB-11202, 1978)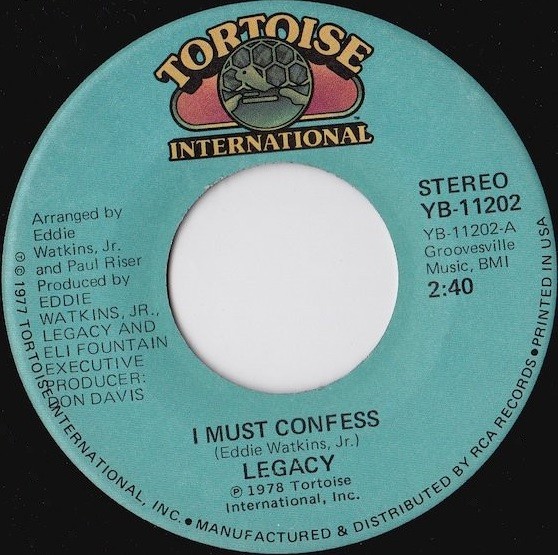 Titres
A
I Must Confess
2:40
(Eddie Watkins, Jr.)
B
Believe In Yourself
4:09
(Eddie Watkins, Jr., John Dawson)
Crédits
Arrangements :
Eddie Watkins, Jr.
,
Paul Riser
Producteur Exécutif :
Don Davis
Production :
Eddie Watkins, Jr.
,
Legacy
,
Eli Fountain
Présentation
SOUL-DIRECTION a écrit :

Legacy was formed around 1975 by Eddie Watkins Jr who started the band.



The original members were

:
Eddie Watkins Jnr.
Brenda Evans
LaMarvin McMorris
Delbert Nelson
Butch Small
Mark Johnson on keyboards.
Ricardo Rouse
Anita Baker the iconic vocal artist who did some vocal performances with the band.

Eddie N Watkins Jr was born & raised in Detroit MI. He started his music career playing piano for a bingo game Hall at 10 years old.
His grandmother "Big Mama" had bought him a piano at age 7 and his parents forced him to take piano lessons apparently against his will.
As it turned out they were right and by the age of 13 Eddie had switched to bass guitar joined the Musicians Union and got hired by the Jonny Trafton big band performing with seasoned local Motown musicians.

At age 17 still in high school Eddie was noticed by legendary Motown producer Norman Whitfield at a Undisputed Truth band rehearsal.
A few day later he got the call from Motown to play for Norman Whitfield's new Temptations album Masterpiece.

Lead Vocalist Brenda Joyce Evans was born and raised in Los Angeles, CA.
After high school Brenda became a part of the group called the Delicates (Brenda, Michelle and Dale).
The manager for the Delicates was Bobby Sanders. He was known for working with local male singing groups, like the Younghearts.

Around 1969 during a performance Bobby Taylor of the Vancouvers heard the Delicates sing and invited them to open up for him at the 20 Grand, in Detroit, Michigan.
The Delicates eventually signed with Motown Records.

After signing with Motown Records; the Delicates received more opportunities to sing background in the studio for other artist.
Producer Frank Wilson influence, allowed the Delicates to sing background on some well known tracks.
Michelle left the group and Norman Whitfield decided to change their sound.
Norman brought B.J. & Billie together with Joe Pep Harris to form the group, The Undisputed Truth.

Brenda sang on the first three albums: The Undisputed Truth, Face to Face With the Truth and Law of the Land all between 1973 & 1973.
She left The Undisputed Truth and married Eddie Watkins Jnr. and joined her husband's band Legacy from 1974-1975.

Legacy recorded very few songs under the guidance of Don Davis. The only two songs to be released were:

"I Must Confess"

and

"Believe In Yourself"

on Tortoise International Records.
The other 2 songs on the same master tape were

"Boy, You've Been Acting Strange"

and

"Celebrate (Legacy To The Bone)"

.
Source : SOUL-DIRECTION


Un 45T original est encore disponible sur DISCOGS ; 45T en phase d'approche des 100 euros.





Face A
Legacy_1978_"I Must Confess"
Une ambiance un peu loveboat...

Face B
Legacy_1978_"Believe In Yourself"
NON DISPONIBLE SUR LA TOILE : 06/07/2022.

------------------------------------------------------------------------------------------------------------------------------
LEGACY sur Funk-O-Logy
45T
-->Legacy -

"I Must Confess" / "Believe In Yourself"
(Tortoise International YB-11202, 1978)
-->Legacy -

"Boy, You've Been Acting Strange" / "Celebrate (Legacy To The Bone)"
(Soul-Direction SD-007, 2022)