Azar Lawrence – Shadow Dancing
(Riza Records RRL 85-101, 1985)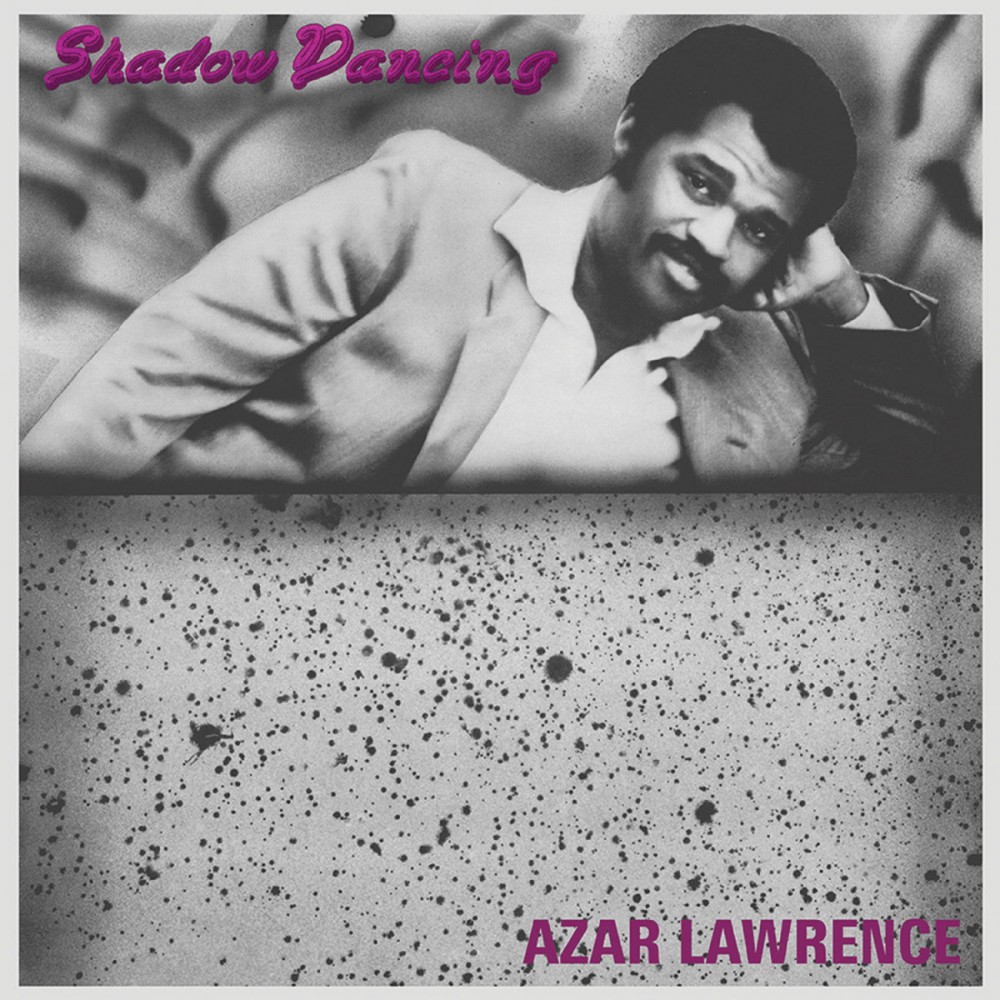 Titres
A1 Magic In The Night
A2 Shadow Dancing
A3 Inside Stuff
A4 One More Time

B1 Your Love Is Keeping Me Alive
B2 Keep It Hot
B3 Singapore Nights
B4 Interlude
Crédits
Azar Lawrence
: saxophone, vocaux
Coco Evans
: vocaux
Orin Waters
: vocaux
Roy Galloway
: vocaux
Leo Nocentelli
: guitare
Marlowe Henderson
: guitare
James Gadson
: batterie
Fred Johnson
: Lyndrum
Denzell Miller Jr.
: claviers
Joel Gaines
: claviers
Greg Cook
: claviers
Composition :
Azar Lawrence
(A1, A2, B1 à B4),
Greg Cook
(A1, A2, B1, B2, B4),
B. Parrish
(A3),
Fugino
(A4, B3)
Mastering :
Jeff Sanders
aka
JS
Production exécutive :
Dr. Riza Jardan
,
Greg Cook
(A2, B2)
Production, arrangements :
Azar Lawrence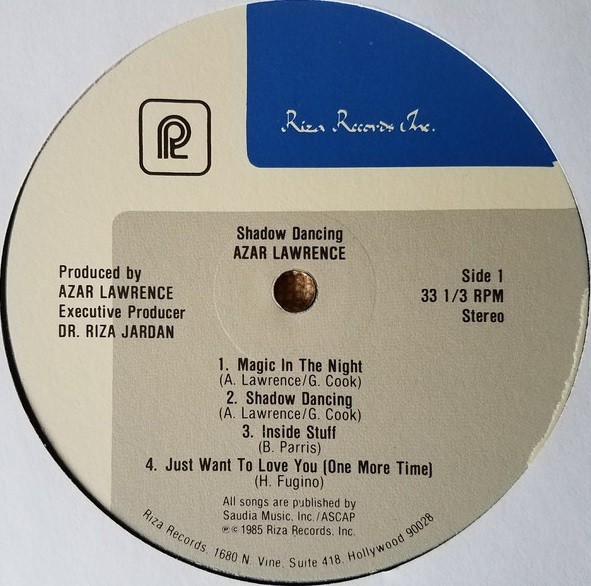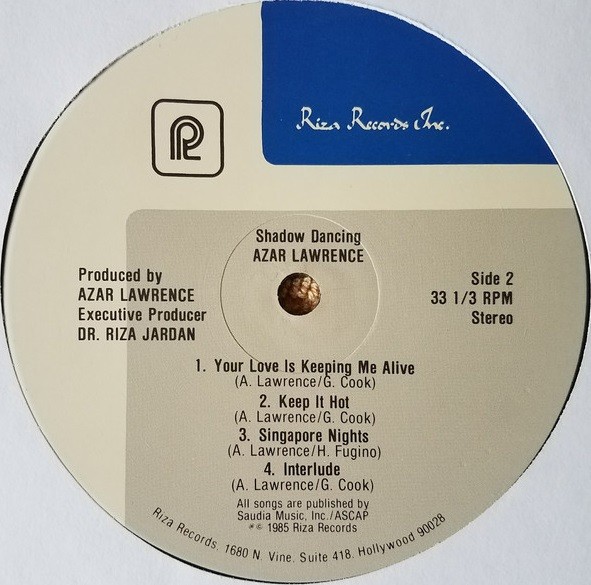 Présentation
Azar Lawrence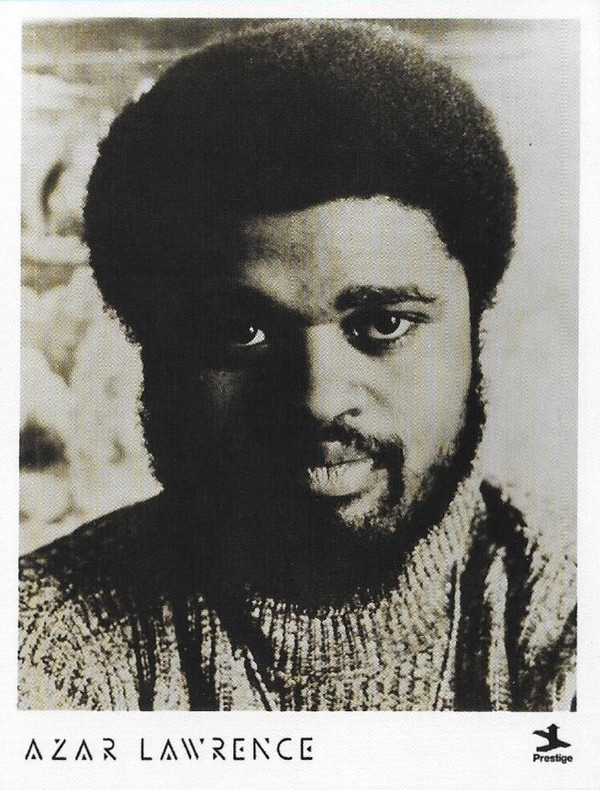 LIGHT IN THE ATTIC a écrit :


Saxophonist Azar Lawrence (born 1952) needs little introduction, as a young musical prodigy he was lovingly tutored by his mother, who taught music and led their church choir. At age 5, he played violin in the Los Angeles Junior Symphony, then viola, but his ears were turned to the saxophone at age 13. Azar spent his teen years immersed in jazz at the home of his best friend, none other than the late Reggie Golson, son of the great composer/arranger/saxophonist, Bennie Golson. From then on it was jazz, jazz and more jazz!

Azar Lawrence began his jazz career at the renowned Dorsey High School Jazz Workshop. After high school he played in Horace Tapscott's 'Pan Afrikan Peoples Arkestra' and started performing in the Los Angeles club circuit. He soon found himself playing with the Ike & Tina Turner band, the Watts 103rd Street Band and War. At the age of 19, Azar joined John Coltrane's drummer Elvin Jones for over 3 years before being invited by McCoy Tyner to join his quartet (an alchemy that lasted for 5 exuberant years). During his tenure with Tyner, he also recorded with Miles Davis on the album Dark Magus at the famed Carnegie Hall.

Upon leaving Tyner, Azar Lawrence recorded his own projects on Prestige Records, including Bridge Into The New Age (1974), Summer Solstice (1975) and People Moving (1976). After these three albums it would take over a decade before Mr.

Lawrence

would record another solo album (Shadow Dancing, released in 1985). Azar went on to record/write and perform with luminaries such as Freddie Hubbard, Busta Rhymes, Roberta Flack, The Headhunters and Mulatu Astatke. His sensational collaborations of the period included writing and performing on Earth Wind & Fire's highly acclaimed platinum album, Powerlight, and on Marvin Gaye's Grammy award winning, Hear My Dear. Azar Lawrence's work was sampled by renowned artists/acts from the likes of Madlib, Cypress Hill…and many others.

In the early 2000s, Lawrence surged back onto the jazz scene and continues to electrify audiences with outstanding original compositions and chart hitting albums. His band, The Azar Lawrence Experience (TALE) appears with as many as eight musicians who sizzle to the sounds of Azar's powerful compositions, as well as songs from the Coltrane songbook. To this day TALE dedicates itself to sharing a lifetime of Azar Lawrence's music, art and spirituality with global audiences.

On the album Shadow Dancing (released in 1985), which we are proudly presenting you today, you can hear the musical versatility only an artist like Azar Lawrence can deliver. Next to his trademark jazz sound, this album is filled with funk, soul and boogie influences. If you're looking for THE perfect mix of synth filled boogie & jazz-funk where the Sax takes the center stage…then this is a highly recommended gem for your record collection (and a must-have for seekers of rare grooves).

Also featured on these recordings are some serious all-star guest musicians from the likes of Oren Waters (Herbie Hancock, Curtis Mayfield), Roy Galloway (Jimmy Cliff, Gladys Knight), Fred Johnson (The Temptations, George Clinton), James Gadson (Bill Withers, Quincy Jones), Leo Nocentelli (The Meters, Maceo Parker), Marlo Henderson (Gil Scott-Heron, Ahmad Jamal), Denzil Miller (Kurtis Blow, Diana Ross) and Eddie Brown (Stevie Wonder, Dennis Coffey).
Source :
LIGHT IN THE ATTIC
Réédition 2021
Azar Lawrence - Shadow Dancing
(Tidal Waves Music TWM76, 2021)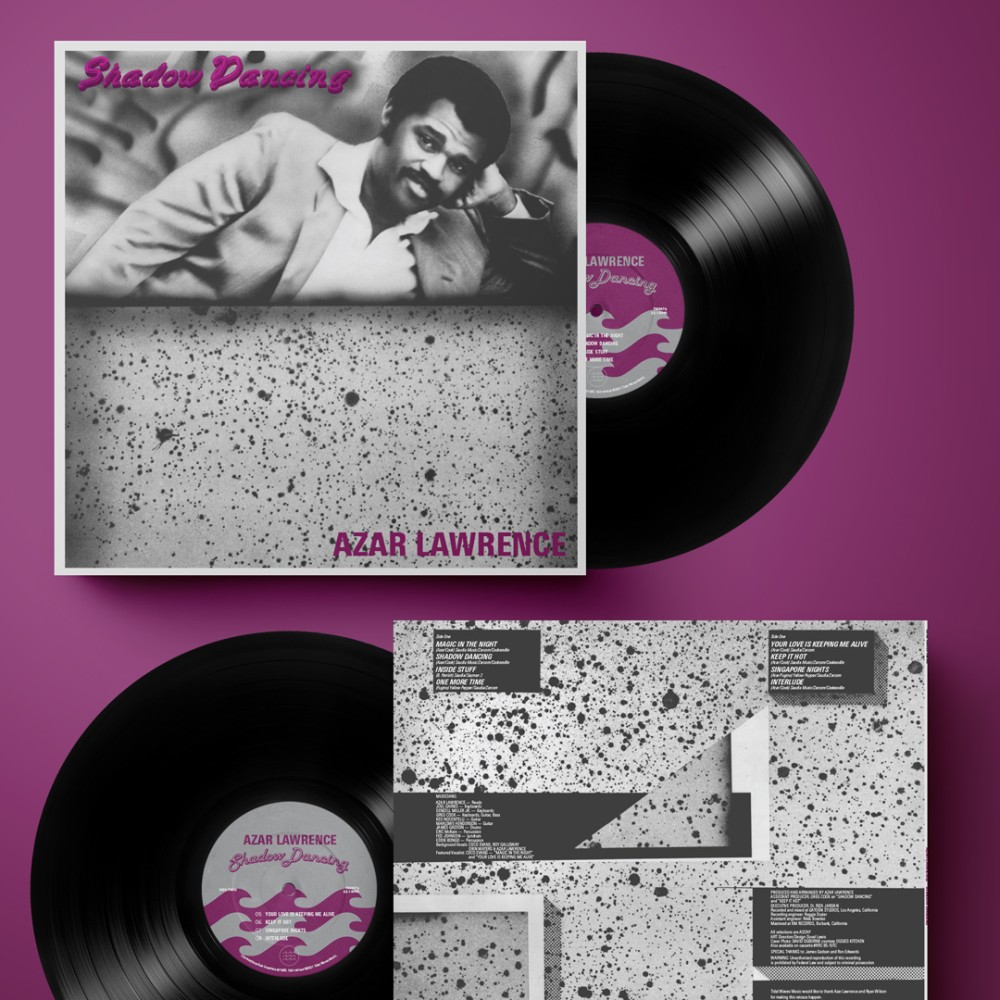 Shadow Dancing
, dont c'est la première réédition depuis 1985, est en pré-commande sur le site du label
LIGHT IN THE ATTIC
et c'est
ICI
.
Une version classique, vinyle noir existe, et la version
lp clair n'est plus disponible, "out of stock"
.
LIGHT IN THE ATTIC a écrit :

Paru le 5 novembre 2021.

* 180g CLEAR vinyl limited to 100 copies

* 180g BLACK vinyl limited to 500 copies


L'album en écoute sur le site
BANDCAMP
du label
LIGHT IN THE ATTIC
,

ICI
.
Univers Boogie, Funk, Jazz.

Parfois, sensation de ressentir des sonorités rappelant
Madhouse
, voire le son 80's de
Minneapolis
.

FACE A
Azar Lawrence_1985_"Magic In The Night"
(A1)
Azar Lawrence_1985_"Shadow Dancing"
(A2)
Azar Lawrence_1985_"Inside Stuff"
(A3)
Azar Lawrence_1985_"One More Time"
(A4)
FACE B
Azar Lawrence_1985_"Your Love Is Keeping Me Alive"
(B1)
Azar Lawrence_1985_"Keep It Hot"
(B2)
Azar Lawrence_1985_"Singapore Nights"
(B3)
Azar Lawrence_1985_"Interlude"
(B4)
--------------------------------------------------------------------------------------------------------------------------------
Azar Lawrence sur Funk-O-Logy
-->Azar Lawrence - People Moving (Prestige P-10099, 1976)
-->Azar Lawrence ‎– Shadow Dancing (Riza Records RRL 85-101, 1985)