Al-Dos Band – Doing Our Thing With Pride
(Kalita Records KALITA LP006, 2021)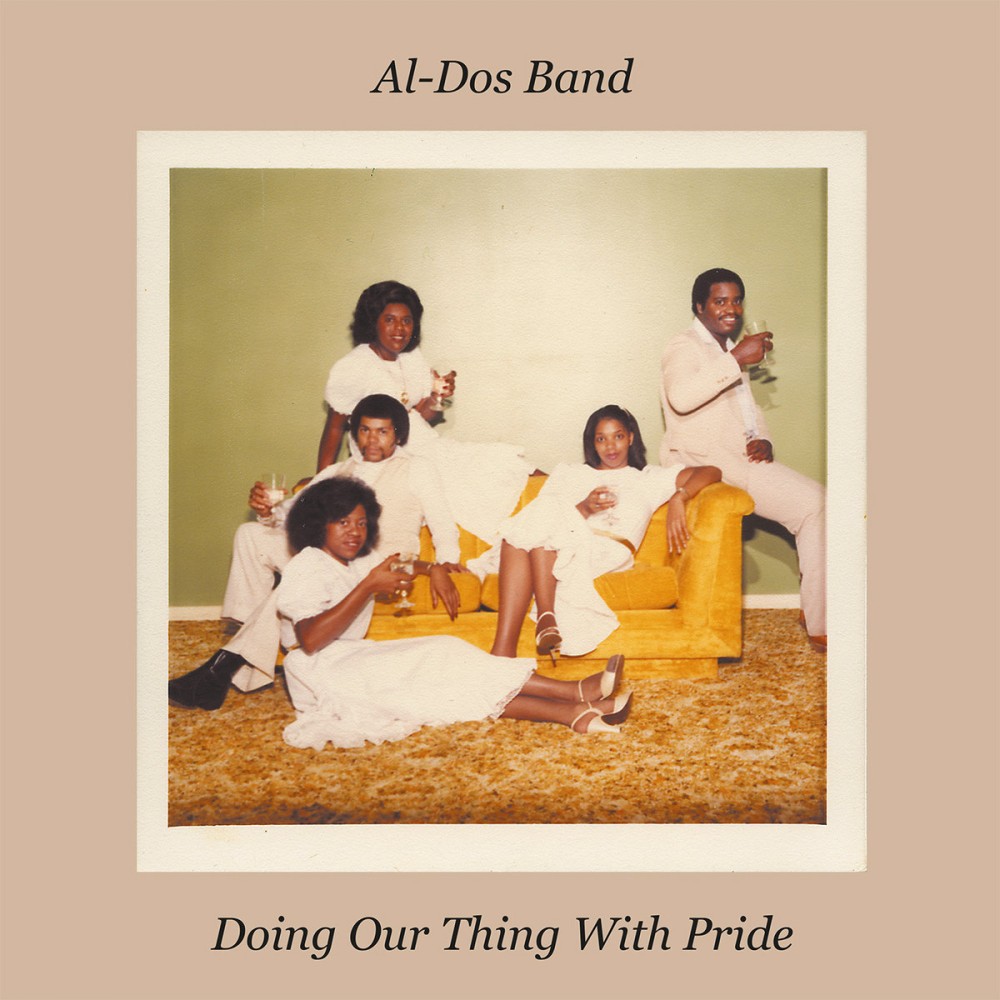 Titres
A1 Look To The Sky
A2 Don't Come Smiling Back
A3 Doing Our Thing With Pride
A4 Your Presence
A5 Dream Song

B1 Love Jones Coming Down
B2 Confusion
B3 Some Things Don't Mean A Thing
B4 I Remember When
Crédits
William Robinson
: basse, guitare rythmique
Derrick Harris
: guitare (lead), vocaux
Robert Dreher
: batterie
Mary Robinson
: piano, clavinet, vocaux
Joan Robinson
: piano, vocaux
Écriture, Arrangements, Management :
William Robinson
,
Mary Robinson
Mastering :
Robin Lee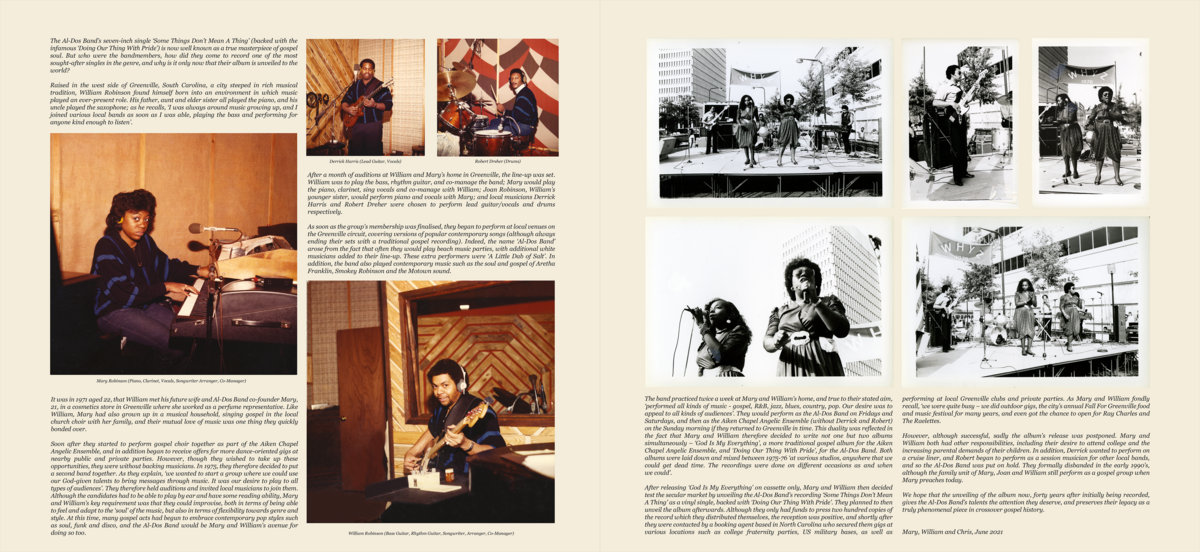 Présentation
Al-Dos Band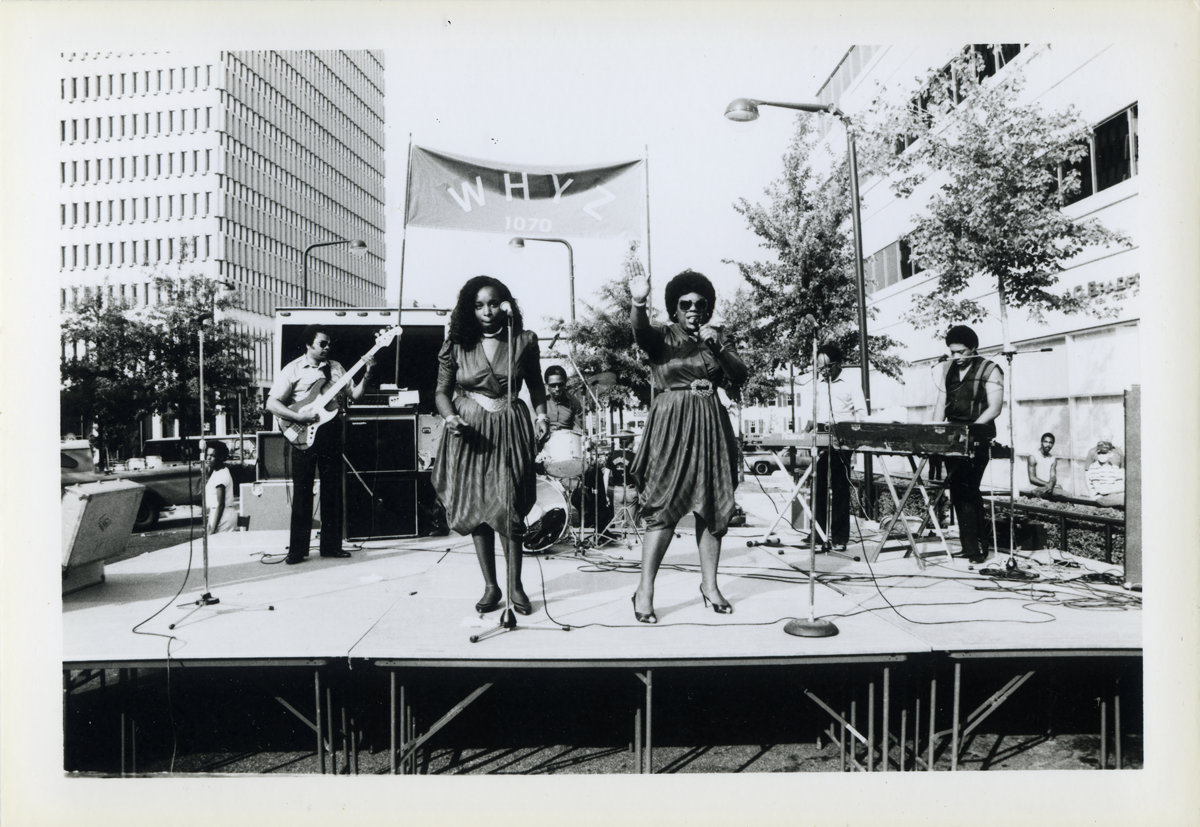 Source :
KALITA RECORDS
KALITA RECORDS a écrit :

KALITA are proud to unveil the Greenville, South Carolina-based Al-Dos Band's unreleased 1976 gospel soul and disco album Doing Our Thing With Pride.

Featuring one of the most beautiful, sought-after and expensive gospel soul singles in existence (from which the album title takes its name), as well as seven unreleased gospel soul, funk and disco gems such as

"Confusion"

,

"Look To The Sky"

and

"Love Jones Coming Down"

, KALITA deliver the goods once again.

Taken from the original analogue master tapes and released in partnership with band founders Mary and William Robinson.

Accompanied by never-before-seen archival photos and extensive interview-based liner notes, this truly is a no-brainer.

Paru le 3 septembre 2021
Source :
KALITA RECORDS

Lien d'écoute de l'opus sur le site
BANDCAMP
de
KALITA RECORDS
.
Al-Dos Ban - Doing Our Thing With Pride
-------------------------------------------------------------------------------------------------------------------------------
Al-Dos Band sur Funk-O-Logy
ALBUM(S)
-->Al-Dos Band - Doing Our Thing With Pride (Kalita KALITA LP006, 2021)
45T
-->Al-Dos Band -

"Doing Our Thing With Pride" / "Some Things Don't Mean A Thing"

(Warmer Productions ‎WP 5628, 1977)