Clydie King - Rushing To Meet You
(Tiger Lily TL 14037, 1976)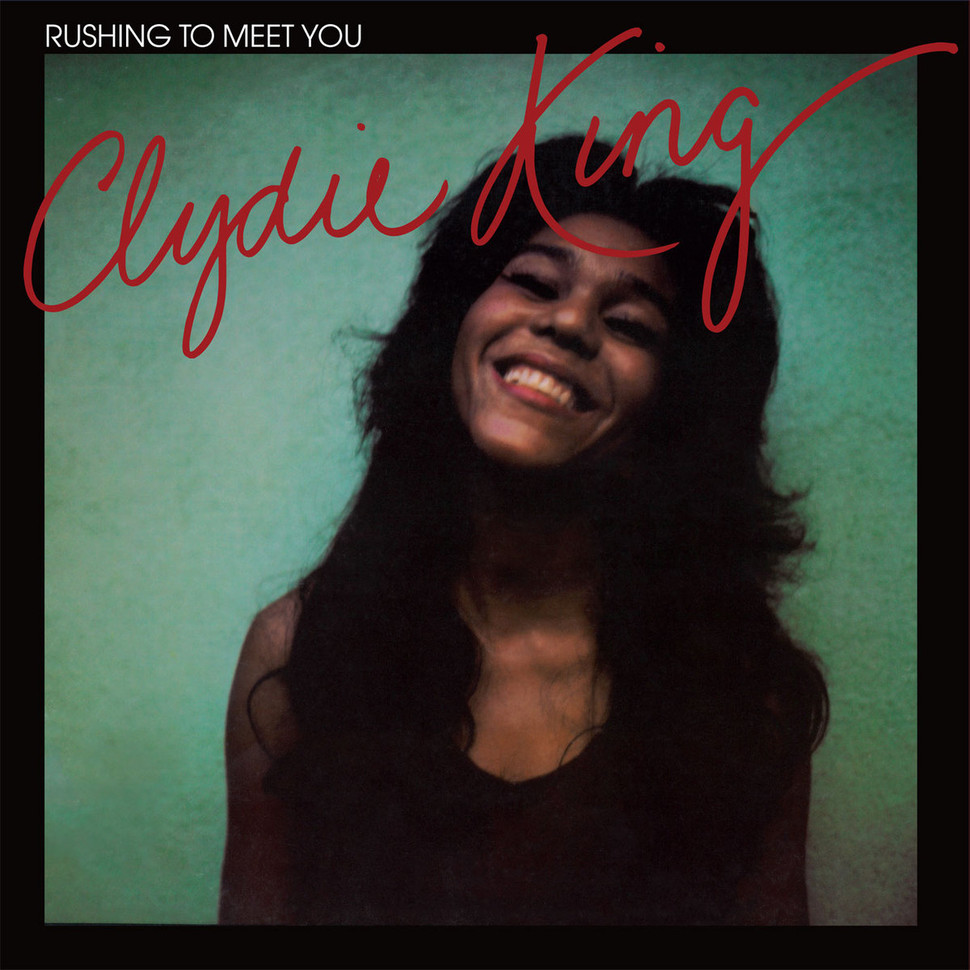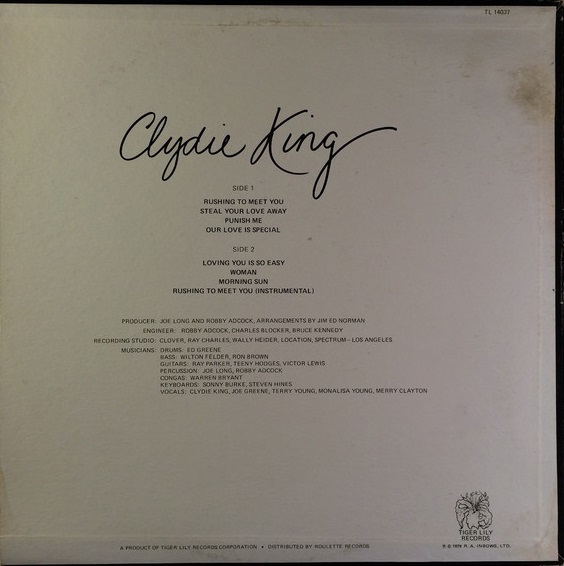 Titres
A1 Rushing To Meet You
(C. Wilmore, M. Ziskin, S. Hines)
A2 Steal Your Love Away
(C. Wilmore, S. Hines)
A3 Punish Me
(D. Carter , F. Briggs)
A4 Our Love Is Special
(C. Wilmore, S. Hines)
B1 Loving You Is So Easy
(C. Wilmore, Steven Hines)
B2 Woman
(C. Wilmore, Steven Hines)
B3 Morning Sun
(Al Green)
B4 Rushing To Meet You
[Instrumental]
(C. Wilmore, Steven Hines)
Crédits
Joe Greene, Merry Clayton, Mona Lisa Young, Terry Young
: vocaux
Clydie King
: chant, vocaux
Ron Brown, Wilton Felder
: basse
Teeny Hodges, Ray Parker, Victor Lewis
: guitare
Ed Greene
: batterie
Warren Bryant
: congas
Joe Long, Robby Adcock
: percussions
Sonny Burke, Steven Hines
: claviers
Arrangements :
Jim Ed Norman
Production :
Joe Long, Robby Adcock
Rééditions
Clydie King - Rushing To Meet You

CD
(Tiger Lily Records TL 14037, Big Pink Music 152, 2011)

LP / CD
(Everland Everland 020, 2018)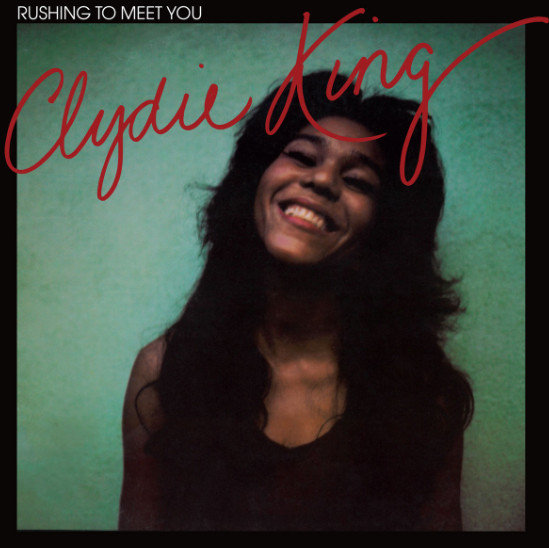 Titres
1. Rushing To Meet You 4:27
2. Steal Your Love Away 3:16
3. Punish Me 2:23
4. Our Love Is Special 2:55
5. Loving You Is So Easy 5:39
6. Woman 3:04
7. Morning Sun 3:14
8. Rushing To Meet You (Instrumental) 4:37
Présentation
Clydie King
(21 août 1943 - 7 janvier 2019)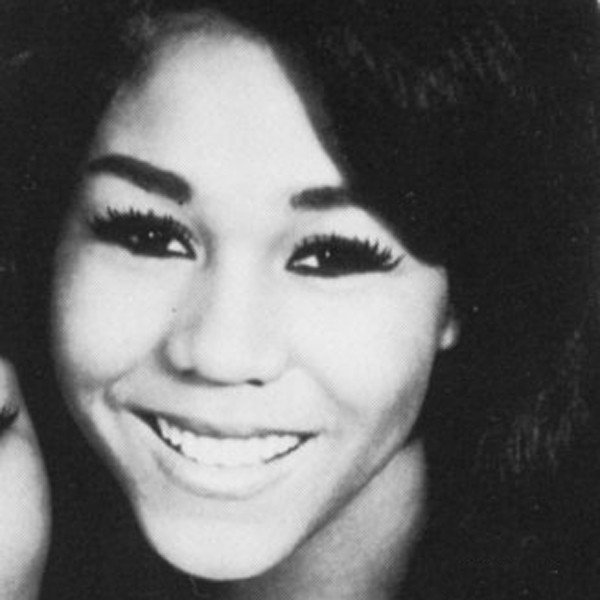 Clydie_King
Wonder B

a écrit :

↑

20 janv. 2019 21:53

Nooooon pas Clydie King...

Très grande chanteuse (amha) qui débuta avec un groupe nommé les Blackberries, et qui a sorti plusieurs disques solo (4) dont deux hélas sortis sur les labels Tiger Lily et Baby Grand, montés par des mafieux pour échapper aux taxes fiscales, et qui seront donc presque impossibles à trouver (très mal distribués et pressés en très petits nombres).

Heureusement pour nous des rééditions sont arrivées sur le marché tout récemment, et donnent ainsi la possibilité à plus d'amateurs de (re)découvrir sa voix magnifique.

FACE A
Clydie King_1976_"Rushing To Meet You"
(A1)
Clydie King_1976_"Punish Me"
(A3)


"Punish Me" (INSTRUMENTAL)
FACE B
Clydie King_1976_"Loving You Is So Easy"
(B1)
Clydie King_1976_"Woman"
(B2)


Sur ce titre / son chant, fait penser à des artistes comme Patti LaBelle...

------------------------------------------------------------------------------------------------------------------------------
Clydie King sur Funk-O-Logy
-->Clydie King - Direct Me (Lizard A-20104 / A20104, 1970)
-->Clydie King - Rushing To Meet You (Tiger Lily TL 14037, 1976)
/
(Tiger Lily Records TL 14037, Big Pink Music 152, 2011)
/
(Everland Everland 020, 2018)
Funk School > R.I.P. 2019 - In Memoriam
Clydie King (21/08/1943 - 7/1/2019)