Brothers In Christ - Twinkle Of An Eye... (New Dawn NDR 1003, 1986)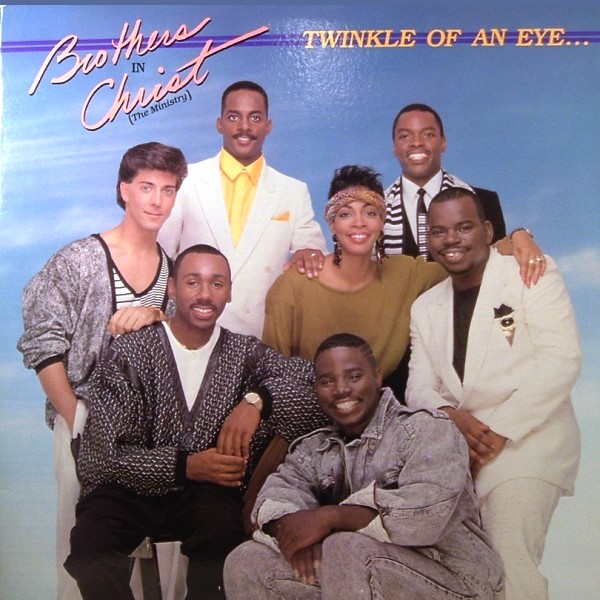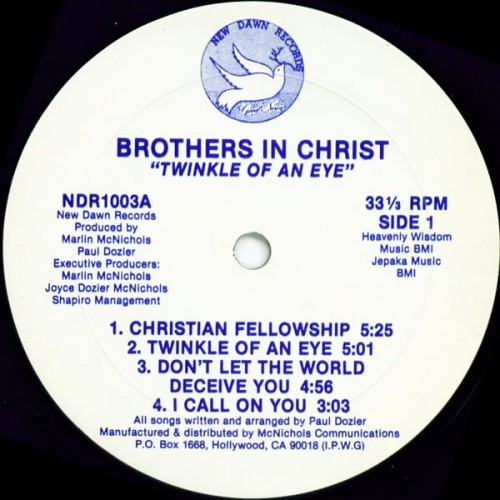 Tittres
A1 Christian Fellowship 5:25
A2 Twinkle Of An Eye 5:01
A3 Don't Let The World Deceive You 4:56
A4 I Call On You 3:03
B1 God's Armor 6:09
B2 I Will Praise Thee 6:23
B3 God As The Only World For Me 4:06
B4 Rejoice 4:21
Crédits
Brothers in Christ :
Paul Dozier
: guitare, saxophone et lead vocal
King Harris
: lead vocal
Joyce Dozier McNichols
: Choeurs
Rodrick Norman
: basse et vocaux
Kenny Germany
: batterie
Daryl Chavez
: clviers
Calvin Smith
: claviers
Arrangé par
Paul Dozier
Produit par
Paul Dozier et Marlin McNichols
Un groupe de gospel-funk créé par le chanteur et guitariste Paul Dozier.
Ils ont gravé deux albums, je ne connais pas le premier de 1985. Celui-ci est très interessant
bio et disco graphie :
https://www.discogs.com/artist/349685-Paul-Dozier
God's Armor


Christian Fellowship

Twinkle Of An Eye

lead vocal : Paul Dozier
Don't Let The World Deceive You

lead vocal : King Harris
I Will Praise Thee

lead vocal : Paul Dozier
God As The Only World For Me | lead vocal : King Harris
Rejoice

Aujourd'hui Paul Dozier est devenu un guitariste "smooth jazz"