Level 42 - A Physical Presence
(Polydor POLH 23 / 825 677-1, 1985)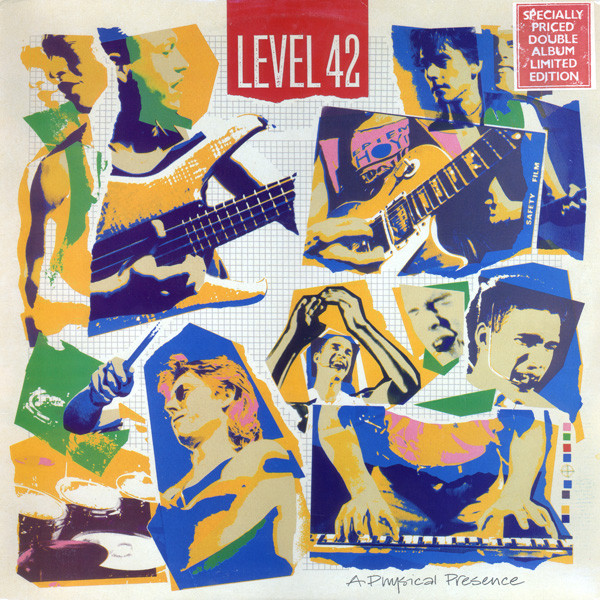 Titres
A1 Almost There
A2 Turn It On
A3 Mr. Pink
A4 Eyes Waterfalling

B1 Kansas City Milkman
B2 Follow Me
B3 Foundation And Empire

C1 The Chant Has Begun
C2 The Chinese Way
C3 The Sun Goes Down (Living It Up)
C4 Hot Water

D1 Love Games
D2 88
Crédits
Mark King
: basse, chant
Boon Gould
: guitare
Phil Gould
: batterie
Mike Lindup
: claviers, vocaux
Krys Mach
: saxophone
Mixage :
Gregg Jackman
Live enregistré en Angleterre à différentes dates.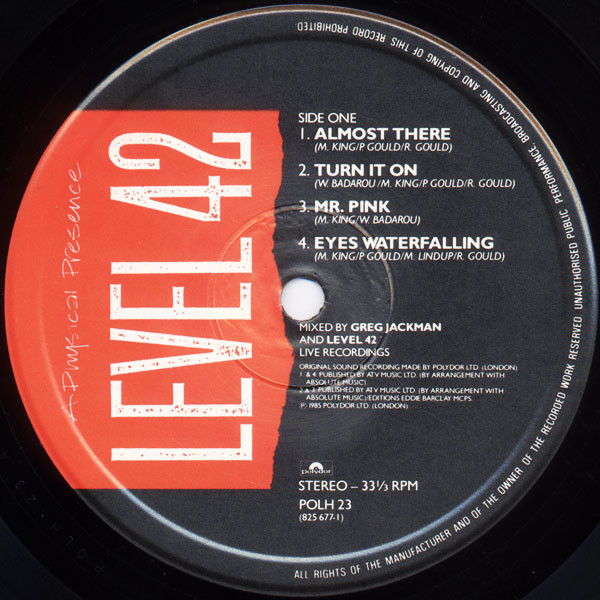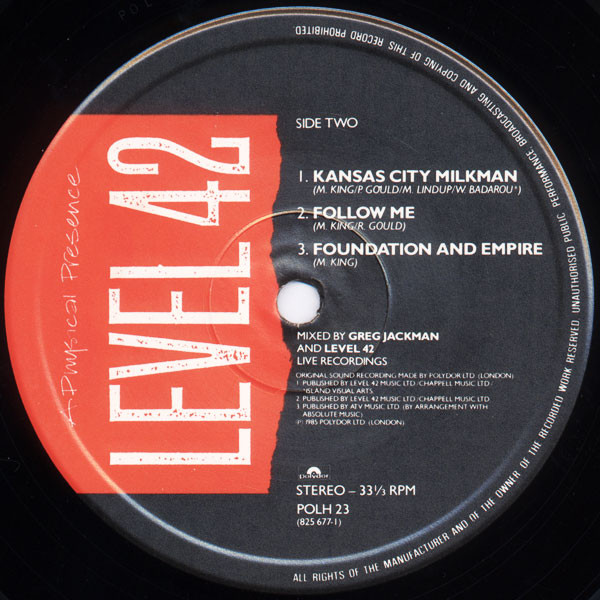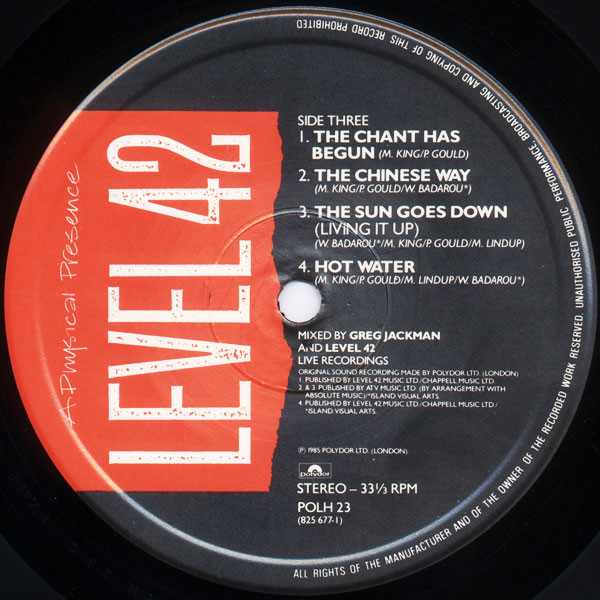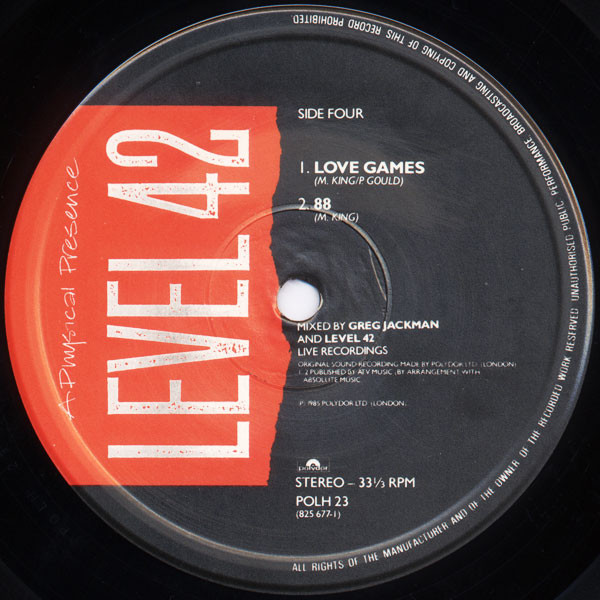 Présentation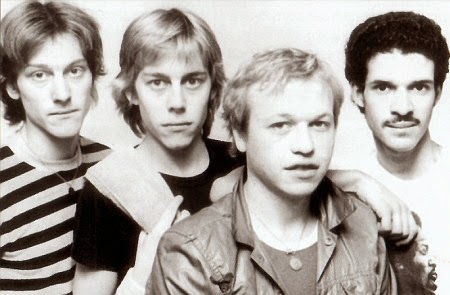 Level_42



"Kansas City Milkman"
(titre 5)

est d'enfer : c'est suintant de basse, de groove, un des titres du band qui a marqué mes sens, ma mémoire...
Je trouve que leur son prend une superbe ampleur dans les versions live avec le public que l'on entend, etc.
Autre morceau mé-mo-ra-ble :
"Hot Water"
(titre 11).



Ou encore le funkisant
"The Sun Goes Down (Living It Up)"
(titre 10).



J'ai manqué de citer un titre un peu plus lent - enfin selon les ressentis

-
"Love Games"
(titre 12)
(après la partie solo / basse)
qui m'avait aussi accrochée et quand il balance "set me free"... à chacun(e) ses moments de transe sonores sensorielles.


Level 42
méritait d'être cité sur le forum.
Ah !ces notes de basse de
Mark King

et de son timbre vocal que je trouve bien en accord avec le son du band. Les falsetto sont reconnaissables sur ce Jazz-Funk bien rond et chaud, surtout carré.
Le plaisir est toujours présent à l'écoute de leur Musique.
ENJOY !!!!!

Level 42_1985_A Physical Presence
Track Listing
01 - "Almost There"
02 - "Turn It On"
03 - "Mr Pink"
04 - "Eyes Waterfalling"
05 - "Kansas City Milkman"
06 - "Follow Me"
07 - "Foundation And Empire"
08 - "The Chant Has Begun"
09 - "The Chinese Way"
10 - "The Sun Goes Down (Living It Up)"
11 - "Hot Water"
12 - "Bass Solo and Love Games"
13 - "88"
L'album existe en format double CD.
[APARTE PARTIEL]
Level 42_2010_Estival Jazz Lugano
(LIVE)
Titres
1. Hot Water (0:20)
2. Dream Crazy (5:20)
3. World Machine (10:00)
4. Kansas City Milkman (15:50)
5. Running in the Family (23:15)
6. It's Over (28:20)
7. Starchild (35:05)
8. Almost There (41:30)
9. The Sun Goes Down (Living It Up) (47:15)
10. Something About You (52:40)
11. Lessons In Love (58:00)
12. Love Games (1:03:40)
11. Heaven In My Hands (1:10:50)
12. The Chinese Way (1:16:00)

Super live que je vous conseille d'écouter/regarder : on y retrouve les pulsations d'époque, c'est JOUISSIF et en plus une attaque dans les gencives directe avec
"Hot Water"
qui enfonce la vibe dans les tympans. BONHEUR TOTAL.

Existe en DVD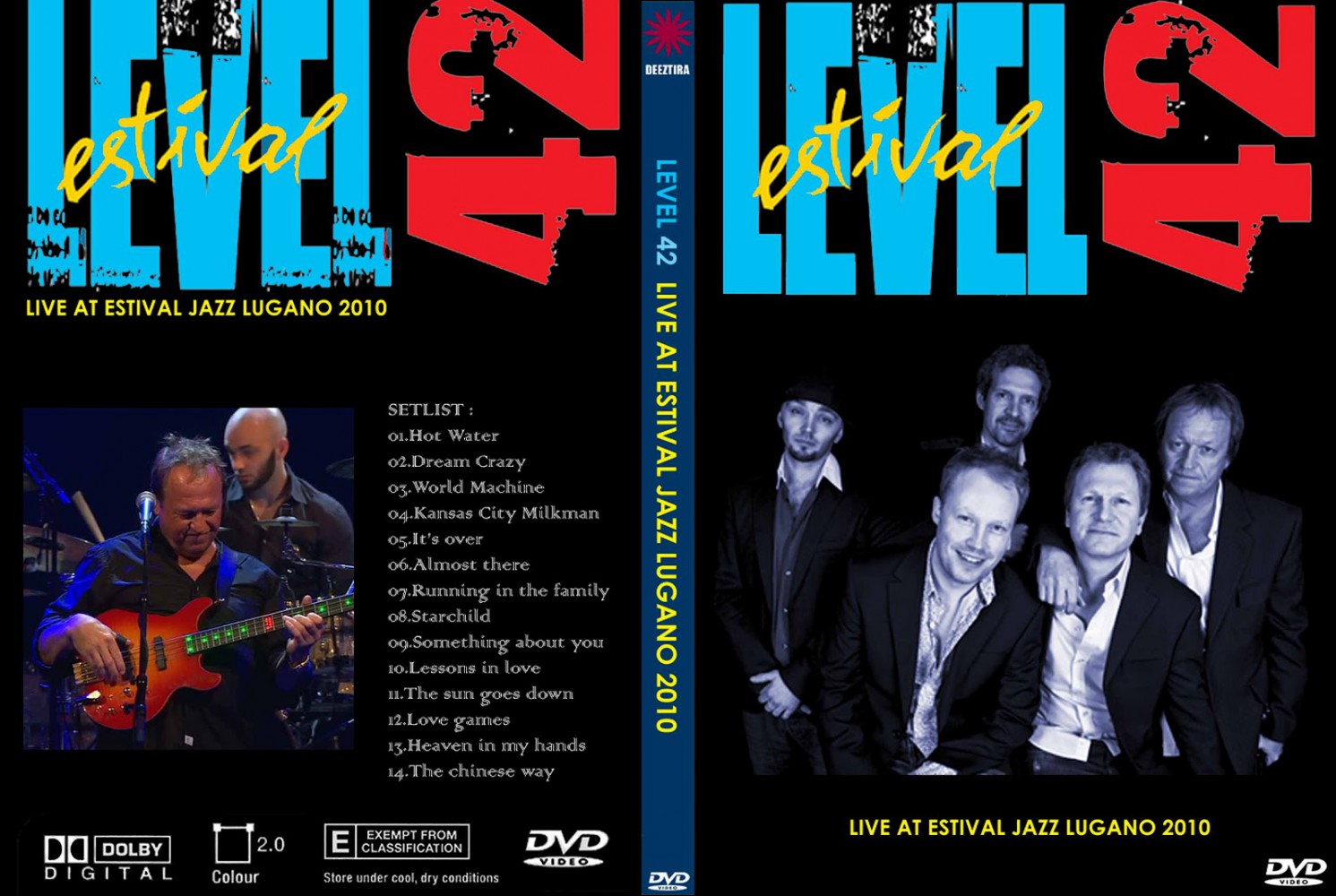 [FIN APARTE PARTIEL]
Level 42

(1985)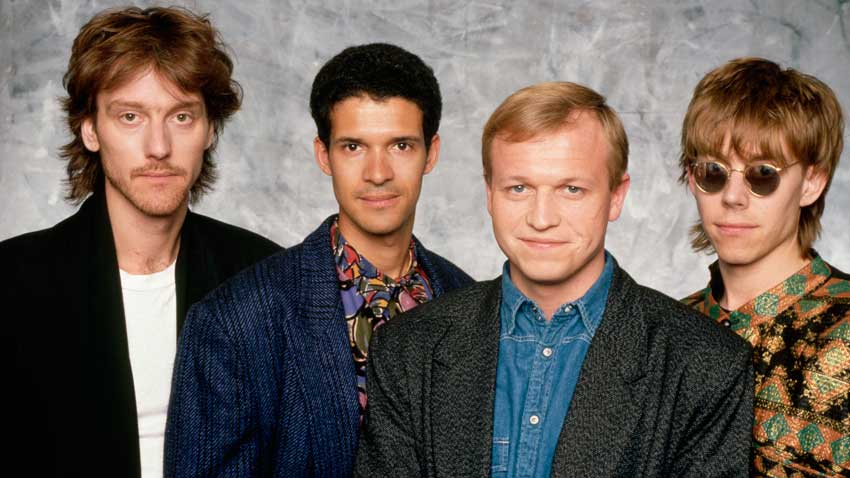 Mark King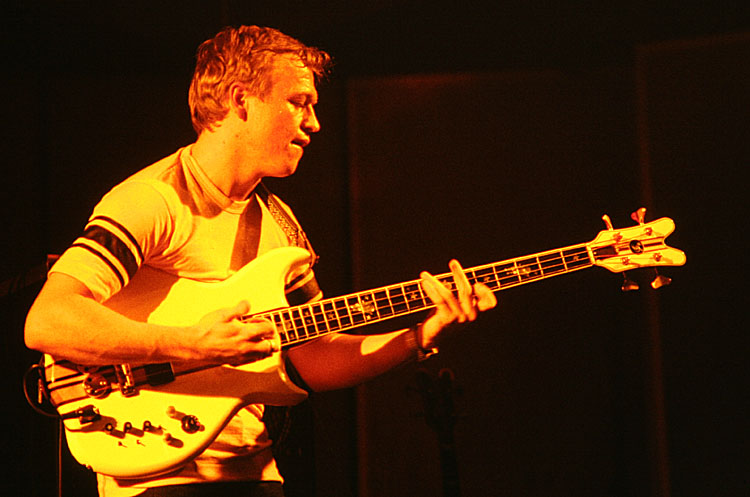 -------------------------------------------------------------------------------------------------------------------------------
Level 42 sur Funk-O-Logy
-->Level 42 - A Physical Presence (Polydor POLH 23 / 825 677-1, 1985)