---
Funky admins : funkiness, Wonder B, silverfox
Exit - The Houston Oilers Mania Song / (Pt.2) (Dal-Tex Records ‎LS-451, 1980)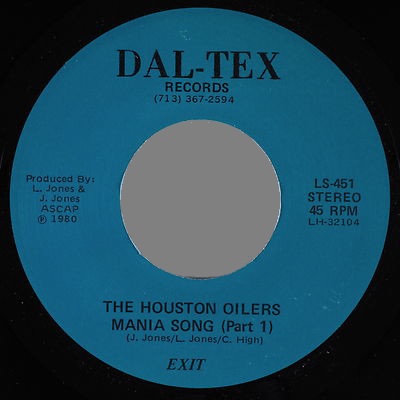 Site Admin
La part 2 est terrible. La grande classe! Découverte pour moi. Rien à voir apparemment avec le groupe Exit qui a signé le magnifique "Detroit Leanin".
funkiness brings you funk and happiness
harbour (Discogs) a écrit : Formed by founding members of The 58 Engineers, Exit has its origins just outside of Houston. People were coming and going out of the Engineers lineup, but founding members,

Johnnie and Lonnie Jones

, strived to continue to making music.

Together, Johnnie and Lonnie Jones developed Exit with the help of the very talented

Clennis High

. Clennis is most noted for his guitar playing on the classic Tighten Up, by Archie Bell and the Drells.

Exit released three 45s under the Dal-Tex imprint, a label created by Johnnie and Lonnie Jones.

...................

Exit also recorded records on the Bryant label, a name inspired Jones's mother's maiden name (Bryant). The Houston Oilers Mania Song can be found on both the Dal-Tex and Bryant labels.

The band performed with a lot of familiar Texas soul and funk acts, including many heavyweights of the time: TSU Tornadoes Joe Tex, Oscar Perry, and more. In fact, its members continue to play music to this day.

Unfortunately, Lonnie Jones passed away in 2007, resulting in a number of reunions with remaining members. Currently, Johnnie Jones and Clennis High perform with contemporary gospel group, The Gospel Engineers. In addition, Clennis High is still actively contributing to a smooth jazz project with Archie Bell in Houston.

.................

Exit received considerable local attention for records like One More Hour, and also recorded two football-mania tunes for the Houston Oilers and the Dallas Cowboys.
source :
https://www.discogs.com/fr/artist/2172399-Exit-33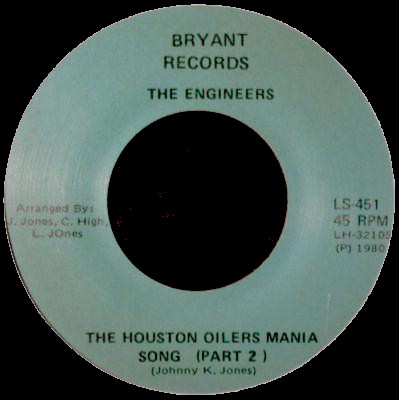 Sujets similaires

Réponses
Vues

Dernier message
---
Utilisateurs parcourant ce forum : Aucun Funk-o-logue et 7 extraterrestres