The Ballads - Confessing The Feeling (Balja VS 1023, 1980) - Japan pressing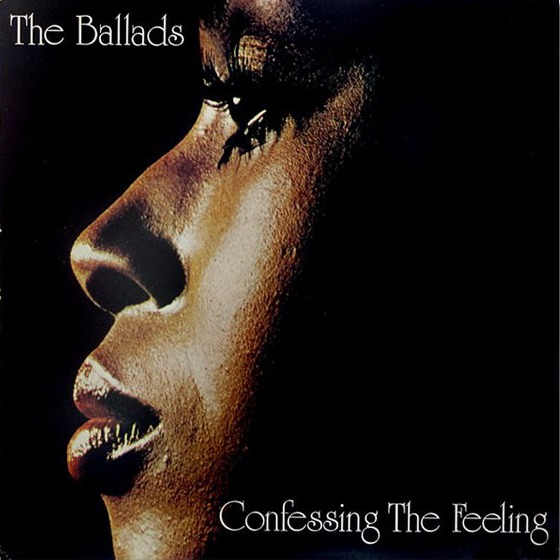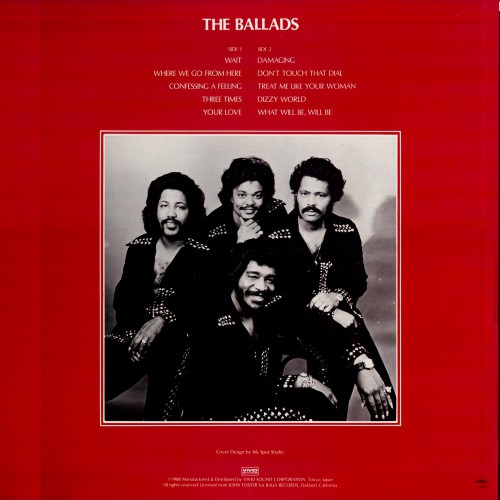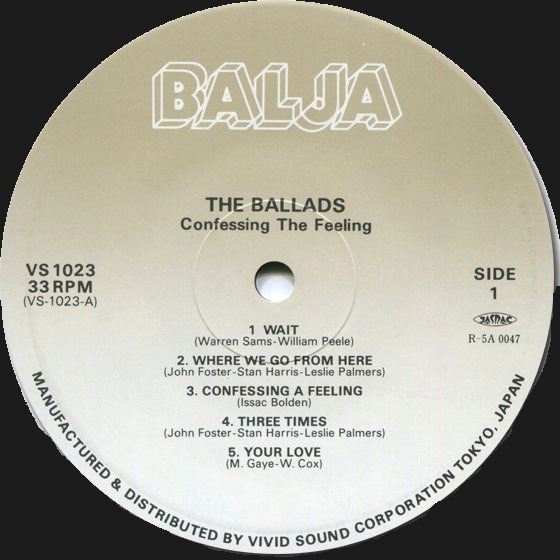 Titres
A1 - Wait (Warren Sams, William Peele)
arrangé par Gene Page, produit par L. Jackson , B. Barnes & R. Poe
A2 - Where Do We Go From Here (John Foster, Stan Harris, Leslie Palmers)
A3 - Confessing A Feeling (Isaac Bolden)
A4 - Three Times (John Foster, Stan Harris, Leslie Palmers, P. Harris)
A5 - Your Love ( Marvin Gaye, Wally Cox)
arrangé par Wally Cox, produit par L. Jackson , B. Barnes & R. Poe
B1 - Damaging (John Foster, Stan Harris, Leslie Palmers)
B2 - Don't Touch That Dial (John Foster, Stan Harris, Leslie Palmers)
(titre publié plus tard en 1982 sur Soul Beat 003)
B3 - Treat Me Like Your Woman (John Foster, Stan Harris, Leslie Palmers)
B4 - Dizzy World (John Foster, Rico Thompson)
arrangé par Rene Hall, produit par Baidar Barnes, Clarence Brown & John Foster
B5 - What Will Be, Will Be (John Foster, Stan Harris, Leslie Palmers)
Le label californien Balja avait prévu de publier en 1976 un premier album de ce groupe vocal d' Oakland mais n'a pu le faire pour des raisons financières, c'est Vivid au Japon qui contactera Balja pour le publier.
source : Naoya Yamauchi August 12, 2008 - 9:05 pm (http://faac.us/adf/messages/178308/1774 ... 1218589545)
https://funk-o-logy.com/forum/funky/pdf ... allads.pdf
La carrière des
Ballads
couvre plusieurs décennies à partir de 1961 avec de nombreux changements de personnel.
Pour une bio-discographie, je vous revoie vers " The Story Of The Ballads " :
http://opalnations.com/files/Ballads_In ... 1_2006.pdf
, article paru dans le magazine
In The Basement #41- Feb./Apr. 2006
Cet album couvre la période 1972-1978
A1
Wait
(publié à l'origine en 1976 sur Balja 1002)
A2
Where Do We Go From Here
A3
Confessing A Feeling
(publié à l'origine en 1976 sur Baja 1001)
A4
Three Times
(un extrait sera publié plus tard en 1984 sur Balja 1777)
A5
Your Love
(publié à l'origine en 1976 sur Baja 1002)
composé par Marvin Gaye !!
B3
Treat Me Like Your Woman
(publié plus tard en 1982 sur Soul Beat 003)
avec Pamela Harris
B4
Dizzy World
- from the motion picture "Mack" (publié à l'origine en 1972 sur Kimberly 105)