Aggression - Come And Be My Freak / Starship
(Plum Good Records PG-111/112)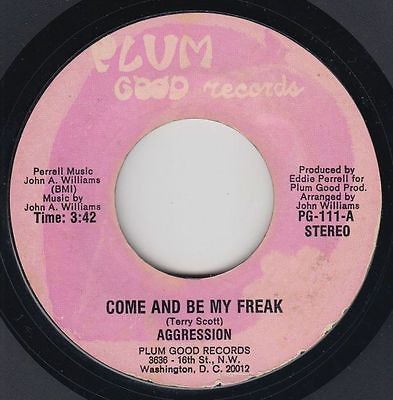 Titres
A
Come And Be My Freak
3:42
(Musique : John A. Williams / Écriture : Terry Scott)
B
Starship
3:59
(Michael Henderson)
Crédits
Arrangements :
John Williams, Terry Scott
Production :
Eddie Perrell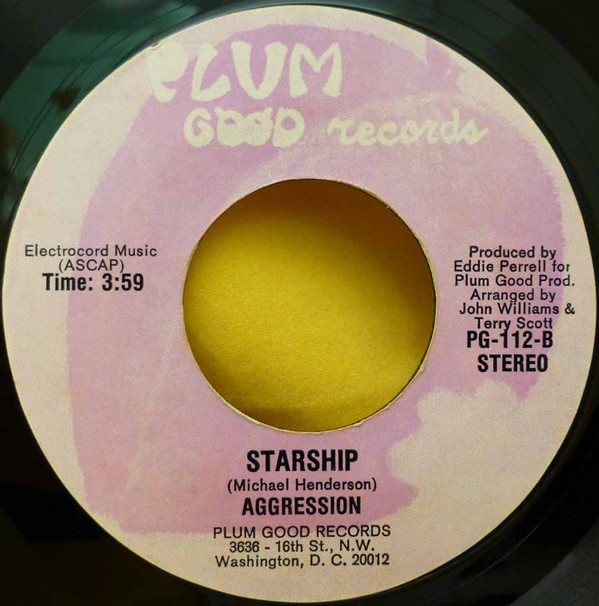 Face A
Aggression - "Come And Be My Freak"



FUNK PUNCHY & MÉLODIEUX. La voix du chanteur

en phase totale avec l'ambiance du titre.
Face B
Aggression - "Starship"

Un slow pour se pauser après la déferlante de la face A.


Un 45T qui mériterait une réédition car pas présent, semble-t-il, sur une compilation, de plus rareté de l'objet. À bon entendeur...


---------------------------------------------------------------------------------------------------------------------------------
Aggression sur Funk-O-Logy
45T
-->Aggression -

"Tag"

(SRI NR6304, 1978)
-->Aggression -

"Come And Be My Freak" / "Starship"

(Plum Good PG-111 / PG-112)