The Village Choir – Sweet Hot Lips / Same (N.Y.C. Street Sound ‎N.Y.C. 2000, 1976)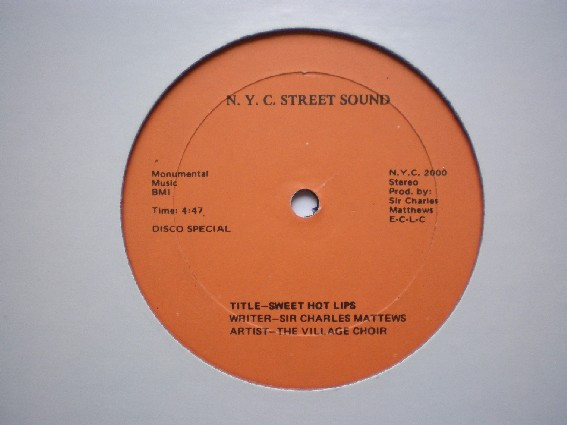 Sir Charles Ezra Matthews
en avait marre d'être appelé
Sir
alors que son talent n'était reconnu par personne sinon son proche entourage.
Sir Charles
après avoir quelque peu vampirisé
The Village Choir
, le groupe de
Clip Hightower
, en devenant leur mentor, produisit un LP pour eux dont il était fier d'avoir trouvé le titre "Street Opera With A Blues Waltz".
C'était tout lui, il devait en sa qualité de
Sir
pouvoir embrasser tous les genres même les plus disjoints. L'ambition était son carburant ultime et quand il en manquait, les périodes de sevrage devenaient monnaie courante, alors il se sentait perdu et jetait facilement son titre
Sir
dans les poubelles tel un chiffon usagé.
Mais cette fois-ci,
SIr Charles
était satisfait de sa composition et plus particulièrement du titre choisi qui lui évoquait les plus beaux mystères du sexe : " Sweet Hot Lips". "
Marvin Gaye, tu peux prendre ta retraite, j'arrive !
"
Notre héros (d'un jour) avait en partie raison car dieu sait si ce morceau est un enchantement, tout était là : les voix, la mélodie et le groove qui l'emporte !

Version Longue :
Version courte (version que je préfère) :