Positive Change - S/T (Fortress FLP 1001, 1978)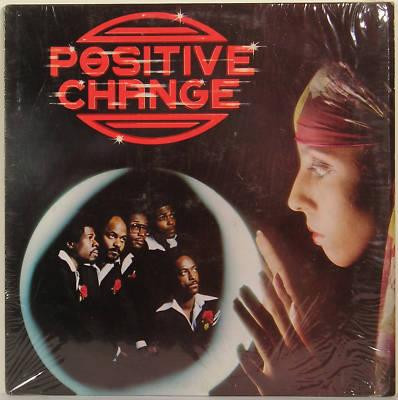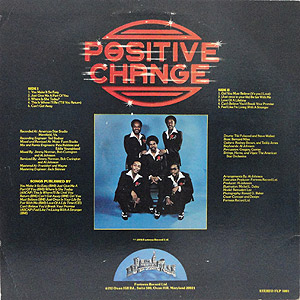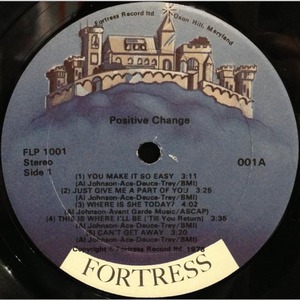 Titres
A1 You Make It So Easy
A2 Just Give Me A Part Of You
A3 Where Is She Today?
A4 This Is Where I'll Be ('Till You Return)
A5 Can't Get Away
B1 Girl You Must Believe (It's You I Love)
B2 (Just Once In Your Life) Be Fair With Me
B3 Love Of A Lifetime
B4 Can't Believe You'd Break Your Promise
Crédits
Bernard Miles
: basse
Rodney Brown, Teddy Jones
: guitares
Tiki Fulwood, Steve Walker
: batterie
Al Johnson
: claviers
Gregory Gerran
: percussions
The Ameriucan Star Orchestra
: cordes, cuivres, viges
Arrangé et Produit par
Al Johnson
Originaires de Washington D.C, ils se sont fait remarquer en performant à l'Apollo Theater d'Harlem pendant sept semaines d'affilées. De retour à Washington, Al Johnson tomba sous le charme de ce quintet Vocal.
Ils sortiront leur unique album en 1978, à peu près en même temps que le "Peaceful" d'Al Johnson, il leur écrira d'ailleurs neuf des dix morceaux.
Pour la petite histoire, l'album a été financé par un business man de Washington qui créa son propre label pour l'occasion (Forteress Record Inc).
Un album de Sweet Soul un peu en dents de scie, avec de très beaux titres comme le

"This Is Where I'll Be ('Till You Return)" et ses magnifiques vocalises

Ou encore le Groovesque

"Can't Get Away"

Je laisse la place aux Funk-o-logues qui pourront peut-être apporter quelques précisions sur ce groupe

Bonne écoute !
You Make it so Easy :
Just give me a part of you :
Where Is She Today? :
This Is Where I'll Be ('Till You Return) :
Can't Get Away :
Girl You Must Believe (It's You I Love)
(Just Once In Your Life) Be Fair With Me
Love Of A Lifetime
Can't Believe You'd Break Your Promise