The James Brown Revue - Live At The Apollo Volume IV (Get Down Records B2400727)
2 x LP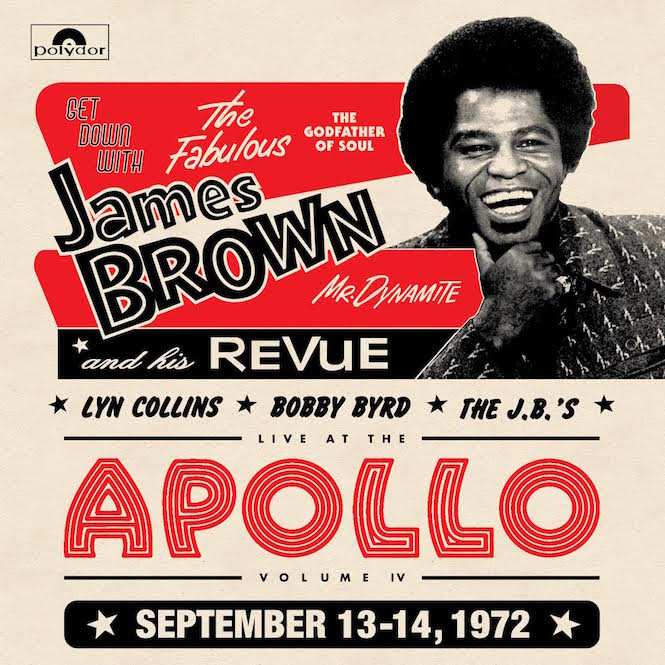 Titres
01. Introduction Of The J.B.'s by Danny Ray
02. The J.B.'s – Hot Pants Road
03. The J.B.'s – From The Back Side
04. The J.B.'s – Wine Spot
05. Introduction Of James Brown by Fred Wesley
06. James Brown – Never Can Say Goodbye
07. The J.B.'s – Pass The Peas
08. The J.B.'s – Honky Tonk
09. Introduction By James Brown
10. The J.B.'s – Gimme Some More
11. James Brown – There It Is
12. Introduction Of Lyn Collins by Danny Ray
13. Lyn Collins – Do Your Thing
14. Lyn Collins – Think (About It)
15. Lyn Collins – I'll Take You There
16. Introduction Of Bobby Byrd by Danny Ray
17. Bobby Byrd – I Know You Got Soul
18. Bobby Byrd – (If Loving You Is Wrong) I Don't Want To Be Right
19. Bobby Byrd – Keep On Doin' What You're Doin'
Prévu pour une sortie mi-Mai, ceci est donc le 4ème enregistrement live au célèbre Apollo Theater de Harlem.
Un an après le 3ème enregistrement (Revolution Of The Mind - 1971) cet autre double album enregistré les 13 et 14 Septembre 1972 fut enregistré mais immédiatement remisé sur les étagères des archives Polydor et est resté là à prendre la poussière jusqu'à maintenant.
Pourquoi? On ne peut que se perdre en conjectures... Et pourtant c'est du GRAND JB qui est proposé sur ces nouvelles faces...
Un regard sur la track list risque d'en faire saliver plus d'un!!!
Des instrumentaux classiques des JB's comme "Pass the Peas," "Gimme Some More" et "Hot Pants Road", ou bien le super titre de JB "There It Is", bref du lourd, le tout joué par un des meilleurs groupes du Godfather avec dans les rangs : Fred Wesley au trombone; St. Clair Pinckney au sax; Hearlon "Cheese" Martin et Jimmy "Chank" Nolan aux guitares; Fred Thomas à la basse; et James Brown lui même à l'orgue!
Pour une immersion totale dans ce qu'était le Funk selon James à l'époque, les producteurs de cet album ont laissé les introductions des chansons.
Contrairement aux autres live à L'Apollo, cet album (défini ainsi par JB lui même) devait servir aussi à promouvoir l'ensemble de sa "REVUE" en montrant les talents de sa troupe. C'est pourquoi il sort sous la bannière de la James Brown Revue.
C'est ainsi que les JB's, Bobby Byrd & Lyn Collins, sont ici mis à l'honneur.
On retrouve donc Lyn Collins chantant "Do Your Thing" & "Think (About It)", Bobby Byrd et ses hits "Keep On Doin' (What You're Doin')" ainsi que l'incontournable "I Know You Got Soul" qui font léviter tout l'orchestre!!!
Pour un prix public conseillé de $29.98 (peut-être sera-t-il trouvable moins cher chez des revendeurs) c'est encore une belle tranche de l'histoire du Funk qui nous est proposée!