Jackie Ross - Full Bloom
(Chess 1489, 1964)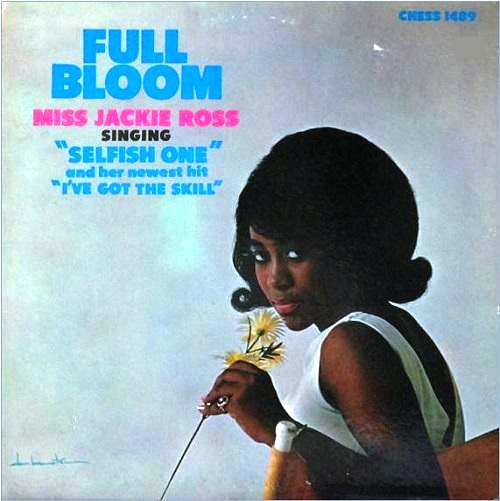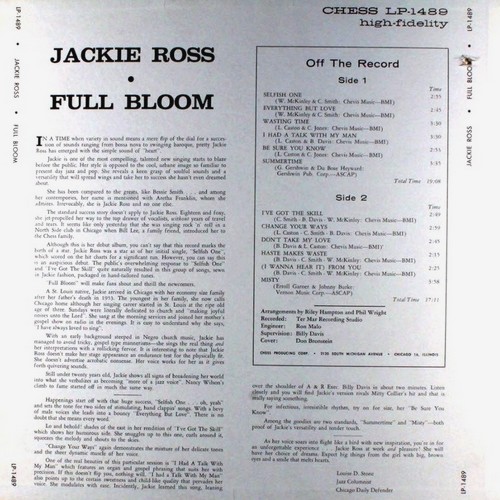 Titres
A1 Selfish One 2:55
A2 Everything But Love 2:45
A3 Wasting Time 3:30
A4 I Had A Talk With My Man 3:30
A5 Be Sure You Know 2:53
A6 Summertime 3:35
B1 I've Got The Skill 2:49
B2 Change Your Ways 2:59
B3 Don't Take My Love 2:45
B4 Haste Makes Waste 2:15
B5 (I Wanna Hear It) From You 2:25
B6 Misty 3:58
Crédits
Composition et écriture
B. Davis
(A4, B1 à B5)
C. Smith
(A1, A2, B1, B2, B4, B5)
C. Jones
(A3, A5)
Du Bose Heyward
(A6)
Errol Garner
(B6)
G. Gershwin
(A6)
Johnny Burke
(B6)
L. Caston
(A3 à A5, B2, B3)
W. McKinley (A1, A2, B1, B4,B5)

Jackie Ross
Une petite merveille sortie en 1964 sur le label Chess, Jackie Ross a ce genre de voix, profonde, sincère qui prend tout de suite aux tripes, difficile de ne pas adhérer, le site Dusty Groove en a fait une très bonne critique que voici :
One of the greatest female soul moments on Chess Records in the 60s – and that's saying a lot, given that the label also recorded Etta James! Jackie Ross is a singer who's way more Chicago than most of the bigger names on Chess – and works here with that perfect blend of soul and sophistication that Chicago could boast at the time – a style that really paved the way for countless others to come in the latter part of the decade, and especially the 70s – at a level that almost makes Ross a precursor to Minnie Riperton or Denise Williams. And although the style is sophisticated, Ross still has this soulful punch – and there's a stepping groove that makes the record way different than polished female soul at Motown – thanks go great arrangements by Riley Hampton and Phil Wright. Titles include "I've Got The Skill", "Change Your Ways", "Don't Take My Love", "Everything But Love"
Une réédition CD est disponible en pressage Japonais (
Chess Best Collection UICY-76561
)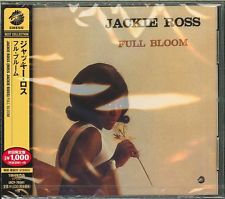 Selfish One
La Classe, un morceau qui a tout d'un classique

Un esprit qui me fait penser aux meilleurs moments de la période 60' Motown, Jackie Ross a ce grain de voix un peu à la Mary Wells sur ce morceau. Violons, cuivres tout est bon !!!

Everything But Love

Encore une pépite de Chitown Soul, l'esprit Motown rode toujours

Wasting Time
I Had A Talk With My Man
Entre Gospel et Blues, Jackie Ross excelle dans ce registre,

On Souffre avec elle !!! Et les arrangements...

Be Sure You Know
Summertime
Une reprise qu'elle s'approprie à merveille !
I've Got The Skill
Encore un titre qui fait mal !

présent sur la Face B du 45t Change Your Way

Change Your Way

Arrangé par Riley Hampton (Etta James, The Impressions) un morceau qui en dit long sur la qualité de cet album
Don't Take My Love
Haste Makes Waste
(I Wanna Hear It) From You
Misty