The Reality Band And Show - Gangster Boy / All You Need Is Time To Mess Around
(Appleray Records ‎AR77101, 1977)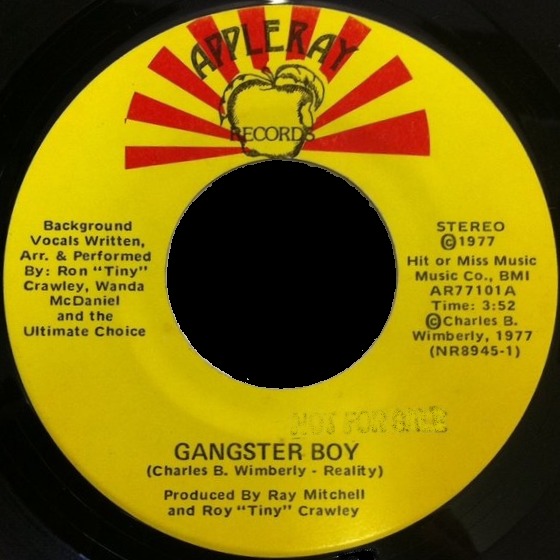 Imaginons, juste un simple instant, que Wanda McDaniel de Pittsburgh, Pennsylvanie, rencontre le boutonneux Regional Garland de Flint, Michigan. Ce dernier, les yeux éblouis derrière ses lunettes embuées, amoureux de la sauvage et féline Wanda, lui dédie son dernier morceau qu'il intitula
"Gangster Girl"
.
Wanda qui ne savait qu'allumer les mecs et accessoirement chanter, devant ce cadeau des dieux, demanda à son grand frère le célèbre (à Pittsburgh uniquement car ignoré dans le reste du monde) Ron Crawley dit "Tiny" de lui composer une chanson qu'elle irait chanter prestement auprès de ce qui était devenu son amant, allez Regional, écoute, voici mon cadeau à moi et ça s'appelle, mon chou, mon tendre binoclard : "Gangster Boy" !
Refermons ici la parenthèse.
Et laissons la parole à Ron "Tiny" Crawley : "
The track was recorded by a band from New Castle, Pennsylvania called Reality band and Show. Wanda McDaniel is my sister. She (sang lead) and the Ultimate Choice (a vocal group from Ohio who Ray also managed) sang the background, which I arranged.
"
(https://www.soul-source.co.uk/forums/to ... -appleray/)
"Gangster Boy' est un morceau fort et atypique, qui ne ressemble à rien de connu, diabolique avec son gimmick de guitare qui tricote un motif comme dans une tapisserie de Bayeux et qui frappe l'esprit autant qu'une balle de Colt 45 !

Gangster Boy :
Une petite photo de Ron "Tiny" Crawley :