St. Paul And The Broken Bones - Half The City (Single Lock Records SL 003, 2014)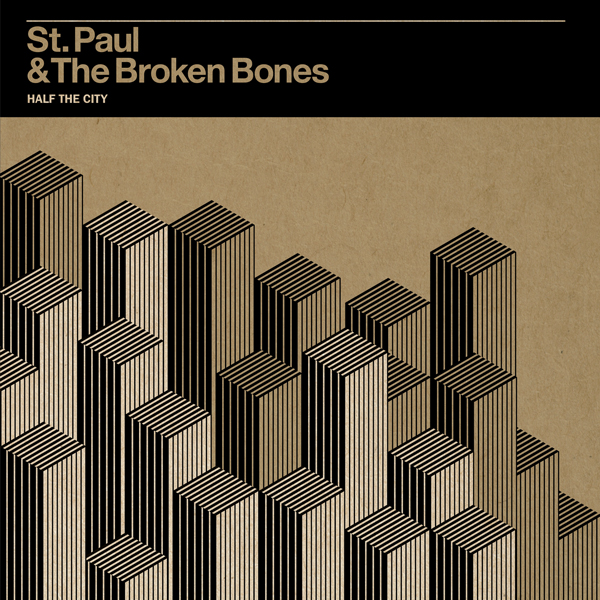 Titres
A1 I'm Torn Up 3:37
(St. Paul & The Broken Bones)
A2 Don't Mean A Thing 3:06
(St. Paul & The Broken Bones)
A3 Call Me 2:51
(St. Paul & The Broken Bones)
A4 Like A Mighty River 3:23
(St. Paul & The Broken Bones)
A5 That Glow 3:04
(Jesse Phillips, Paul Janeway)
A6 Broken Bones & Pocket Change 3:47
(Jesse Phillips, Paul Janeway)
B1 Sugar Dyed 2:28
(Jesse Phillips, Paul Janeway)
B2 Half The City 3:17
(St. Paul & The Broken Bones)
B3 Grass Is Greener 4:14
(St. Paul & The Broken Bones)
B4 Let It Be So 3:19
(St. Paul & The Broken Bones)
B5 Dixie Rothko 3:32
(St. Paul & The Broken Bones)
B6 It's Midnight 2:31
(St. Paul & The Broken Bones)
Crédits
Paul Janeway
: chant
Jesse Phillips
: basse, guitare (B1)
Browan Lollar
: guitare, choriste
Andrew Lee
: batterie, percussions
Ben Tanner
: choriste, orgue (B2), piano (B2, B5, B6)
Al Gamble
: orgue, piano (A1, A5, B3)
Ben Griner
: trombone, tuba
Allen Bransetter
: trompette, bugle
Musiciens additionnels
Ron Alexander
: basse (A6, B6)
Daniel Stoddard
: pedal steel guitare (A2, B2)
Les Nuby
: tambourin (B1)
James Brangle
: claviers (B1)
Jamie Harper
: saxophone baryton (A1, A3, A4, A6, B1, B2, B3, B5)
Production :
Ben Tanner
St Paul and the Broken Bones est un septette américain formé en 2012 en Alabama, six musiciens autour du soulman Paul Janeway.
Un petit homme banc, rond, qui possède une voix bouleversante. Il explique qu'il a grandi dans l'écoute exclusive de la musique gospel : « A l'âge de 10 ans j'ai été formé pour devenir ministre du culte. Mon but dans la vie, jusqu'à l'âge de 18 ans, était de devenir un prêcheur. »
Le groupe a sorti un disque en février 2014, Half City.
Personnellement je les ai découverts en août 2014 sur internet à travers cette version d'Otis Redding, filmée dans les rues de Paris. Ecoutez le et regardez le se mettre à genoux...
Je les ai manqués de peu cet été au festival Rock en Seine, ayant pris mon billet pour une autre journée que celle de leur concert, mais ils reviendront à Paris en mars 2015.