Johnson, Hawkins, Tatum & Durr - You Can't Blame Me / Your Love Keeps Drawing Me Closer
(Capsoul CS 22, 1971)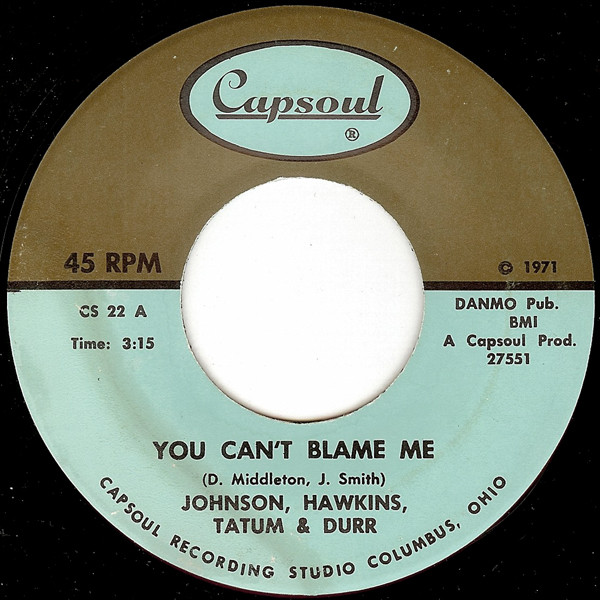 A l'écoute de Kool Blues, Funkiness nous renvoie à "
l'indispensable compile Eccentric Soul The Capsoul Label
", et là je découvre
ma perle du jour
avec "You Can't Blame Me" aussi "
Moody, Complex, Dark, Tense And Intense
" que peut être un classique d'Harmony Soul. Parfait tout y est : tension et violon.
Voici ce qu'en dit Numero Group :
"
Virgil Johnson, Al Dawson, Willie Tatum, and Norris Durr were a group of neighborhood kids billing themselves as the Revelations when Bill Moss' Capsoul label was in its infancy. Prompted by a friend, Moss decided to give the group an audition. What they sang that day was anything but a revelation, but those voices were right on. Liking the ring that Crosby, Stills, Nash & Young had coming off the tongue, Moss re-christened the group Johnson, Dawson, Tatum & Durr. A few weeks later he would absent-mindedly swap "Dawson" for "Hawkins" while laying out the labels for their first single, "You Can't Blame Me," accidentally renaming them for a third time. Moody, complex, dark, with a shockingly unique falsetto lead courtesy of Virgil Johnson, "You Can't Blame Me" is tense and intense. The flip, "Your Love Keeps Drawing Me Closer," made a dent on the soul dance scene but couldn't touch the impact of the a-side. Few records could. It was played everywhere and went to number one throughout the Midwest and up and down the eastern seaboard. While crucial cities such as Chicago and New York overlooked it, sales in places like Baltimore, Philadelphia, and Cleveland were massive. The success of that first single was no mystery. Virgil Johnson's hypnotic and unsettling lead was the linchpin of its popularity. Unfortunately, Virgil knew it as well as anyone else. After their second single, "You're All I Need to Make It" b/w "A World Without You" was in the can, Virgil was ready for the big time and Capsoul, he figured, wasn't getting him there fast enough. One very heated confrontation later, Johnson was thrown off the roster. Pride-bound, he immediately moved to Los Angeles, where he encountered the hard truth of his own insignificance. One of a million singers trying to get a gig in the big city, he was forced to return to Ohio just a few years later and has, as far as anyone can tell, never recorded again.
"
http://www.numerogroup.com/artists/john ... tatum-durr