Various – Edo Funk Explosion Vol. 1

2 x LP :
(Analog Africa AALP 091, 2021)

CD :
(Analog Africa AACD 091, 2021)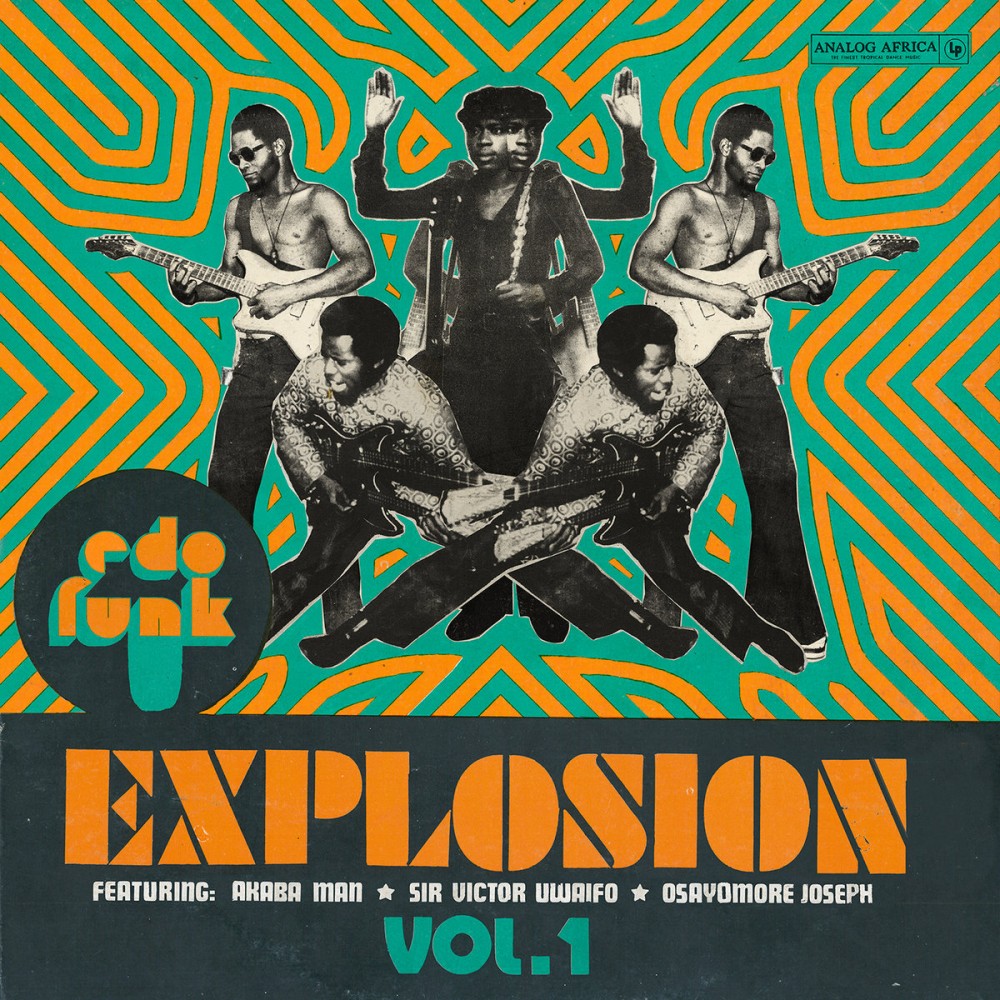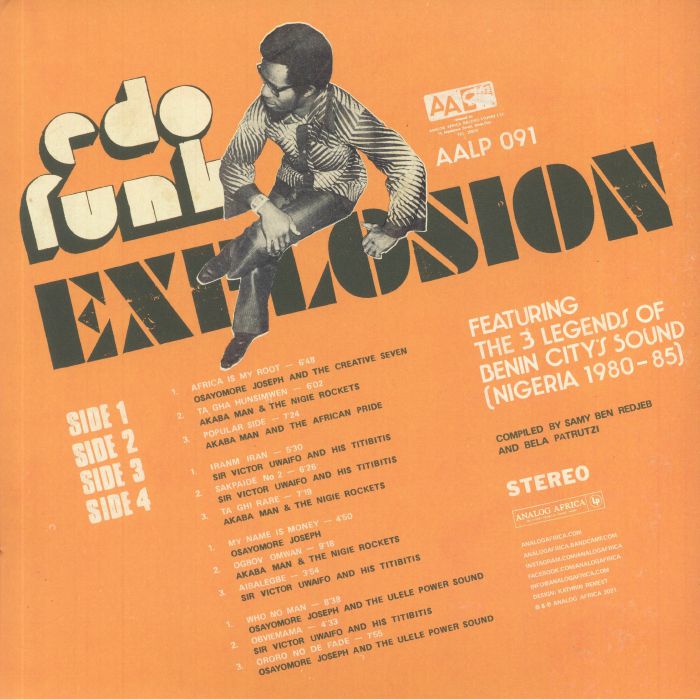 Titres
A1 Osayomore Joseph & The Creative Seven - "Africa Is My Root" 6:48
A2 Akaba Man & The Nigie Rockets - "Ta Gha Hunsimwen" 6:02
A3 Akaba Man & The African Pride - "Popular Side" 7:24

B1 Sir Victor Uwaifo & His Titibitis - "Iranm Iran" 5:30
B2 Sir Victor Uwaifo & His Titibitis - "Sakpaide No 2" 6:26
B3 Akaba Man & The Nigie Rockets - "Ta Ghi Rare" 7:19

C1 Osayomore Joseph - "My Name Is Money" 4:50
C2 Akaba Man & The Nigie Rockets - "Ogbov Omwan" 9:18
C3 Sir Victor Uwaifo & His Titibitis - "Aibalegbe" 3:54

D1 Osayomore Joseph & The Ulele Power Sound - "Who No Man" 8:38
D2 Sir Victor Uwaifo & His Titibitis - "Obviemama" 4:33
D3 Osayomore Joseph & The Ulele Power Sound - "Ororo No De Fade" 7:55
Présentation
ANALOG AFRICA a écrit :

It was in Benin City, in the heart of Nigeria, that a new hybrid of
intoxicating highlife music known as

Edo Funk

was born.
It first emerged in the late 1970s when a group of musicians began
to experiment with different ways of integrating elements from their
native Edo culture and fusing them with new sound effects coming
from West Africa ́s night-clubs. Unlike the rather polished 1980 ́s
Nigerian disco productions coming out of the international
metropolis of Lagos Edo Funk was raw and reduced to its bare
minimum.

Someone was needed to channel this energy into a distinctive sound
and Sir Victor Uwaifo appeared like a mad professor with his Joromi
studio. Uwaifo took the skeletal structure of Edo music and
relentless began fusing them with synthesizers, electric guitars and
80 ́s effect racks which resulted in some of the most outstanding Edo
recordings ever made. An explosive spiced up brew with an odd
psychedelic note dubbed "Edo Funk".

That's the sound you'll be discovering in the first volume of the
Edo Funk Explosion series which focusses on the genre's greatest
originators; Osayomore Joseph, Akaba Man, and Sir Victor Uwaifo:

Osayomore Joseph was one of the first musicians to bring the sound
of the flute into the horn-dominated world of highlife, and his
skills as a performer made him a fixture on the Lagos scene. When he
returned to settle in Benin City in the mid 1970s – at the
invitation of the royal family – he devoted himself to the
modernisation and electrification of Edo music, using Funk and Afro-
beat as the building blocks for songs that weren't afraid to call
out government corruption or confront the dark legacy of Nigeria's
colonial past.

Akaba Man was the philosopher king of Edo funk. Less overtly
political than Osayomore Joseph and less psychedelic than Victor
Uwaifo, he found the perfect medium for his message in the trance-
like grooves of Edo funk. With pulsating rhythms awash in cosmic
synth-fields and lyrics that express a deep personal vision, he
found great success at the dawn of the 1980s as one of Benin City's
most persuasive ambassadors of funky highlife.

Victor Uwaifo was already a star in Nigeria when he built the
legendary Joromi studios in his hometown of Benin City in 1978.
Using his unique guitar style as the mediating force between West-
African highlife and the traditional rhythms and melodies of Edo
music, he had scored several hits in the early seventies, but once
he had his own sixteen-track facility he was able to pursue his
obsession with the synesthetic possibilities of pure sound, adding
squelchy synths, swirling organs and studio effects to hypnotic
basslines and raw grooves. Between his own records and his
production for other musicians, he quickly established himself as
the godfather of Edo funk.

What unites these diverse musicians is their ability to strip Funk
down to its primal essence and use it as the foundation for their
own excursions inward to the heart of Edo culture and outward to the
furthest limits of sonic alchemy. The twelve tracks on Edo Funk
Explosion Volume 1 pulse with raw inspiration, mixing highlife
horns, driving rhythms, day-glo keyboards and tripped-out guitars
into a funk experience unlike any other.
Source : -
ANALOG AFRICA

LP et CD parus en mars 2021.

Titres entiers sur le
BANDCAMP
d'
ANALOG AFRICA
.