Various
–
Can You Feel It? Vol.3 : Modern Soul, Disco & Boogie 1976​-​85

(Tramp TRLP-9099BONUS7, 2021)
: 2 x LP + 7"

(Tramp TRLP-9099, 2021)
: 2 x LP

(Tramp TRCD-9099, 2021)
: CD
Titres LP / CD
A1 Compton Hodge - I Wanna Dance 3:37
A2 Kip Carmen - Stampede 4:11
A3 Monofide - Come Along With Me And Party 4:11
A4 H. Andrews And Company - Frisco Disco 4:59

B1 Teakwood - Can You Dig It? 3:32
B2 Parnassus - Bay Trippin' 3:47
B3 Hot Cakes - Take The A Plane 3:31
B4 Third Stream - Gettin' It Together 5:28

C1 Van Buren - Bronco Queen 4:54
C2 E.T. - S'Port City Rock 4:05
C3 Paul Thomas - Turn It Out! 3:45
C4 Java - Say Wah Choo Mean 3:41

D1 Ivory - Warm Love 2:47
D2 James Kelly Duhon - So Trusting 4:15
D3 Nature - She's The One 3:22
D4 Joshua Jackson Sr. - My Woman, My Woman 4:23
D5 The Unit III - Feel-In 3:47
BONUS 45T
E1 Teresa Harris & The Gene Parker Quintet - FO 4:02
E2 Teresa Harris & The Gene Parker Quintet - Good-Bye 3:03
Présentation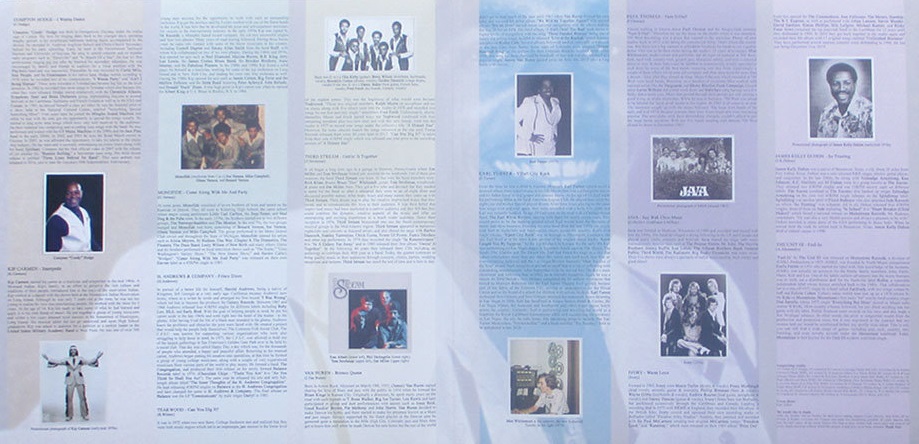 TRAMP RECORDS a écrit : After one and a half years of extensive research we are exhausted but ecstatic to present to our fans and critics the third volume in the "Can You Feel It?" compilation series.
This time our journey leads us through various musical styles, originating from countries as diverse as Barbados, Guyana, Germany, and the US. But the one quality these tunes all share is that they, once again, will make you get up, get down, and get ready for some more highly underrated MODERN SOUL, DISCO and BOOGIE!
Source :
TRAMP RECORDS
Plus d'informations sur le
Bandcamp
du label
TRAMP RECORDS
et c'est

ICI
.

Disponible à partir du 02 juillet 2021.

LP Gatefold + 45T
: pressage limité à
400 copies
.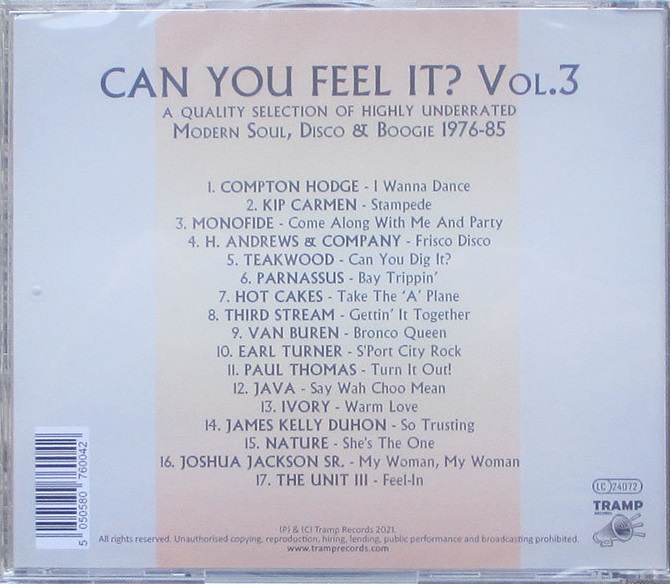 -------------------------------------------------------------------------------------------------------------------------------
Various - Can You Feel It? sur Funk-O-Logy
-->Various - Can You Feel It? Modern Soul, Disco & Boogie 1976​-​86
(Tramp Records TRLP-9076BONUS7 / TRLP-9076 / TRCD-9076, 2018)
-->Various - Can You Feel It? Vol. 3 - Modern Soul, Disco & Boogie 1976​-​85
(Tramp Records TRLP-9099BONUS7 / TRLP-9099 / TRCD-9099, 2021)