The Counts - Love Sign
(Aware AA 2002, 1973)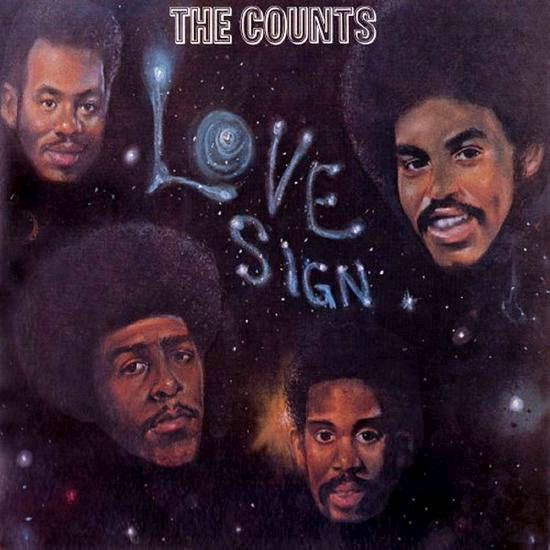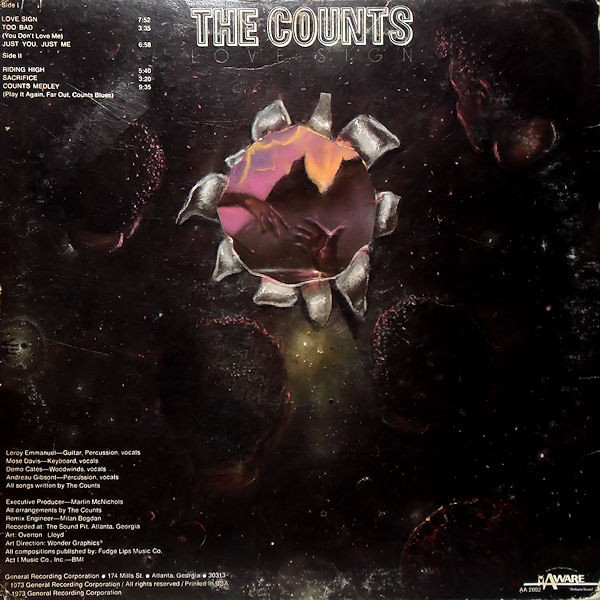 Titres
A1 Love Sign 7:52
(Leroy Emmanuel)
A2 Too Bad (You Don't Love Me) 3:35
(Leroy Emmanuel)
A3 Just You, Just Me 6:58
(Mose Davis)
B1 Riding High 5:40
(Mose Davis)
B2 Sacrifice 3:20
(Demo Cates)
B3 Counts Medley (Play It Again, Far Out, Counts Blues) 9:35
(Andreau Gibson, Demo Cates, Leroy Emmanuel, Mose Davis)
Crédits
Leroy Emmanuel
: guitare, percussions, chant
Andreau Gibsont
: percussions, vocaux
Mose Davis
: claviers, chant
Demo Cates
: saxophone alto et soprano, vocaux
Arrangements :
The Counts
Producteur exécutif :
Leroy Emmanuel, Marlin McNichols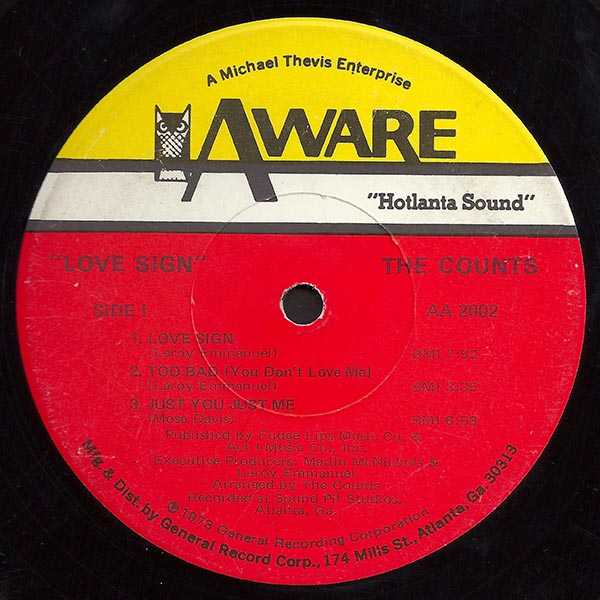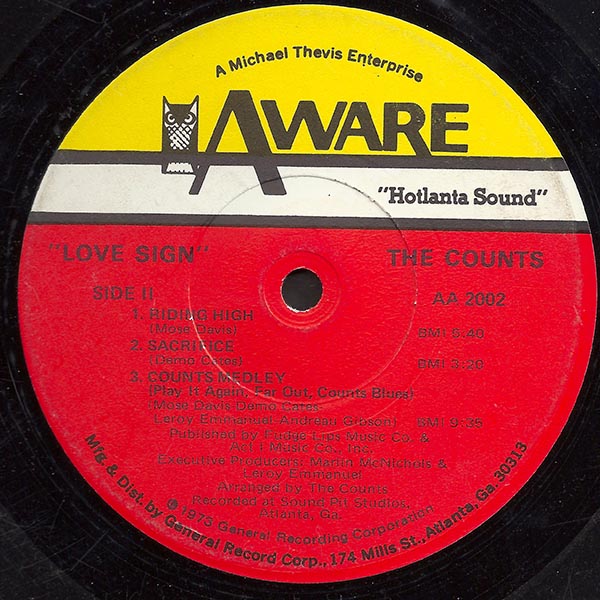 Réédition
Une réédition LP existe avec les mêmes références que l'original, pas de date de mentionnée.
Le format CD ne semble pas exister pour cet opus.

Présentation
The Fabulous Counts / The Counts

anglais :

The_Fabulous_Counts

Love Sign
est le second opus du groupe sous le nom de
The Counts
; et leur troisième si l'on en prend en compte leur unique album
Jan Jan (1969)
paru sous le nom de
The Fabulous Counts
.

FACE A
The Counts_1973_"Love Sign"
(A1)

The Counts_1973_"Too Bad (You Don't Love Me)"
(A2)
The Counts_1973_"Just You, Just Me"
(A3)
FACE B
The Counts_1973_"Riding High"
(B1)


The Counts_1973_"Sacrifice"
(B2)


The Counts_1973_"Counts Medley (Play It Again, Far Out, Counts Blues)"
(B3)

---------------------------------------------------------------------------------------------------------------------------------
The Fabulous Counts / The Counts sur Funk-O-Logy
ALBUMS
-->The Fabulous Counts - Jan Jan (Cotillion SD 9011, 1969)
-->The Counts - What's Up Front That Counts (Westbound WB 2011, 1971)
-->The Counts ‎- Love Sign (Aware AA 2002, 1973)
-->The Counts - Funk Pump (Aware AA 2006, 1974)
45T
-->Fabulous Counts -

"Get Down People" / "Lunar Funk"

(Moira #108, 1970)