Ann Peebles - The Handwriting Is On The Wall

(Hi Records HLP 6007, 1978)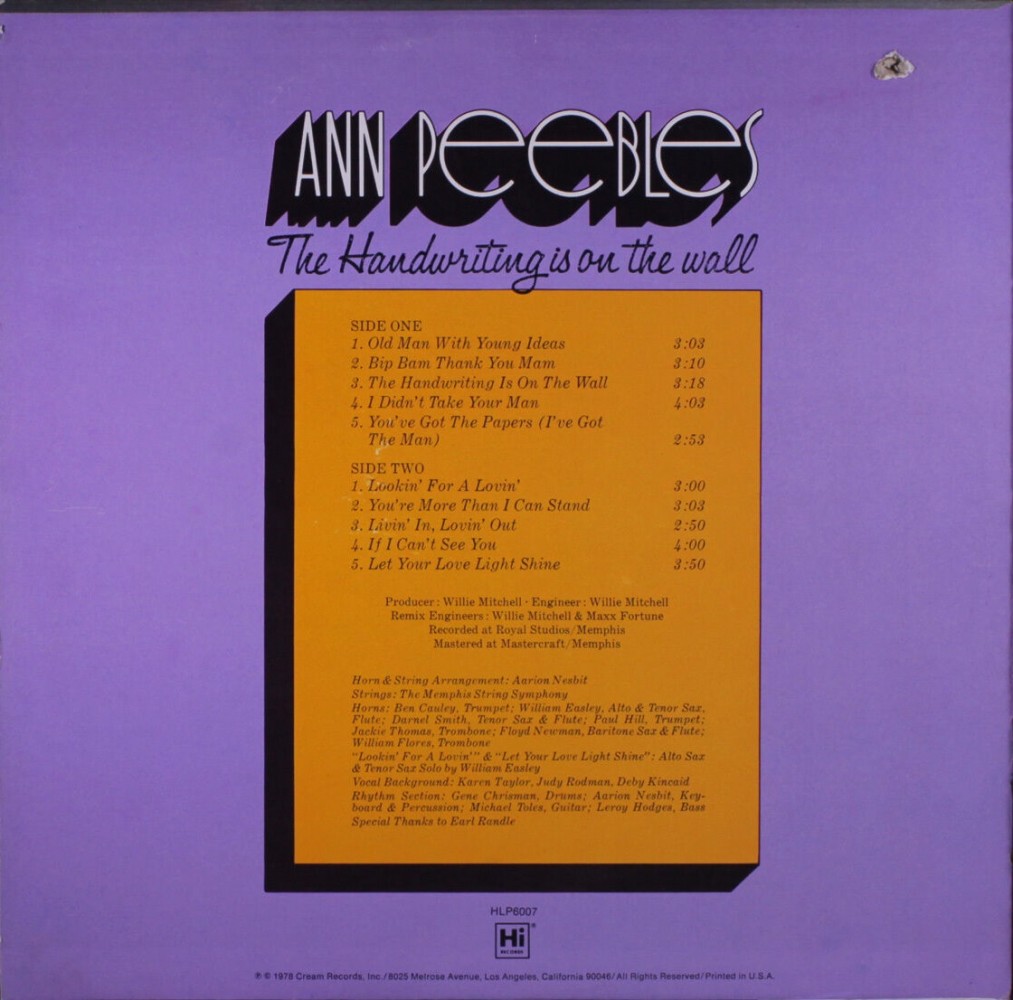 Titres
A1 Old Man With Young Ideas 3:03
(George Jackson, Raymonod Moore)
A2 Bip Bam Thank You Mam 3:10
(George Jackson, Raymonod Moore, Raymond Settle)
A3 The Handwriting Is On The Wall 3:18
(Earl Randle, Melvin Jones, Robert Earl Jones, Willie Mitchell)
A4 I Didn't Take Your Man 4:03
(Earl Randle, Patricia Barnes)
A5 You've Got The Papers (I've Got The Man) 2:53
(Earl Randle, James Shaw)
B1 Lookin' For A Lovin' 3:00
(Barry Goldberg, Phyllis Brown)
B2 You're What I Need (But More Than I Can Stand) 3:03
(Curtis Wilkins, George Jackson)
B3 Livin' In, Lovin' Out 2:50
(Allen Orange, George Jackson, Willie Mitchell)
B4 If I Can't See You 4:00
(Ann Peebles, , Don Baskin, Don Bryant, Earl Randle)
B5 Let Your Love Light Shine 3:50
(Ann Peebles, Don Bryant)
Crédits
Deby Kincaid, Judy Rodman, Karen Taylor
: vocaux
Leroy Hodges
: basse
Michael Toles
: guitare
Gene Chrisman
: batterie
Aarion Nesbit
: percussions, claviers
William Easley
: saxophone alto, saxophone ténor, flûte
Darnel Smith
: saxophone ténor, flûte
Floyd Newman
: saxophone baryton, flûte
Jackie Thomas, William Flores
: trombone
Ben Cauley, Paul Hill
: trompette
The Memphis String Symphony
: cordes
Arrangements [cuivres, cordes] :
Aarion Nesbit
Mastering :
Howard Craft
Production :
Willie Mitchell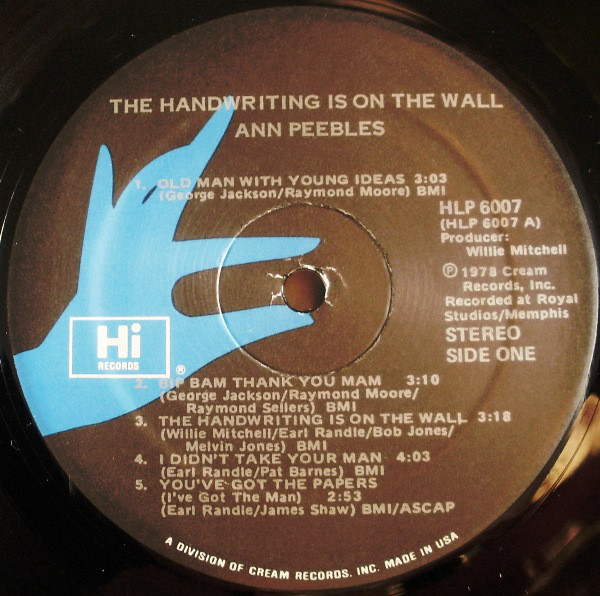 Présentation
Ann Peebles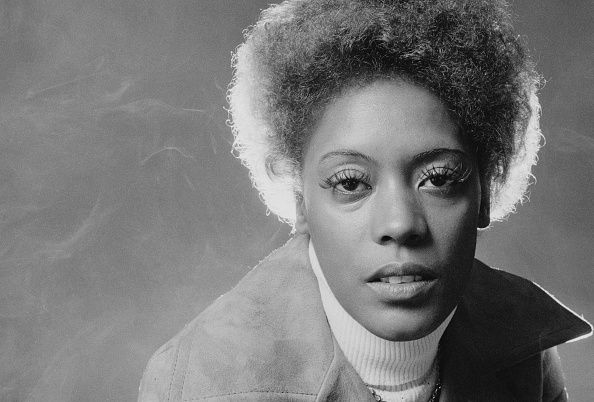 fr
Réédition LP
Ann Peebles - The Handwriting Is On The Wall
(Fat Possum 11681, 2015)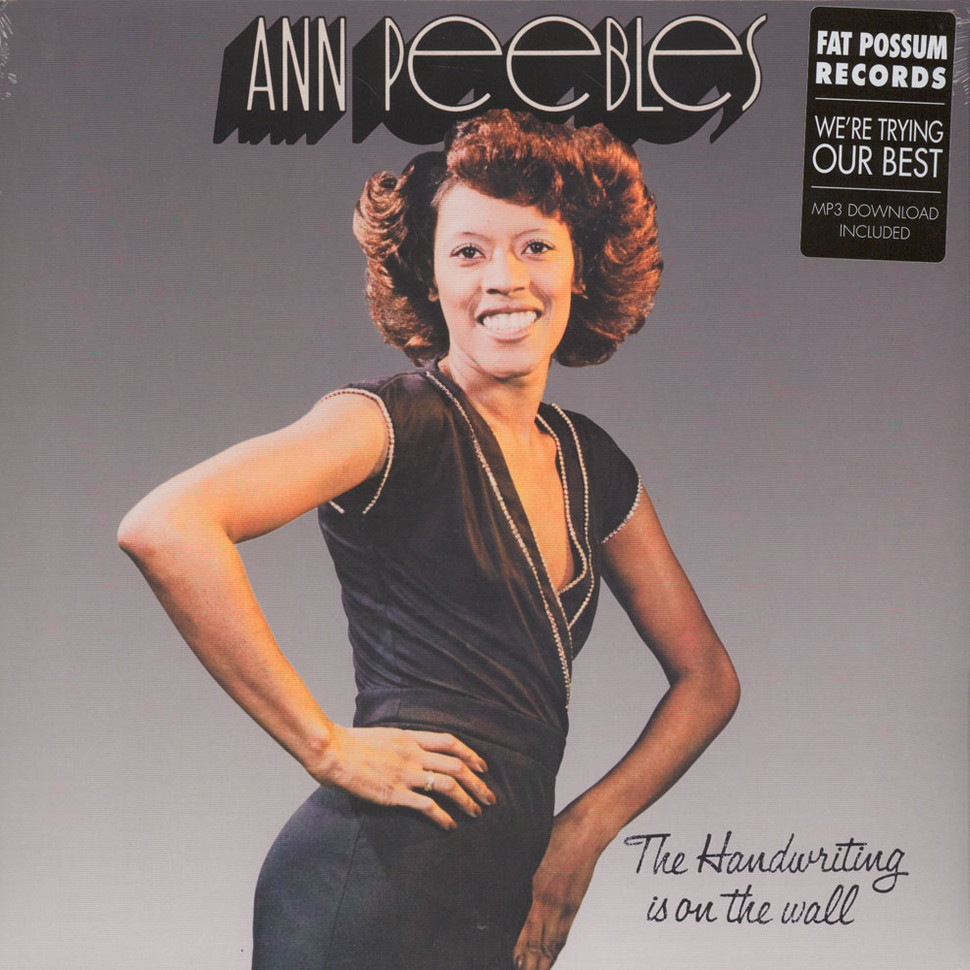 SA VOIX

FACE A
Ann Peebles_1978_"Old Man With Young Ideas"
(A1)

Quelle belle voix grave, avec cet effet de basse !!!
Ann Peebles_1978_"Bip Bam Thank You Mam"
(A2)


Chaloupé, mouvement groovant.
Ann Peebles_1978_"The Handwriting Is On The Wall"
(A3)

Les choristes : des perles d'une beauté...
Ann Peebles_1978_"I Didn't Take Your Man"
(A4)
Ann Peebles_1978_"You've Got The Papers (I've Got The Man)"
(A5)

Quand ça sonne ainsi tu marques le tempo malgré toi.
FACE B
Ann Peebles_1978_"Lookin' For A Lovin'"
(B1)
Ann Peebles_1978_"You're What I Need (But More Than I Can Stand)"
(B2)
Ann Peebles_1978_"Livin' In, Lovin' Out"
(B3)

Ann Peebles_1978_"If I Can't See You"
(B4)
Ann Peebles_1978_"Let Your Love Light Shine"
(B5)



Effet assuré sur une piste de danse : les vocaux sont juste à tomber, la rythmique est épicée, relevée, avec une sorte de tension maintenue, esprit Disco Funk classieux.
Petite perle dancefloor à mes oreilles et puis paf (non pas le chien), le sax arrive et perte des sens sur une envolée de notes, de voix.
BONHEUR SENSORIEL !!!
Ann Peebles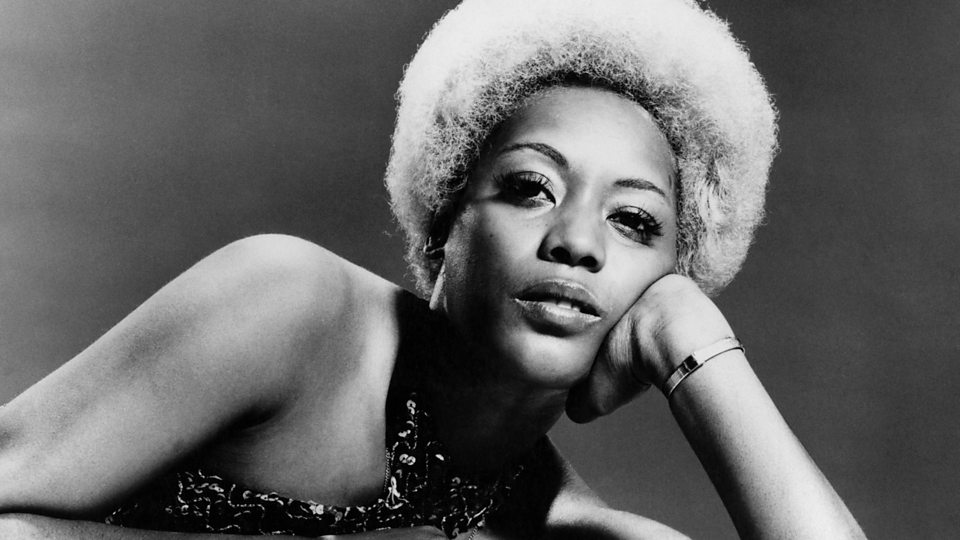 -----------------------------------------------------------------------------------------------------------------------------------
Ann Peebles sur Funk-O-Logy
-->Ann Peebles - This Is Ann Peebles (Hi ‎SHL 32053, 1969)
-->Ann Peebles – Part Time Love (Hi Records SHL 32059, 1971)
-->Ann Peebles - The Handwriting Is On The Wall (Hi HLP 6007 / HLP6007, 1978)