Sly & The Family Stone ‎– Thank You (Falettinme Be Mice Elf Agin) / Everybody Is A Star
(Epic ‎5-10555, 1969)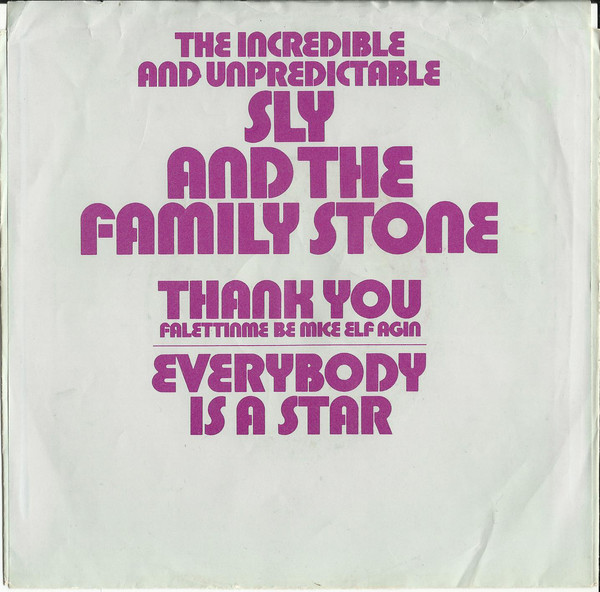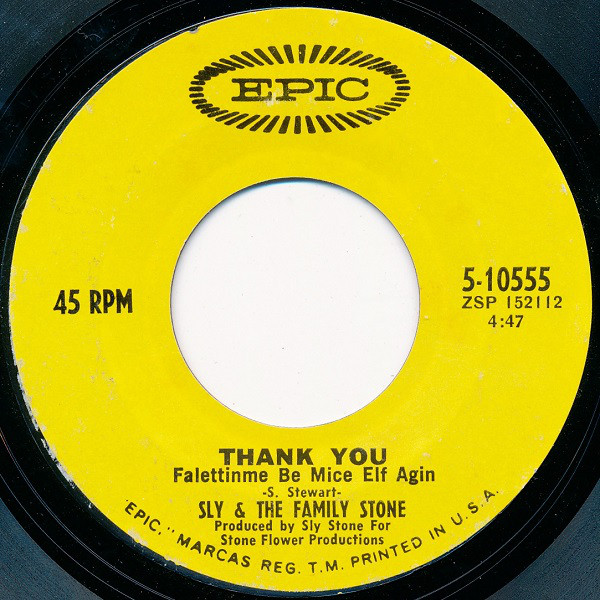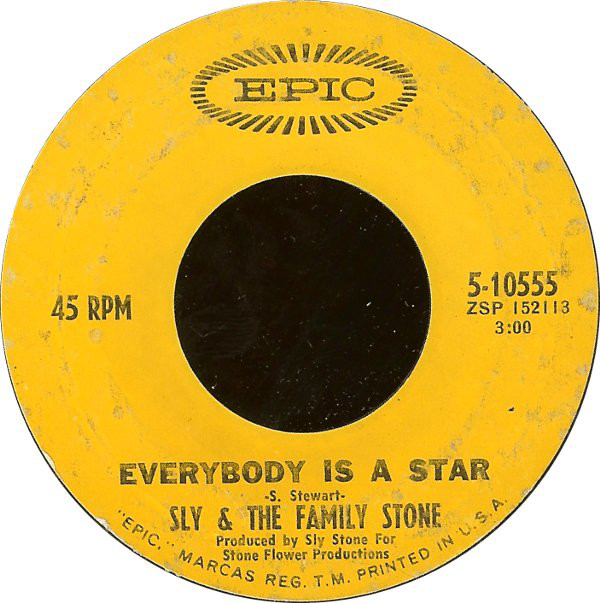 En écoutant leur LP
Stand!
pour mon
Best Of 69
, je me suis frappé la tête contre les murs : les meilleurs morceaux de 1969 n'y étaient pas. Effectivement
Sly
avait dans la foulée de l'album sorti deux petites galettes noires mais ô combien glorieuses dont cette dernière. Les deux faces sont excellentissimes. L'une, "Thank You (Falettinme Be Mice Elf Agin)" est un monument
Funk
: la basse babylonienne de
Larry Graham
joue sur des braises auxquelles des voix et des cuivres se répondent telles les flammes de l'Enfer; l'autre,"Everybody Is A Star" est un monument
Soul
: une ballade lunaire habitée par un florilège de voix, traversée par des échos primesautiers et des cuivres langoureux !

Thank You (Falettinme Be Mice Elf Agin) :
Thank You (Falettinme Be Mice Elf Agin) (Live Dick Cavett TV Show début 1970)
Thank You (Falettinme Be Mice Elf Agin) (Live Soul Train le 29/06/1974) :
Thank You (Falettinme Be Mice Elf Agin) (Live Midnight Special le 26/10/1973 ) :
Thank You (Falettinme Be Mice Elf Agin) (Live) :
Thank You (Falettinme Be Mice Elf Agin) (Live in the Netherlands 1970) :
Thank You (Falettinme Be Mice Elf Agin) (Version Broadway, clip saisissant !) ;
Everybody Is A Star :
Everybody Is A Star (Live 14/09/1973 avec Curtis Mayfield qui les présente !) :