Space Cats - Something New
(Rejoice JOH 101, 1981)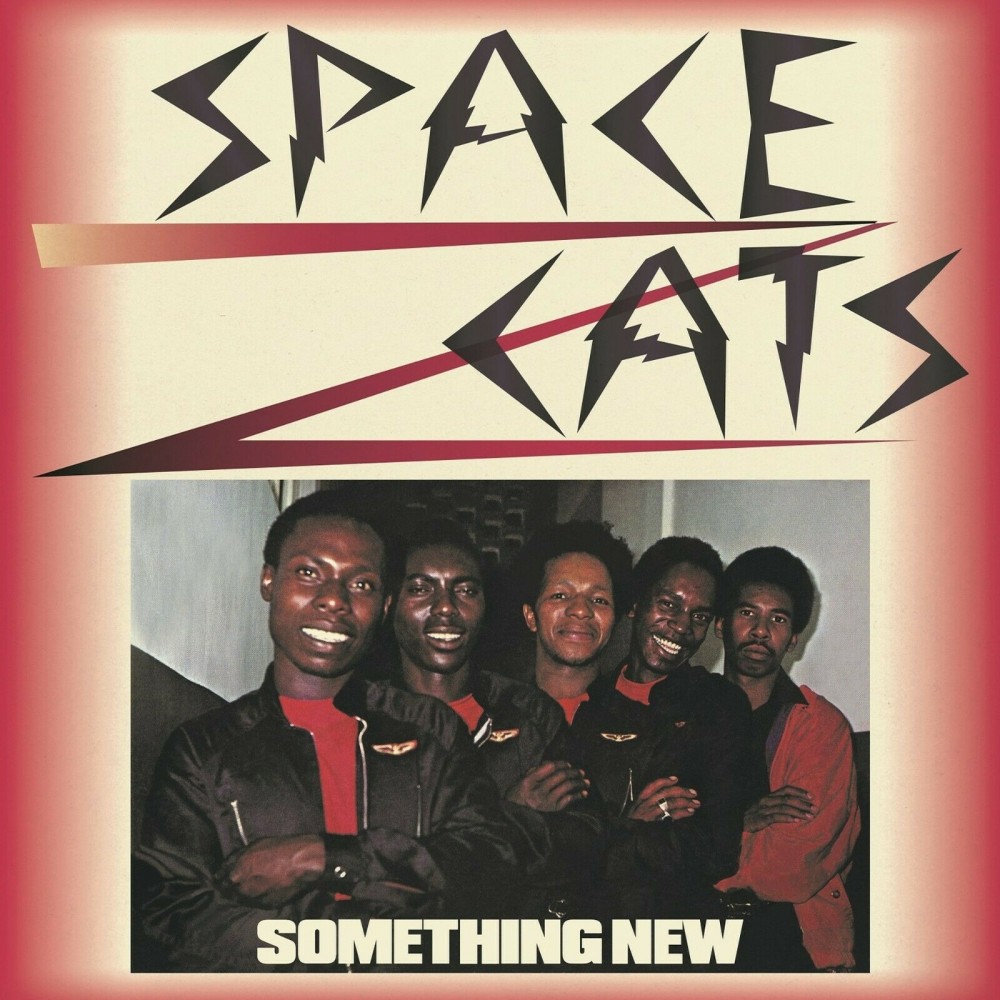 Titres
A1 Something New 4:17
A2 Mystery 2:34
A3 Masambehi 3:09
A4 The Dead Of The Night 3:45
A5 For Ever And Always 4:09

B1 Mother Earth 4:23
B2 Ukhamba 4:40
B3.1 Your Eyes Are Sad 2:57
B3.2 No Reason To Delay 4:00
B4 O Myra (Can't Live Without You) 4:04
Crédits
Themba 'T-Rex' Mzwakali
: basse, vocaux
Santy Dladala
: guitare (lead), chant
Sameul 'Tough' Masilela
: batterie
Charles Grey
: percussions
Dusty 'Rocks' Marokane
: claviers
Écriture :
Santy M. Dladla
(A1 à A5, B2, B3.1),
Themba 'T-Rex' Mzwakali
(B1, B3.2, B4)
Production :
Ernest Schroder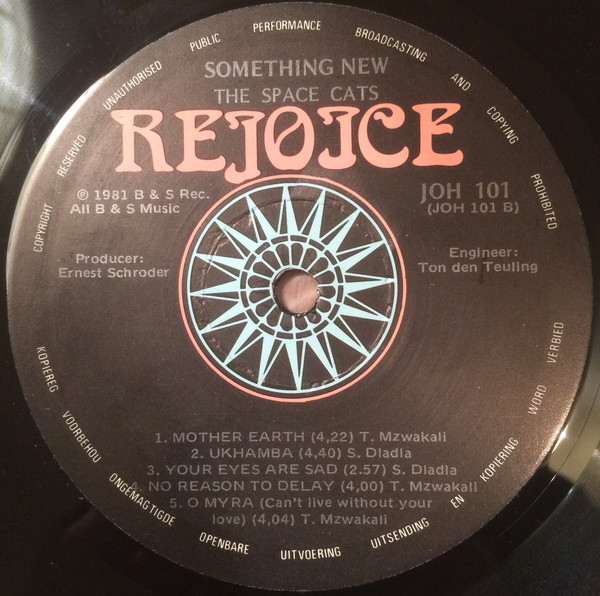 Présentation
Groupe originaire d'Afrique du Sud ayant un seul album à leur actif etdont la valeur de l'original dépasse les 250 € mais l'opus semble introuvable.
Plus d'info sur le site du label
CULTURES OF SOUL
et c'est

ICI
(en fin de page).
RushHour.nl a écrit :

Super dope South African disco LP from 81', not a bad track on this really.. Standout tunes are the mesmerising '

'Mother Earth''

and the groovy

''Ukhamba''

(even better when pitched up a bit).. GREAT basslines and solid drumplaying all over. BIG tip !!

After the phenomenal response to our previous survey of disco and boogie sounds from early eighties South Africa, we decided to wade a bit deeper into the pool to focus on one of the most compelling acts to emerge from that theater, the Space Cats.

Hailing from the small, insular music scene in the coal-mining city of Witbank, the Space Cats were a five-man band fronted by singer/bassist Themba "T'Rex" Mzwakali and singer/guitarist Santy Dladala. Operating as a semi-professional live combo rather than a studio-driven aggregation, they stood out from the slick, highly polished conventions of the day. And when they took the stage they offered a take on disco that was stripped-down, raw, rugged and inspired by afro-rock groups like Harari and Hedzoleh Soundz.

While the Space Cats' moment in the spotlight was short-lived—the band played together for barely a year before management issues necessitated a breakup—they managed to produce one endearing document of their brief career. Something New, their first and only album, released in 1981, features ten tracks of jittery, hard-edged disco-boogie-funk that capture the flavor of their performances in the rollicking dancehalls of Witbank.

Issued on the tiny Rejoice imprint, Something New had a very limited distribution reach even within South Africa and has remained heard by very few people over the last thirty-eight years. So we're proud to make it available for the first time to the wide audience it surely deserved upon its initial release.
Source :
https://www.rushhour.nl/record/vinyl/something-new
Réédition
Space Cats - Something New
(Cultures Of Soul COS 027LP, 2019)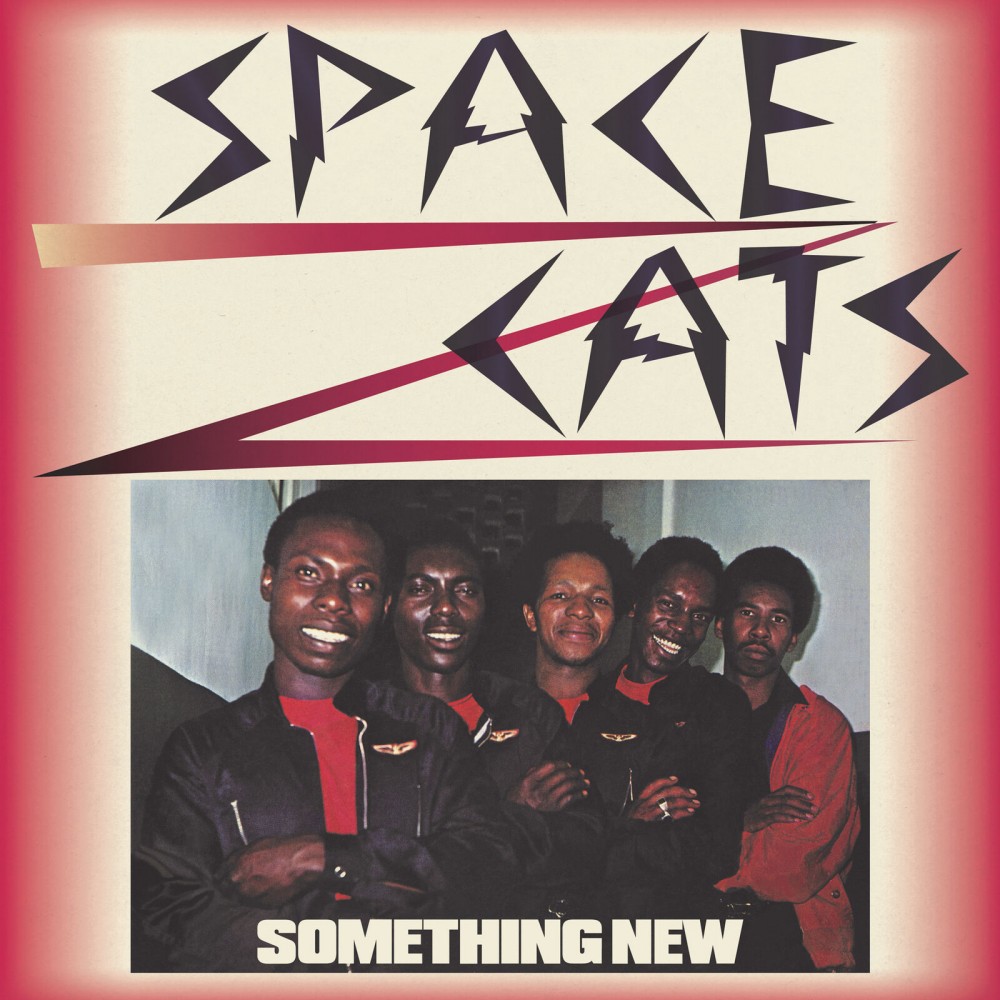 EXTRAITS
sur
CULTURES OF SOUL
,
Juno Records
, etc.

FACE A
Space Cats_1981_"Something New"
(A1)

FACE B
Space Cats_1981_"Mother Earth"
(B1)
Space Cats_1981_"Ukhamba"
(B2)