Carl Marshall & The S.D.'S - Let's Go Humpin' / Your Woman Really Turns Me On
(T-Jaye Records SN # 775, 1979)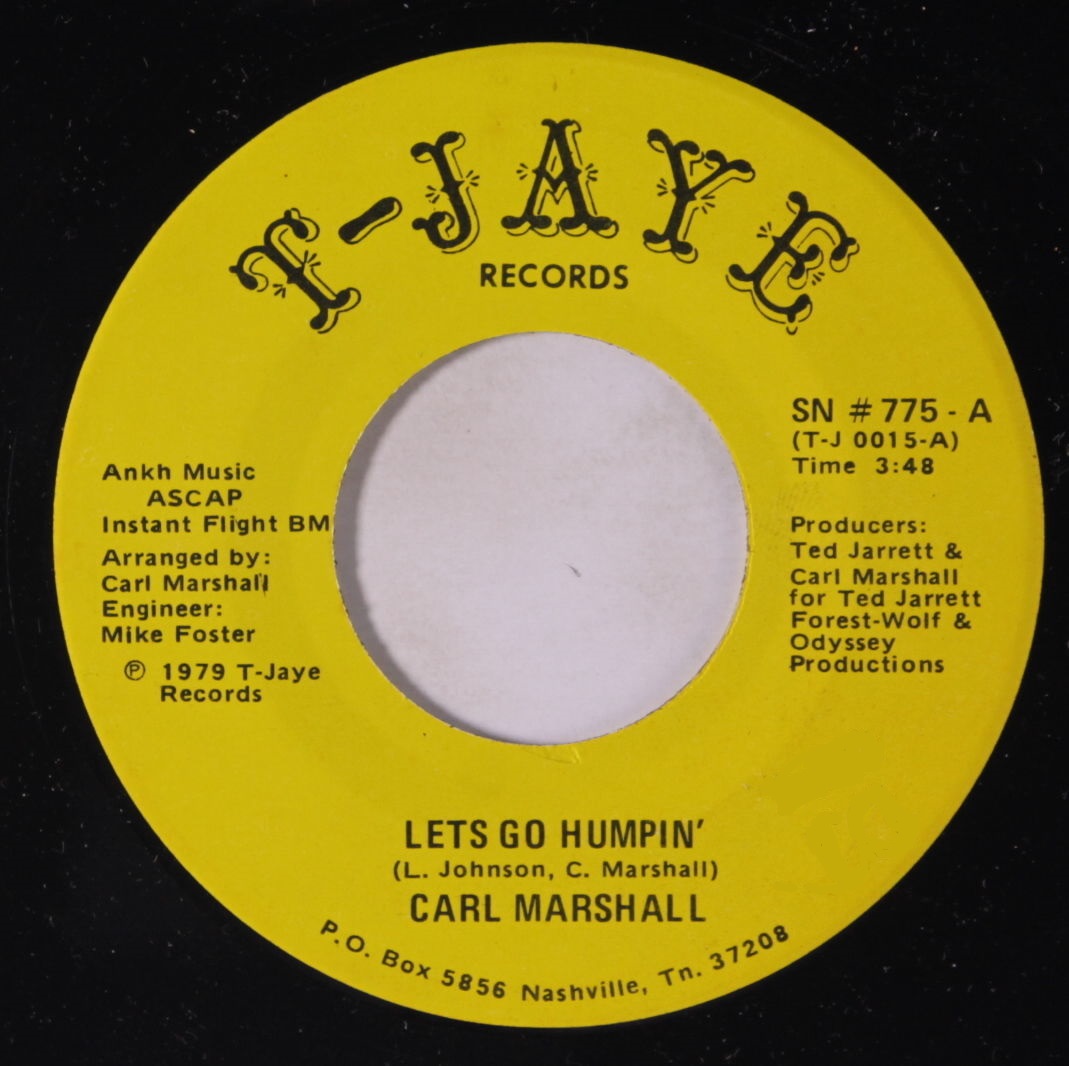 Titres
A
Let's Go Humpin'
3:48
(L. Johnson, C. Marshall)
B
Your Woman Really Turns Me On
3:49
(C. Marshall, B. Transley, G. Baker)
Crédits
Sanchez Harley
: cuivres (B), cordes (B)
Arrangements (A), Arrangements Rythmiques (B) :
Carl Marshall
Production :
Ted Jarrett, Carl Marshall
Présentation
Le premier album paru de
Carl Marshall And The S.D.'S - I'll Give My Heart To You (Chantilly A.G. 4306, 1980)
est très bon.
Et, ce 45T qui l'a précédé confirme que ce band tape avec ferveur dans le FUNK.

Pour votre plus grand désarroi, pas de liens d'écoute.

Foncez car le son est dans la vibe de l'album présenté sur
Funk-O-Logy
. Donc si vous aimez le son de l'opus, zéro question à se poser, votre body va bouger, c'est certain.

Ce 45T méritait d'être cité sur le forum tout simplement pour
"Let's Go Humpin'"
(A)

qui envoie sur la planète FUNK.

Un grand merci, avec du retard, à WonderB

pour les partages et les découvertes dont je viens de faire l'écoute.

------------------------------------------------------------------------------------------------------------------------------------
Carl Marshall & The S.D.'S sur Funk-O-Logy
ALBUM
-->Carl Marshall And The S.D.'S - I'll Give My Heart To You (Chantilly A.G. 4306, 1980)
45T
-->Carl Marshall And The S.D.'S -

"Let's Go Humpin'" / "Your Woman Really Turns Me On"

(T-Jaye SN # 775, 1979)