Formula 1 - Walking With My Eyes Closed / Life Is A Beautiful Feeling (Du-Vern F-4675, 1977)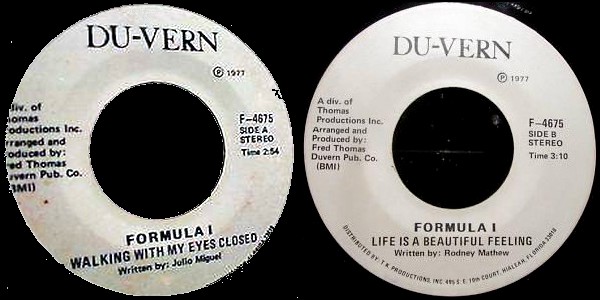 Sorti en 77 sur l'obscur label Du-Vern Records, écrit par Rodney Mathew (membre des Mighty Ryeders).
On y retrouve indéniablement la patte du groupe sur "Walking With My Eyes Closed". En attente d'une improbable réédition, vu que l'original est aussi facile à trouver qu'une blonde d'1 mètre 90 chez les papous.
Pas de lien du 2ème morceau malheureusement. A noter l'existence d'un LP de ce groupe intitulé "Hold On", sorti la même année sur Guinness et mérite lui aussi une petite chronique.
"Walking With My Eyes Closed" :