Syl Johnson – Diamond In The Rough (Hi Records SHL 32085, 1974)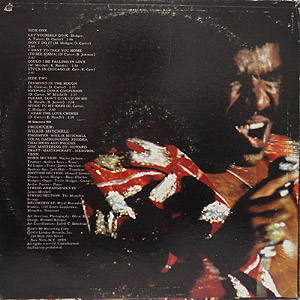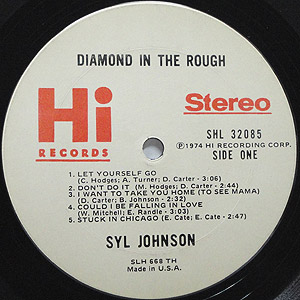 Titres
A1 Let Yourself Go 3:06
A2 Don't Do It 2:44
A3 I Want To Take You Home 2:32
A4 Could I Be Falling In Love 3:03
A5 Stuck In Chicago 2:47
B1 Diamond In The Rough 2:51
B2 Keeping Down Confusion 2:37
B3 Please, Don't Give Up On Me 2:30
B4 Music To My Ears 2:40
B5 I Hear The Love Chimes 2:39
Crédits
Syl Johnson
: chant
Leroy Hodges
: basse
Teenie Hodges
: guitare
Howard Grimes
: batterie
Charles Hodges
: orgue
Archie Turner
: piano
Andrew Love
: saxophone ténor
Ed Logan
: saxophone ténor
James Mitchell
: saxophone bariton
Jack Hale
: trombone
Wayne Jackson
: trompette
Production :
Willie Mitchell
Quatrième album présenté sur le forum de ce grand monsieur (après
Dresses Too Short
,
Is It Because I'm Black
,
Back For A Taste Of Your Love (devancé par Bluesy sur ce coup!)
) qui me met les poils à chaque fois.
Moins rare que les 2 premiers et un peu plus fréquent que le 3è (peut être moins recherché?), il n'en demeure pas moins que pour toute personne qui apprécie les cordes vocales de Syl Johnson, cet album est un indispensable. Pas de surprise, du Syl Johnson piloté par Willie Mitchell avec la bande actuelle de Willie qui accompagne Syl.
Mais pourquoi chercher la surprise quand la recette est parfaite.
J'en redemande à chaque fois "Could I Be Falling In Love", "I Hear The Love Chimes" et "Please Don't Give Up On Me", pffff à tomber... Cette voix, cette complainte... et toujours des paroles touchantes. Et le reste, le pied.
Ce mec il a un truc en plus, c'est un vrai de vrai soul man... Au panthéon de mes chanteurs préférés.
Let Yourself Go
Don't Do It
I Want To Take You Home
Could I Be Falling In Love
Stuck In Chicago
Diamond In The Rough
Keeping Down Confusion
Please, Don't Give Up On Me
Music To My Ears
I Hear The Love Chimes