The Impalas - Speed Up / Soul
Posté : 02 janv. 2013 12:13
The Impalas - Speed Up / Soul
(Capitol 2709, 1969)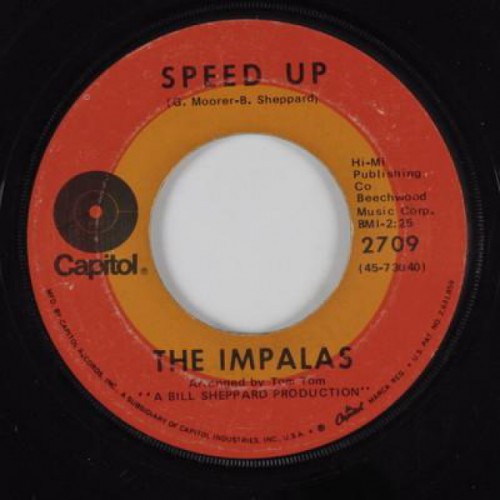 Titres
A Speed Up
(Bill Sheppard, Gilbert Moorer)
B Soul
(James Brown)
Crédits
Arrangements : Tom Tom 84 (A)
Production : Bill Sheppard
Le groupe a été cité pour sa reprise, en 1969, de "Speed" (date d'origine 1967).
Revpop a écrit :Un brûlot Northern Soul chanté par Betty Moorer, membre du groupe The Esquires
-
Betty Moorer – It's My Thing / Speed Up
The Impalas
Soul
La bombe du 45T est pour moi la seconde reprise qui n'est autre qu'un titre du grand James Brown :
"Soul"
: "HAN !!!!!!!!!!!!"

The Impalas Speed Up



"Get on up and hit the floor".



"