The Citizen Band – A Lincoln And A King / Today My Whole World Fell
Posté : 14 déc. 2019 14:35
The Citizen Band – A Lincoln And A King / Today My Whole World Fell
(Kayvette 5141, 1981)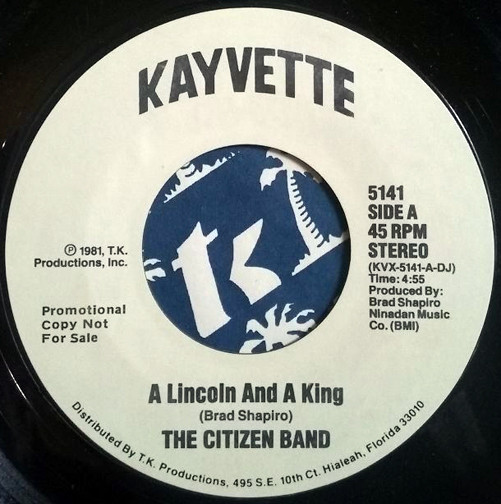 Titres
A
A Lincoln And A King
4:55
(Brad Shapiro)
B
A Lincoln And A King
4:55
(Brad Shapiro)
Crédits
Production :
Brad Shapiro
Présentation

Il semblerait exister qu'un seul 45T à l'actif de
The Citizen Band
.
De plus, pas de photos du band.
Brad Shapiro
: producteur, arrangeur, compositeur, bassiste.
On retrouve
Brad Shapiro
, par exemple, comme co-auteur du titre
"Don't Knock My Love"
figurant sur l'album du même nom de
Wilson Pickett

(Atlantic SD 8300, 1971)
.

Face A
The Citizen Band_1981_"A Lincoln And A King"

Effet Gospel amplifié par les chœurs, un fond country et le tout parsemé de groove.
Ce qui rappelle, sur certaines notes, l'univers du live cité sur le forum dans la section Et le gospel dans tout ça ? :


Paul Simon - The All Star - Gospel Session (lien en milieu de page).