The Isley Brothers - Brother, Brother, Brother (T-Neck TNS 3009, 1972)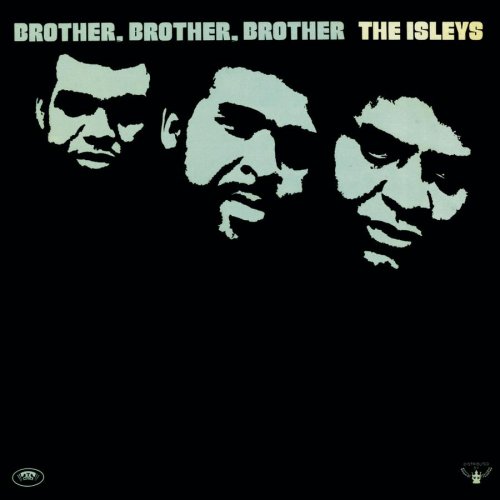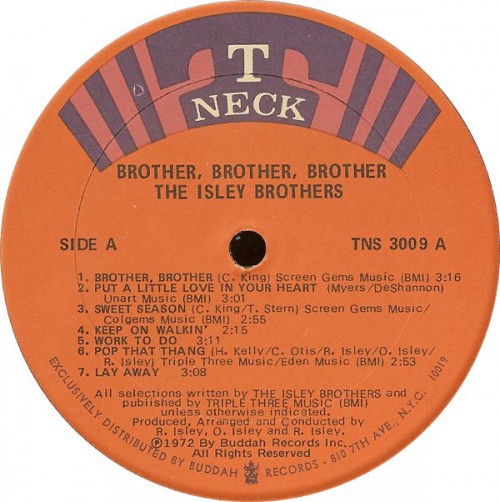 Titres
A1 Brother, Brother
3:16
(C. King)
Marvin Isley : basse, clave, cloche
Karl Potter : congas
George Moreland : batterie
Truman Thomas : orgue
Chris Jasper : piano, tambourin
Ernie Isley : guitare 12 cordes [acoustique], guitare 6 cordes [acoustique], maracas
A2 Put A Little Love In Your Heart
3:01
(DeShannon, Myers)
Marvin Isley : basse, clave
Karl Potter : congas
George Moreland : batterie
Truman Thomas : orgue
Chris Jasper : piano, tambourin
Ernie Isley : guitare 12 cordes [acoustique], guitare 6 cordes [acoustique], maracas
A3 Sweet Seasons
2:55
(C. King, T. Stern)
Marvin Isley : basse
Karl Potter : congas
George Moreland : batterie
Ernie Isley : guitare 12 cordes [acoustique], guitare 6 cordes [acoustique], guitare électrique
Truman Thomas : orgue
Chris Jasper : piano
A4 Keep On Walkin'
2:15
(Isley Brothers)
Marvin Isley : basse
Karl Potter : congas
George Moreland : batterie
Ernie Isley : guitare 12 cordes [acoustique], guitare 6 cordes [acoustique], guitare électrique
Truman Thomas : orgue
Chris Jasper : piano
A5 Work To Do
3:11
(Isley Brothers)
Marvin Isley : basse, clave
Karl Potter : congas
George Moreland : batterie
Ernie Isley : guitare 12 cordes [acoustique], guitare 6 cordes [acoustique], guitare électrique, maracas
Truman Thomas : orgue
Chris Jasper : piano, tambourin
A6 Pop That Thang
2:53
(C. Otis, H. Kelly, O. Isley, R. Isley, R. Isley)
Marvin Isley : basse
Karl Potter : congas
George Moreland : batterie
Ernie Isley : guitare électrique, maracas
Truman Thomas : orgue
Chris Jasper : piano, tambourin
A7 Lay Away
3:08
(Isley Brothers)
Marvin Isley : basse, clave
Karl Potter : congas
George Moreland : batterie
Ernie Isley : guitare 12 cordes [acoustique], guitare 6 cordes [acoustique], guitare électrique
George Patterson : maracas
Milton Westley : orgue
Chris Jasper : piano, tambourin
B1 It's Too Late
10:31
(C. King, T. Stern)
Marvin Isley : basse
Karl Potter : congas
George Moreland : batterie
Ernie Isley : guitare électrique
Truman Thomas : orgue
Chris Jasper : piano
B2 Love Put Me On The Corner
6:32
(C. Jasper, O. Isley, R. Isley, R. Isley)
Marvin Isley : basse
George Moreland : batterie
Ernie Isley : guitare 12 cordes [acoustique], guitare 6 cordes [acoustique], guitare électrique
Truman Thomas : orgue
Chris Jasper : piano
Enregistrement : Mediasound, NYC
Chant, Arrangement et Production :
O. Isley, R. Isley, R. Isley
Changeant leur fusil d'épaule et suite aux problèmes subis lors de la création de la pochette de l'album précédent (voir
ICI
), les frérots décidèrent de la jouer sobre et dans les temps, sans anicroche possible, en commandant comme illustration, un portrait du trio dématérialisé en jeu d'ombres bleues et noires.
Sans hésitation la pochette plus sobre que sobre sans même un vêtement visible.
On ne pouvait faire plus minimaliste, mais ils allaient se rattraper définitivement dès l'album suivant le fameux "3+3" où les petits frères pourtant actifs depuis un moment à leurs côtés allaient enfin avoir le droit de montrer leurs visages et leur fringues (non moins colorées que celles de leurs aînés).
Brother, Brother, Brother
(Magnifique ballade qui commence par une supplique pas très éloignée de celle de Marvin Gaye au début de "What's Going On", mais là pas de réquisitoire contre la guerre, simplement les sentiments de quelqu'un pour son frère en pleine dépression, une soutien psychologique comme on dirait aujourd'hui pour aider quelqu'un a repartir du bon pied. Très belle voix de Ronald... j'i oublié de préciser que c'est écrit et composé par la géniale Carole King)
Put A Little Love In Your Heart
(Ballade chaloupée pour un meilleur monde... "If you want the world to know, we won't let hatred grow, put a little love in your heart"... "And the world will be a better place for you and me". On se demande presque si Michael Jackson n'a pas repris ces paroles texto pour "We Are The World"...
Sweet Seasons/Keep On Walkin'
(Deux titres enchaînés. Le premier démarre mid-tempo mais avec Keep On Walkin' la guitare rythmique devient nettement plus agressive, les chœurs ponctuent "keep on walkiin', walk, keep on walkin', walk!!". C'est comme un train à vapeur qui souffle en rythme pour faire avancer le convoi. 4'41" Ronald crie comme si sa vie en dépendait! Owwwww terrible on aimerait que çà dure encore et encore...)
Work To Do
(Le TUBE de l'album -#11 R&B en Avril 1972- et un morceau que personnellement j'adore que ce soit la version originale ici ou bien la reprise par les AWB. Il part au charbon le père Ronald et regrette de ne pas pouvoir s'occuper de sa copine aussi souvent qu'il aimerait... Les contrepoints des deux autres frères avec leur "to doop to doop" sont 'on the money' comme ils disent...
"I gotta make it for you,I gotta make it for me
Don't wanna make you feel I'm neglecting you
I'd love to spend more time, oh
But I got so many things to do..."
Ah bon sang je trippe chaque fois que j'entends cette mélodie, cette urgence dans la voix de Ronald... Juste énorme)
Pop That Thang
(Du gros FUNK à la Isley... Ah punaise mettre çà au réveil le matin vous propulse dans un état second et vous empêchera -no doubt- d'être en retard au burlingue! Good God!!!!!)
Version disque
Zappez direct à 1'41" pour le début du morceau à SOUL TRAIN et pour les voir en chair et en os, mais avec un son moyen...
Lay Away
(Encore un gros paquet de Soul-Funk qui balance et vous fera chalouper vers la salle de bain (n'oubliez pas que vous vous êtes réveillé sur "Pop That Thang"...

Version disque
Version Soul Train...
Bon après tout çà on est à peine arrivé à la fin de la Face A!!!! C'est vous dire la densité de ce LP!
Face B : il n'y aura que deux morceaux mais quels morceaux...
On attaque avec
"It's Too Late"
encore une reprise de folie de la main de Carole King sur une version de plus de 10 minutes...
Dramatique à souhait dès l'intro avec le solo d'orgue... Les paroles indiquent le drame que traverse Ronald...
"It used to be so easy, livin' here with you.
You were light and breezy, an' I knew just what to do.
Now you look so unhappy, and I feel like a fool.
And it's too late, baby now, it's too late,
though we really did try to make it.
Somethin' inside has died, and I can't hide,
and I just can't fake it, oh, no, no."
Ah çà me met les poils direct...! Epique... Ernie y va de ses soli magiques...
Love Put Me On The Corner
(2 ème titre le plus long du LP avec plus de 6 minutes. Un downtempo avec une intro magnifique au piano. Une légère réverb sur la voix de Ronald vous transporte littéralement)