Various - Buttshakers Volume 1 (Mr Luckee Records LUCK 420-69, 2000)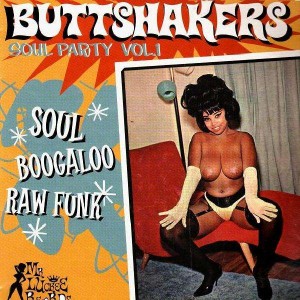 Titres
A1 Billy Clark & The Maskman – Soul Party Part 1
A2 Jamo Thoma – Bahama Mama Part 1
A3 Simtex Simmons & Wylie Dixon – Socking Soul Power
A4 Barry Jones – Let's Do The Funky Boogaloo
A5 Pervis Lavawn & The Commanders – Crossin' Over
A6 Soul Inc ? – The Alligator!
A7 Butterballs – Butterballs Part 1
A8 B.W Soul – Marvins Groove
B1 Tommy Dark – Wobble Legs
B2 Jerry O – Funky Four Corners
B3 The Fabulous Shalimars – Funky Line Part 1 & 2
B4 Electric Man Lionel Davis* – Electric Man
B5 Chick Willis – Mother Fuyer
B6 Buddy McKnight – Everytime Part 1
B7 The Other Brothers – Hole In The Wall
B8 Monk Higgins And The Satellite's – Mister Luckee
Contenu aussi généreux que la pochette
: 16 raretés deep funk dont une bonne moitié tutoie les sommets
Je ne connaissais pas Jamo Thomas, c'est du lourd

Les autres volumes m'ont l'air tout autant consistants que les pochettes torrides.
Various - Buttshakers Volume 2 (Mr Luckee Records LUCK420-70, 2000)
Titres
A1 Marvin L. Sims – Talkin' Bout Soul
A2 Mr. C. & Funck Junction – Hot Buttler'n All
A3 Billy Mack – Son Of A Lover
A4 A.C. Reed – Boogaloo-Tramp
A5 Chris Jones – I'm The Man
A6 Billy Guy & The Odds'n Ends – Lookin' Like A Nut Nut
A7 Third Position Trio, The – Tail Gator Party
B1 The Golden Toadstools – Silly Savage
B2 Mickey & His Mice – Cracker Jack
B3 Charles Lattimore – Doin' The Thing
B4 Chet Poison Ivey – Poo Poo Man
B5 Jamie Lyons – Soul Struttin'
B6 Kim Melvin – Doin' The Popcorn
B7 The Fabulous Fantoms – The Mau Mau
Various - Buttshakers Volume 3 (Mr Luckee Records LUCK 420-71, 2000)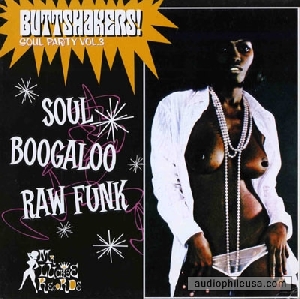 Titres
A1 Bernie Hayes – The Soul Pearl
A2 Alvin Cash – Poppin´ Popcorn
A3 Billy Sha-Rae – Do It
A4 Pervis Lavawn & The Commanders – Soul Dance Number 3
A5 The Inclines – The Hippie
A6 Shan Miles – Soul People
A7 The Soul Invaders – My Lucky Day
A8 The Seven Sounds – The Sound Of Soul
B1 Benny Poole – Pearl, Baby Pearl
B2 Syl Johnson – Ode To Soul Man
B3 Little Royal – Soul Train
B4 Danny Freeman – Shang Foo Part 1
B5 The Soul Superiors – Shang Foo Part 2
B6 The Madmen – Do The African Twist Pt 1
B7 The Madmen – Do The African Twist Pt 2
B8 The Dynamic Eight – Street Woman
Various - Buttshakers Volume 4 (Mr Luckee Records LUCK 420-72, 2000)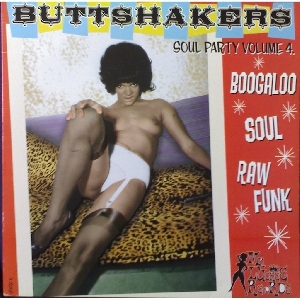 Titres
A1 Johnny Vick & The Victors – Take A Trip
A2 Marvelle & The Blue Mats – The Dance Called The Motion
A3 Eddie Griffin – Miss Pretty
A4 Leon Haywood – Stake A While
A5 Lynn Minor & His Band – Hesitate One Time For Me
A6 Homer Chambers – Do The Fire Bird
A7 Jackie & The Tut & Big 'O' – Ten Two Double Plus
A8 Mel Brown – Chicken Fat
B1 The 7th Son & The Rock In Airs – Mosdesty
B2 The Blue Match – Soul Fever
B3 Al Erik – Put Your Mini Skit On
B4 Maurice Mc Kinnies & The Champions – Sock-A-Poo-Poo 69
B5 Dynamic Walter B. & The New Breed Band – Butter Toast
B6 Bobby Brown – A Woman & Some Soul
B7 Stacy Lane – Funky Little Train
B8 Clifton White & The Royal Knights – The Warm Up
Various - Buttshakers Volume 5 (Mr Luckee Records LUCK 420-73, 2000)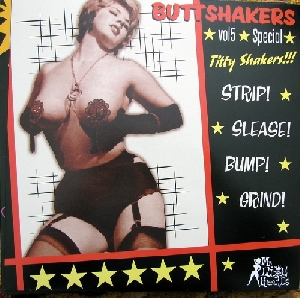 Titres
A1 Soul Runners – Grits 'n Corn Bread
A2 Singing Sam & His Sparks – Messin
A3 Jarvis Jackson – The Long John
A4 Bowlegs & His Band – One More Time
A5 Jimmy Beasly And The Rokers – Johnny's House Party Part 1
A6 The Dynamics – Soul Jerk Part 2
A7 Billy Lane Quintet – The New Night Train
A8 Menard Rogers & The Players – Ain't Nothing But Titty
B1 Ernie Freeman – Dumplin's
B2 The Roller Coasters – Rimshot Part 1
B3 Elliot Shavers – Rock My Soul
B4 The Counts – Soulin'
B5 The Off Beats – Doodlum
B6 Jon Thomas And Orchestra – Teasin'
B7 The Shoelaces – Work Song
B8 Martini's – Hung Over
B9 Pancho Villa & The Bandit – Ain't That Bad