Black Nasty - Talking To The People (Enterprise ENS-1031, 1973)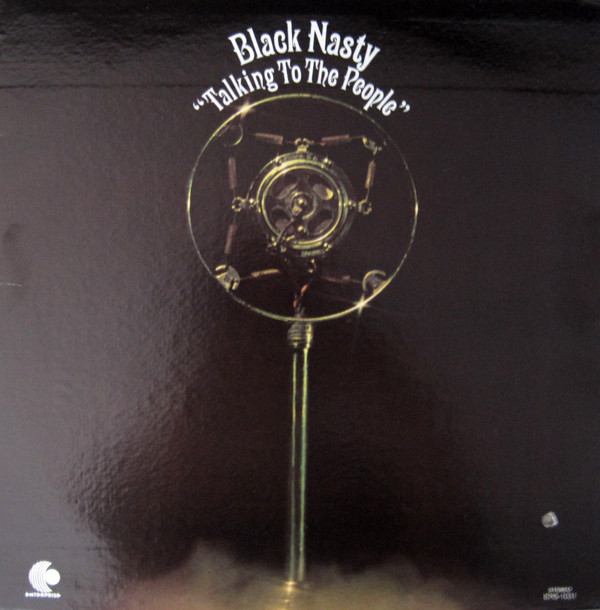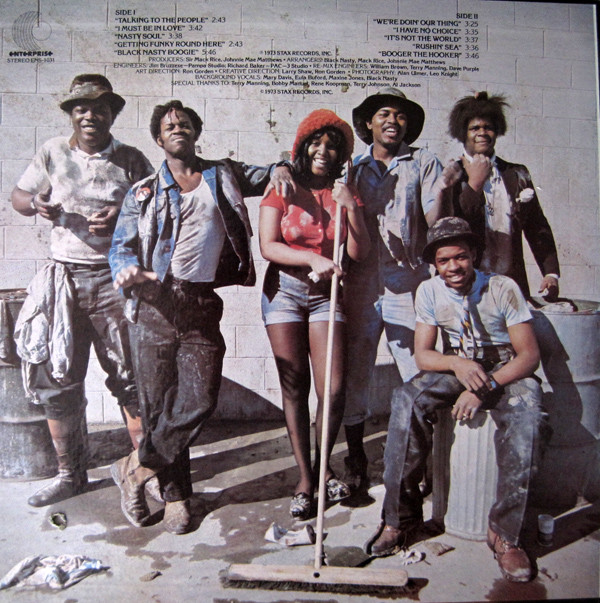 Titres
A1 Talking To The People 2:43
A2 I Must Be In Love 3:42
A3 Nasty Soul 3:38
A4 Getting Funky Round Here 2:43
A5 Black Nasty Boogie 5:46
B1 Where Doin´ Our Thing 3:25
B2 I Have No Choice 3:35
B3 It´s Not The World 3:37
B4 Rushin´ Sea 3:36
B5 Booger The Hooker 3:46
Eula Buford
: chœurs
Mary Davis
: chœurs
Maxine Jones
: chœurs
Arrangements :
Johnnie Mae Matthews
,
Sir Mack Rice
,
Black Nasty
Production :
Johnnie Mae Matthews
,
Sir Mack Rice
Encore un album super complet qui finit en beauté avec du gros son sur "Booger The Hooker" et encore un groupe qui n'a fait qu'un album... Dommage...
Des infos sur allmusic, intéressant parcours...:
"Black Nasty were a little-known but decent group in the early-'70s Detroit funk scene, following the path of the Parliament/Funkadelic crowd in mixing rock, psychedelic, soul, and funk influences. They recorded a fair album for Stax that was released in 1973, but wasn't a heavy seller. After losing their contract with Stax (which would soon go out of business anyway) in 1975, they changed into different R&B acts that would have a little more commercial success. Black Nasty's mentor was Johnnie Mae Matthews, a singer who owned several independent Detroit R&B labels, including Northern, Reel, Audrey, Jam, Art, Big Hit, and Tank. Matthews also recorded more than two dozen singles under her own name. Though none were notable successes, she continued her involvement in the artistic side of the music business by encouraging her drummer son, Artwell, when he formed a band in the mid-'60s with his cousin, bassist Mark Patterson, and friends. Originally called Raw Integrated Funk, there were prominent rock elements at the outset (Ted Nugent was an early member), but under the influence of Johnnie Mae Matthews, they broadened their style to include more R&B. After putting out a cover of the Supremes' "You Keep Me Hanging' On" on Tank, they were signed to Stax, for which they recorded three singles and an album between 1971 and 1974. The Stax sessions (all of the singles also appeared on the album) were produced by Johnnie Mae Matthews and Sir Mack Rice, the minor but noted Detroit soul singer. Rice had recommended Black Nasty to Stax after starting work at the label as a songwriter. While their records were more promise than payoff, the album did have an interesting mix of funk with hard rock guitar, soul ballads on which Johnnie Mae Matthews' teenage daughter Audrey took lead, and some socially conscious compositions that reflected black urban life of the early '70s. After the album made little impact, Stax dropped Black Nasty, which changed their name to Nazty and recorded a couple of singles for Excello. After some personnel changes, the group became ADC Band, getting an R&B Top Ten hit with "Long Stroke" in 1978 and recording as late as the mid-'80s."
Talking To The People
Nasty Soul
Getting Funky Round Here
I Must Be in Love
We're Doin' Our Thing
I have No choice
Rushin´ Sea
Booger The Hooker