Pat & Pam - Hey Love / My Baby And I (Day Dreaming Records #1062, 1975)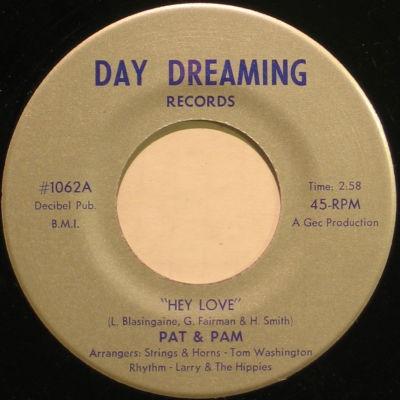 Deuxième 45 tours de notre célèbre duo de charme qui surprend à la fin par son orchestration angoissante et sophistiquée (arrangements de Tom "Tom" Washington dit Tom Tom 84

)
Plus de précisions :
"
Pat & Pam are definitely from Chicago, they were a "kiddie act", like Chee Chee and Peppy etc.
They were the daughters of well known DJ Lucky Cordell
"
"
In Chicago, there was Pat and Pam, a teen duo who wanted to record more adult material, but their dad (Lucky Cordell, a DJ at WVON, an influential black station in those days) wanted them to ride the J-5 gravy train. Two singles were issued—the better record was "I Love You, Yes I Do," on the Our Own label, which is required listening for any girl-group fan, and remarkably sophisticated for its type (I guess they reached some kind of compromise with Dad)
"