---
Funky admins : Wonder B, funkiness, silverfox
Taste Of Power ‎- Questions Insane / Dance The Night Away (Top Records U 84116) 7"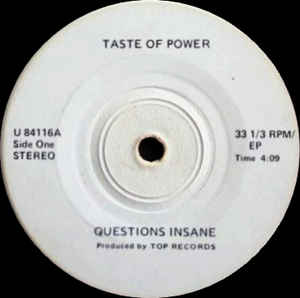 Dance The Night Away
---
sisi, je confirme
Une grosse bombe funky

---
Do you think you could send me an mp3, or re-upload the song again? I can't listen to it anymore so It would be a huge favor.

Pensez-vous que vous pourriez m'envoyer un mp3, ou d'après la chanson de nouveau ? Je ne peux pas l'écouter plus, alors ce serait une immense faveur.
---
Sworn to fun
Loyal to none
---
Dude, thank you SO much! I finally get to hear the song I wanted to for months ever since discovered it on random chance.


---
My pleasure echoflange!!!
Sworn to fun
Loyal to none
---
Sujets similaires

Réponses
Vues

Dernier message
---
Utilisateurs parcourant ce forum : Aucun Funk-o-logue et 24 extraterrestres