Spade Brigade feat. The Ace Of Spades ‎– I'm Your Man / (Makin' Love) In The Morning
Posté : 11 juin 2015 22:32
Spade Brigade feat. The Ace Of Spades ‎– I'm Your Man / (Makin' Love) In The Morning ‎
(Select Sound SS-1010, 1980)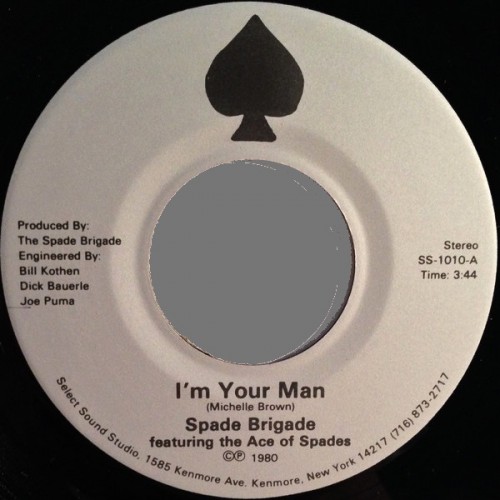 Ré-édition : Kay-Dee Records ‎KD-013, 2007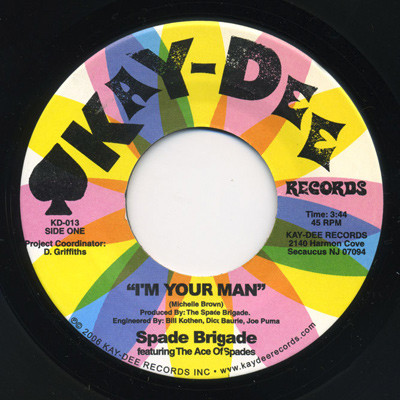 Le vieux Revpop, dans sa petite chambre de bonne au dernier étage d'un immeuble haussmannien, comme une lucarne ouverte au monde, rêvassait tout en écoutant de la Sweet Soul.
Un genre méprisé, souvent confondu avec la mièvrerie, la guimauve mollassonne et auquel il voulait redonner ses lettres de noblesse en exhumant les pépites qu'il jugeait indispensables et qu'il fondait dans des histoires la plupart du temps tristes mais qui se finissaient toujours par un miracle, quitte parfois à trop arroser, le vent de la passion aidant, le site Funk-o-logy de ces frêles instants de grâce que tout oppose avec la force tellurique et tribale du funk, jusqu'à donner, paradoxalement, la nausée à certains quidams qui passaient par là.
Je m'en excuse.
Et pourtant ce 45 tours est d"abord connu par sa face A, le dansant "I'm Your Man" redécouvert en 2004 par les célèbres Keb Darge and Kenny Dope. Rien que pour ce morceau avec son pont bizarre et psychédélique, cette galette est un classique.
"
But the flip is sublime
". La Sweet Soul dans un état de grâce !

(Makin' Love) In The Morning :
I'm Your Man :
"I'm Your Man" se retrouve sur la compile
Kenny Dope & Keb Darge Presents Kay Dee Records Vol 2