James Brown - Say It Live And Loud (08.26.68 Live In Dallas)
(Republic Records/UMe ‎B0028607-01, 2018) 2 x LP
édition CD de 1998
Polydor/Chronicles 31455 7668-2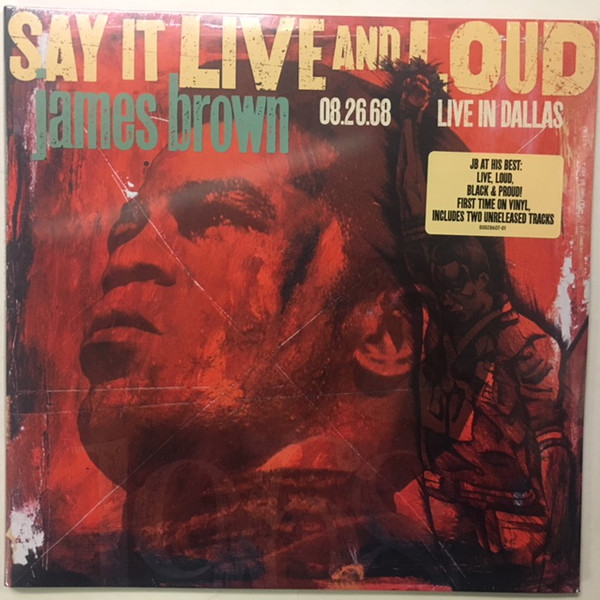 Titres
The James Brown Show
A1 Show Introduction 0:37
A2 If I Ruled The World 3:45
A3 James Brown Thanks 0:49
A4 Introduction To Say It Loud - I'm Black And I'm Proud 1:33
A5 Say It Loud - I'm Black And I'm Proud 3:08
A6 I Guess I'll Have To Cry, Cry, Cry 4:19
A7 That's Life 5:16
A8 Kansas City 3:01
B1 The Popcorn
B2 Soul Pride 3:01
B3 Tighten Up (vocaux Maceo Parker) 7:11
B4 Suds 5:16
Star Time !
C1 Introduction To Star Time! 0:42
C2 Licking Stick - Licking Stick (vocaux St-Clair Pinckney) 4:13
C3 Cold Sweat 12:51
C4 There Was A Time 4:57
D1 Ballad Medley : Try Me / Lost Someone / Bewildered (chœurs Marva Whitney, Robert Graham) 6:14
D2 Papa's Got A Brand New Bag 0:30
D3 I Got The Feeling 2:43
D4 Maybe The Last Time 1:13
D5 I Got You (I Feel Good) 0:27
D6 Please, Please, Please (chœurs Marilyn Jones, Richard Jones, Sylvia Medford) 2:15
D7 I Can't Stand Myself (When You Touch Me) 3:09
D8 Finale: Cold Sweat (Reprise) - I Got The Feeling-Say It Loud, I'm Black And I'm Proud 0:46
Crédits
James Brown
: chant
Marva Whitney
: chœurs
Sweet Charles Sherrell, Alfonzo "Country" Kellum
: basse
Clyde Stubblefield, Nate Jones
: batterie
Alfonzo "Country" Kellum, Jimmy Nolen
: guitare
Alfred "Pee Wee" Ellis
: saxophone, orgue
Maceo Parker
: saxophone
St-Clair Pinckney
: saxophone
Fred Wesley
: trombone
Levi Rasbury
: trombone
Richard "Kush" Griffith
: trompette
Waymon Reed
: trompette
Marilyn Jones, Richard Jones, Sylvia Medford
: violons
Arrangements :
Alfred "Pee Wee" Ellis
(A2, B2, B4, C3),
Sammy Lowe
(A6, A8),
James Brown
Production exécutive :
Bill Levenson
Production :
James Brown
Dix ans après sa sortie en édition CD, le concert de James Brown à Dallas en août 68 vient de paraître en double vinyle avec 2 morceaux supplémentaires ("The Popcorn", "That's Life")
Ceux qui ont visionné le célèbre concert de Boston d'avril 68 constateront que c'est la même setlist mais avec parfois un tempo monté de plusieurs crans. La version de "Cold Sweat" en mode déferlante binaire – au lieu de la rythmique syncopée d'origine (jouée à Boston) – montre l'allure incroyable à laquelle James innovait. D'ailleurs c'est étrangement Nate Jones qui est à la batterie sur Cold Sweat, alors que Clyde est là. Et ça s'entend sur certaines imperfections que Clyde n'aurait jamais commises.
Les bonus tracks sont un argument de plus, surtout l'excellente version de "The Popcorn" sur la face entièrement instru où le James Brown Band donne sa pleine mesure, emmené, comme à Boston, par Maceo en MC (où était Danny Ray à cette époque? Mystère).
En tout cas, voilà un opus vraiment indispensable pour les amoureux de JB, qui est ici à son apogée
Dispo en ce moment chez Gibert pour une trentaine d'euros
Cold Sweat
Soul Pride/Tighten Up
There Was A Time